The holidays bring more smiles, kinder words, and bucket loads of leftovers. Holiday leftovers go largely to waste, especially in the United States but it didn't always used to be the case. Thankfully, (no pun intended) there is a rising surge to preserve the holiday leftovers and make your food dollars stretch!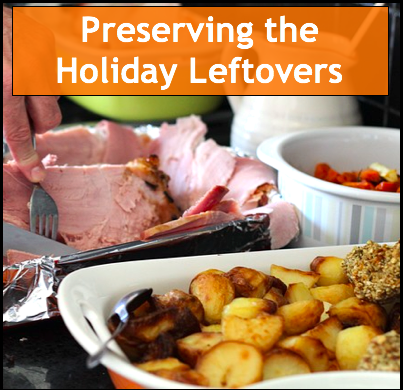 Particularly when it comes to the meat portion of the holiday meals, you can do so much more with it after the main meal and get more than just leftover turkey sandwiches from it, too. Here, we will cover the most common dishes served at holiday meals and then give suggestion and links to instructions on different ways you can preserve the leftovers for short or long term. Below is how I preserve holiday leftovers!
Turkey
You've nibbled, made sandwiches, fed the dogs, and there's still leftover turkey. Even though you're sick of it now, in about three months you'll likely be ready for more. There's so much more on that turkey than just meat! You are looking at at least a gallon of turkey stock, too, depending on the size of your turkey, too. I process the whole thing at once to make it easier. I'm already in the kitchen, right?
First, I cut off all the meat I can and set it aside. I put the carcass into my largest stock pot and fill it with enough water to cover and then bring it to a rolling boil. While waiting for that to boil, I assess the meat I have available to use. I always make sure to have at least one vacuum packed bag cubed up for making a turkey pot pie. I also have some smaller packs made for turkey and dumplings and a turkey noodle soup.
Other possibilities for leftover turkey:
Turkey melts
Turkey salad
Pulled BBQ turkey
Casseroles
Turkey tacos, enchiladas, etc
I vacuum seal my packs up, date them, and put them into the freezer. They will hold for at least a year, though none of it ever lasts that long before being used. As mentioned above, you could can the turkey but that requires a pressure canner and could render the meat into mush. Anyone with tips on this (I've never done it) is encouraged to share your tips and tricks below in the comments.
The stock is strained to get all the bits out of it (I always strain twice with a fine mesh strainer) and then canned in quart jars in a pressure canner. Even though the meat was cooked, and you just boiled it, the USDA safety standards call for the stock to be pressure canned to ensure there's no bacteria leftover that can make you sick.
*Requires pressure canning
Ham
Ham is done much like turkey, except there's no stock to make. Slice into cubes, strips, or slabs and vacuum seal! You can make so much out of it!
Soups and chowders
A lovely crock of ham and beans (perfect for a cold January day!)
Chipped for sandwiches
Ham and noodle casserole
Hawaiian quesadillas
Hawaiian pizza
Fry slices to enjoy with breakfast
Skillet meals
Canned ham*
I enjoy cubing the leftovers to be used in noodle casserole dishes and we always enjoy ham and beans in the winter!
*Requires pressure canning
Mashed Potatoes/Gravy/Stuffing
Most people don't ever save these dishes (admittedly, there are rarely leftovers of these three items) but we've started to get creative. The gravy is something that can be used on just about anything, anytime but the mashed potatoes and stuffing is another matter. Most people don't have any idea of what to do with it (other than hoping someone eats it before it goes bad!).
For mashed potatoes, I love to make potato cakes with breakfast in the morning. You can also make cheesy pancakes, potato puffs, or use it as a stuffing for bell peppers or mushrooms.
For stuffing, I usually freeze it in vacuum sealed packs. I like to make fried stuffing patties with it but you can also use it as a top layer on your casseroles for a different flavor (and crunch!)
Veggies
Veggies can be frozen or canned. They also make great compost or chicken treats (no onions or garlic!). One of the things I will do, depending on what I have available, is to make a vegetable stock out of it and can it up to be used later.
Desserts/Breads
Frozen usually works the best. You can't can them, generally speaking, but freezing slices of pie to save for later is a great way to ensure your money isn't being wasted.
Breads can be made into croutons, desserts (think bread pudding), bread crumbs for baking use, and so much more! A quick Google Search will help inspire you to do more with what you already have.
Summary
When you consider how much money, time, and effort was put into these larger meals, it makes sense to get as much as you possibly can out of it!