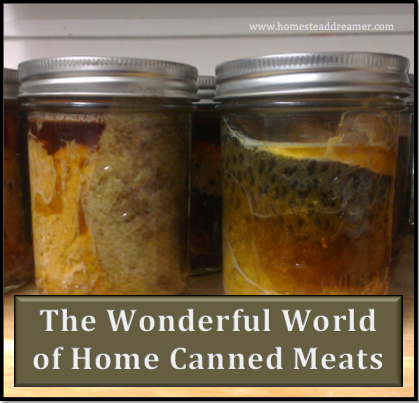 Home canned beef with onion and garlic. Home canned venison with basil and oregano. Home canned pork and chicken! Home canned smoked salmon, too! Do I have your attention? You might want to get a napkin for this: I cannot be responsible for keyboard damage due to drooling. 😉
The first time I home canned meat was last year. I was canning up beef, chicken, and pork because…well honestly because I absolutely had to. I had hit a meat sale with both fists and came back with far more than our little chest freezer could handle since we had pretty much filled it with salmon fillets for the dogs (yes, we feed salmon to our dogs). As I was putting my vacuum sealer through its paces, I began to notice that I just didn't have enough room for everything and knew that my mother in law didn't either. What to do?! That's right, can 'em up!
I had only used the pressure canner for veggies up to this point. To say I was a little nervous would be accurate but I had gotten over the whole "exploding pressure canner" myth months before. I was more nervous of messing something up and making the meat inedible than I was about dodging hot metal. (Honestly, there are so many safeguards on pressure canners that it is actually work to get them to explode via pressure alone). I was determined though, because I am focused on getting rid of a majority of store bought boxed and canned goods. As I was taught when I was younger, you always go less on spices because it is easier to add more than try and take away some. This is the rule of thumb I fell back on when it came to adding spices to the jars and it paid off well. I will get to the fun experimenting later but for now, let's start with some basic information about pressure canning meats.
According to the USDA, meats must be pressure canned (versus water bath canning) to ensure that no harmful bacteria can survive in the sealed jar. Many people – and I used to be one of them – believe that salt is an absolute requirement to be added to any pressure canned foods (veggies, meats, meat stock, etc) so it will stay preserved longer but that is simply not true. The salt is added only for flavoring. Pressure canning is not 'hard' to do so much as time consuming. For us, it is time very well spent not only for the money it saves but also for the superior food we end up eating. Canned meats must be lean with all excess fat cut off of it. The reason for this is so there is less fat that can go up the sides of the jar and 'contaminate' the sealing lid with the oils that will prevent a solid seal from forming. Getting all of the fat off of meat is not realistic but if there is excess on the outside or a thick line of marbled fat in the middle, it is best if you remove it. Nothing goes to waste in our house! The fat and meat bits are frozen and added to stews or boiled in plain water and given to the pups for a special treat. Most meat is canned at 11 pounds of pressure for 90 minutes on pints, longer for quarts. Before people go getting all bent out of shape about that statement, notice I said most. Some canners have different features and therefore different times listed. Other things to consider is that some, like wild game, may need some pre-canning processing. Be sure to check the manufacturer's manual for the correct pressure and length of time to safely jar up tasty meats.
Home canned meat tastes better and you know how it was processed!
Now that the 'legalese' is out of the way, here is the fun part: spice combinations! Pressure canning allows for some creativity which helps to make the project fun and your results tasty. You can add in all sorts of amazing things to the jars or mix the spices with the meat in a bowl before packing your jars. I prefer to put my spices in the bottom of the jar so they will boil up throughout the rest of contents plus, a fresh leaf of basil hitting the bottom of the hot jars releases an amazing scent. Anyone who smells it, even down the stairs and outside by the cars, comments about how good it smells and wonders what kind of goodness is going on in the kitchen. In short, it makes you feel like some kind of food God(dess) with your spatula raised high, hair frizzing brilliantly in the steam from the pressure canner! Well, okay maybe that is just me. *ahem*
Here are some combinations I have done. Not a single one has turned out bad or over spiced. I really love adding the jarred meat to the Stew Starters I make for a super easy meal. The single best piece of advice I can possibly give you is to never, ever make the entire batch of meat spiced the same (unless you are giving some away or something of course). You may love garlic beef but if you make absolutely all of it taste the same…let's just say I made this mistake and while I was grateful for food to eat, trying to make yourself eat something you have had constantly over a few months: you tend to lose your appetite!
The following ingredients are all fresh from the garden (except where noted as powder). The drop of liquid smoke was added to pint jars and 2 drops for quarts. It is important to have some plain canned meats as well for those times when you want something completely different.
Beef
Basil and oregano
Garlic, green onion, oregano
Garlic, white onion, chives
Ginger
Peppered
Chili powder, onion, garlic, oregano
Garlic, onion, a drop of liquid smoke
Plain
Pork
Basil
Rosemary
Garlic and onion
BBQ spice mix
Peppered
Plain
Chicken
Basil and onion
Rosemary and chives
Garlic and onion
Peppered
Green/Red peppers and chili powder with a drop of liquid smoke
Plain
Salmon
Drop of liquid smoke
Garlic and onion
Brined and then lightly smoked
Plain
I wish I could show people just how easy it really is to pressure can and process your own food. Yup, it takes time out of your day but here is the trade off:
You know how your food was processed
You have saved money because you did the work yourself (especially if you buy the meat and jars on sale!)
You have created shelf-stable food that does not require refrigeration (think winter storm power outages!)
The food you eat is a superior product and seasoned to your personal preferences
Sanity saver: For those days when you need an 'instant' meal, pop open a jar of canned meat and some mixed veggies in a saucepan. Heat and eat!
Do you pressure can your own meats? Give us a comment below and share some of your recipes and suggestions! As always, questions are welcome!