Don't you hate it when you have plans to make something for dinner, have everything prepped and then realize you forgot a key component? What's even worse is you are flat broke and can't go buy what you need, let alone spare the fumes in the car to get there and back. Ya…that happened to me last week but it turned out to be an eye opening and very fun experience. I had a crash course in making flour tortillas from scratch.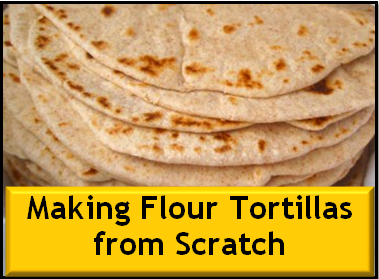 Necessity is the mother of all invention, as the saying goes and it certainly applies to this case. I needed flour tortillas to complete this masterpiece of home-cooked goodness I was expertly concocting. No, really. My refried beans and burger mixture is so good that people use it as a chip dip and the makings for both tacos and burritos. Maybe I'll share it with you sometime but this article is all about the awesome experience of making flour tortillas from scratch!
I was in a rut and needed a solution so, naturally, I went to the internet. I admit I did check my cookbooks to make sure there was a recipe for them there, too. Anyway, off I went and found a recipe that was, to my surprise, very similar to the recipe I use to make crackers from scratch! I thought, "Wait, if making flour tortillas is as easy as making crackers… WHY didn't I do this sooner!"
I cannot stress this enough to you. STOP PAYING those insanely exorbitant prices of flour tortialls at the grocery store. Here, an 8 pack of taco size flour shells will run you around $4. Making the same amount yourself in the same size for ohhh….thirty cents? Let me show it to you this way: Store bought – $4. Homemade – $0.30. That means you are paying $3.70 for convenience, preservatives, and questionable ingredients. I'm not saying it is bad to pay for convenience. What I am saying is this simple recipe can be easily made and customized.
The ingredients are as follows:
4 C. Flour
1 tsp Salt
1 1/2 C Water
2 TBL Lard (there are lard-less recipes out there, too!)
2 tsp Baking Powder
Whisk the flour, salt, and baking powder together in a mixing bowl. Mix in the lard with your fingers until the flour resembles cornmeal. Add the water and mix until the dough comes together; place on a lightly floured surface and knead a few minutes until smooth and elastic. Divide the dough into 24 equal pieces and roll each piece into a ball.
Preheat a large skillet over medium-high heat. Use a well-floured rolling pin to roll a dough ball into a thin, round tortilla. Place into the hot skillet, and cook until bubbly and golden; flip and continue cooking until golden on the other side. Place the cooked tortilla in a tortilla warmer; continue rolling and cooking the remaining dough. (source)
That's it. Mix the lard in with the salt and flour until it looks like cornmeal. Now, the original recipe says not to use shortening but it was all I had. I used double the amount of shortening than the measurement called for in lard. Then you add part of the water, mix, add a little more, and mix until the dough forms a ball. Knead it a few times to make sure it's fully mixed on a lightly floured counter top. Let it sit for 10 minutes.
Heat a skillet up without any oil; it's not needed due to the lard (or in my case shortening). Pinch off a golf ball size of dough and roll it out using a well floured rolling pin. Thickness is a personal preference. I suggest you go thinner to start with. Once rolled out, put it in the hot skillet until it's browned (but not too crunchy*). Flip it over and do the same on the other side. Repeat until done!
It's best to store them in a tortilla warmer so they don't get too crunchy or dry out. If you don't have one, place a clean kitchen towel on a plate and fold over the tortillas as they are done. If not large enough, another towel on the top will work, too.
*I think because I used shortening that the one I let get really brown broke when I tried to fold it around the burrito filling. Lard wouldn't have likely done that as easily.
CUSTOMIZE TO YOUR TASTE
So, after I made these and got over the fact that I should've been making my own for years, my imagination started to go. Just like with the crackers, it would be incredibly simple to tailor these to suit whatever it is you were making. Think about all you could really do with it! Flavors like oregano and rosemary, garlic and black pepper….the possibilties are truly endless. But you can go even further than that!
What about substituting some of the white flour with wheat? I know from experience that it will make the dough thicker and more elastic. That could make for a harder time rolling it out so you wouldn't want to make it half white and half wheat. You would end up with more of a bread than a tortilla. Another thing you could do is use some corn meal, say 1/2 a cup's worth substituted for the same amount of flour. It would give it a good flavor! So many options!
Do you make your own flour tortillas? Corn? Share below!!