Featured Contributor: Dan of Survival Sullivan
I get emails from people who claim to follow my site and want to guest post for me all the time. Last week alone, I had 8 different 'offers' to guest post and "help provide important information to my readers.' Needless to say, I delete them without replying and mark them as spam.
There are only 3 regular guest contributors here at Homestead Dreamer and that is by choice. I have high standards (ok, so there's typos ;)) for the information shared with people. It's important to me that people can rely on what they read here as factual, useful, and without any fear mongering. A considerably amount of research is put into what's written on the things I don't have personal experience with and sources always given.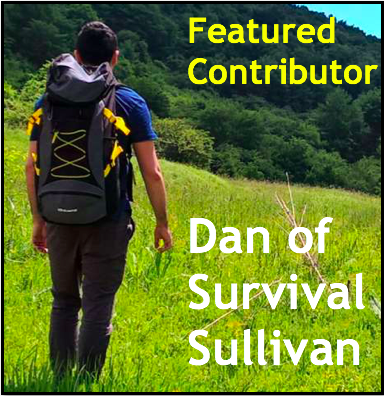 I want to give special recognition to these three hardworking people and bring to your attention who they are! We start the 3 part series with Dan Sullivan of Survival Sullivan.com. He and I have worked together on other projects and his factual insight and positive message are just a few of the reasons I accepted him as a contributor to Homestead Dreamer. He was gracious enough to be interviewed, which is shared below!
I highly encourage you to check their site and follow them on social media – I do!
---
Tell us a little about yourself!
Well my dad was military but I didn't find out about prepping until 2012 I think, right around the Mayan Apocalypse. I started looking deeper into it, I saw there are legitimate reasons to prep and that was it! I got hooked, started practicing, I started my blog and trying to help as many people as I can
What is your dream? (Example: Mine is owning land/homesteading) 
 A 2-3 acre survival farm with a permaculture garden, chicken and a pond 100% energy independent and more.
What got you into homesteading/prepping (If you focus on only one, please specify) 
 The fact that I worked for a survival company and spent enough time managing products to learn more about prepping
Were you raised in the lifestyle or did you choose it? 
I chose it, although I was raised partly by my grandparents who lived on a homestead.
What skill was the hardest one to learn that paid off the most? 
Perseverance. I read people stopped prepping after Trump was elected, big mistake.
What are you really passionate about in your genre? 
I would have to say bug out bags. They fascinate me. I believe there is a perfect BOB for everyone.
What goals do you have for this year to progress your overall dream?
Well my biggest hurdle is that I can't afford the 2 or 3 acres of land… hopefully I'll make some financial progress this year to reach my biggest survival goal.
What skill do you think all humans should know? 
Awareness. If they learn that, they'll be naturally inclined to learn more.
What message would you like to get out to people? 
 That preparedness is a lifelong journey and they should not abandon it. Ever.