My Top 2 Channels for Homesteading
Some people may find it surprising that I'm pretty much the same as they are: those who read my blog, that is. They come to be entertained, learn something, or maybe just dream along with me as I work toward a more self sufficient life.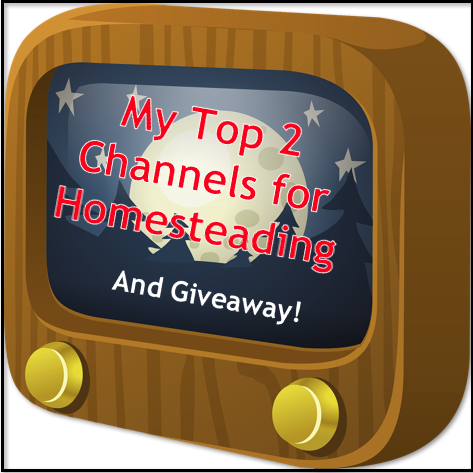 Well, dear reader, it's true! I'm just like you and spend hours (more than I probably should 🙂 ) reading articles, surfing around the internet and especially watching YouTube videos. I can learn by reading and watching but tend to do better (as most do, I'm sure) when I can see how something is done. Thanks to YouTube, I've learned a great deal about food preservation, raising chickens, and getting the general idea of what homesteading entails.
I want to share with you my top 2 – absolute favorite homesteading channels, along with why they are so fantastic! As a special bonus, there's a giveaway at the bottom for one lucky winner. If you choose to watch either channel, START FROM THE BEGINNING! 
My Top 2 Channels for Homesteading/Self-Reliance
I'm not a binge watcher, generally speaking. I can't sit for an entire weekend, watching episode after episode of a show – no matter how much I like it. That being said, I 'binged' the videos that Pure Living for Life puts out. Gobbling up around 4 or 5 a day until I had reached my data limit on my phone, ha! And they put one out almost everyday! My hats are off to them for the amount of time and energy they are putting into documenting their journey. When they arrived, they drove up onto a clean pad, nothing else! Filmed in the mountains of Idaho, the scenery is pretty great!
At the time of this posting, they are pouring the slab for their garage and I cheered with them at their progress. This channel gives a real appreciation for those who choose to be owner/builders. They don't have any animals yet, other than their gorgeous cat named Bugaboo who is full of personality and quite the talker. You will hear him often in the background, contributing his part to their videos. Jesse and Alyssa are a wonderful couple, very down-to-earth and charismatic.
My absolute #1 favorite YouTube channel is An American Homestead.
Sweet chicken nuggets, this channel is good! There's no fear mongering, no false information intentionally given to sell something.  You get to watch as this family (Mom and Dad, two boys plus Mom's parents) take land from a clean slate to a fully functioning homestead. And it.is.AWESOME!
The amount of content they put out on a regular basis is truly something I've not seen very often on YouTube. A large reason why most channels only post so often is the amount of time that goes into making even a 5 minute video. Well, these wonderful people pump it out not only in regular videos you would expect to see on YouTube, but they also put out a "season" of videos. Currently, Seasons 1-3 are out and are a lot of fun to watch.
One of the things I really love about it is when you are watching, there can be a lot of "I never thought of that!" moments. At least, there have been for me. I also love seeing the ways people use what they have around them to accomplish a goal instead of just buying something. They don't have electricity in the house so keeping things cool in the Arkansas summer is a challenge. There's an old well on the property and you see how they use it for keeping cheese and butter cold in the depths below without ruining the food.
I could go on and on about both of these channels but let's get to the good stuff!
---
The Giveaway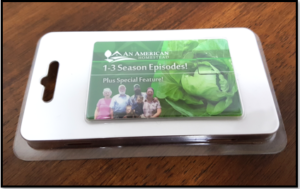 This one is pretty darn easy to enter! Simply head back to the Facebook Page and:
Leave a comment on the page telling me what you feel you need to learn the most about homesteading. You must make your own post or risk it being lost and not counted in someone else's post.
You will know you've been entered when you I have liked your post.
WINNER will be drawn and notified via Facebook message on Sunday, October 1, 2017. They will have 24 hours to reply before a new winner is chosen and notified.
THAT'S IT! Good luck to everyone! I have enjoyed having all the seasons on one card (and the extras are great!)