There are only 3 regular guest contributors here at Homestead Dreamer, by choice. I have high standards (ok, so there's typos 😉 ) for the information shared with people. It's important to me that people can rely on what they read here as factual, useful, and without any fear mongering. A considerably amount of research is put into what's written on the things I don't have personal experience with and sources always given.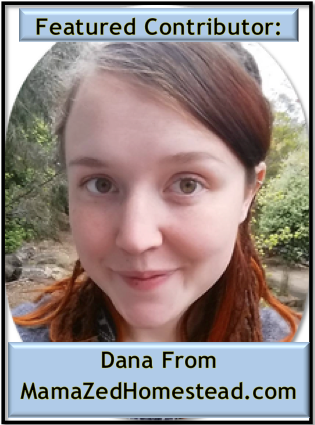 I want to give special recognition to these three hardworking people and bring to your attention who they are! We conclude the 3 part series with Dana of MamaZedsHomestead.com. She is the newest contributor to Homestead Dreamer and had added to the team immensely! Her "You CAN do it" attitude and message is something that is near to my own heart. An avid DIY'r, Mama Zed brings perspective from just about as far away from Alaska as you can get: Australia! I hope you enjoy getting to know her as I have.
I highly encourage you to check their site and follow them on social media – I do!
---
Tell us a little about yourself
I LOVE to DIY. If there is a project, something that we need or an item that needs fixing, I will usually try and do it myself. This has led to learning how to make our soap, brewing cider and mead and building our kitchen to name a few projects! My family means the world to me and my motivation in life is to see them living the best life possible. This is what made me the frugal, DIY, earth loving mama that I am today.
What is your dream?
To own our homestead debt free! Right now, we own 2 and 1/4 acres debt free and are currently saving to build our straw bale house on it so we can move in and start our debt free, self-sufficient life!
What got you into homesteading?
I grew up on 5 acres in New Zealand, so I was exposed to homesteading and prepping from a young age. I remember pouring over books like "The New Complete Book of Self Sufficiency" by John Seymour and numerous herbal encyclopedias as a child and plotting my dream homestead.
Were you raised in the lifestyle or did you choose it?
I would say both. While my mother's dream was to become a homesteader and this was something we were raised with, I do think I chose it. I moved out at 16, have lived in the city, and I still came back to homesteading as being a core aspect of my identity.
What skill was the hardest one to learn that paid off the most?
For some, it may not be considered a "homesteading" skill, but for me, money management is essential to a successful homestead. I am 25 and had accumulated a nice chunk of student and credit card debt over the years. Learning about how to manage money has been a hard road. However, we're now debt free and in the next few years will own our home without a mortgage – it has definitely been worth it.
What are you really passionate about in your genre?
I am really passionate about sewing and yarn crafts such as knitting, crocheting and spinning.
What goals do you have for this year to progress your overall dream?
This year we hope to save enough to start building our straw bale cottage! Between having two children under two and running a business, it will certainly be a challenge.
What skill do you think all humans should know?
I think all humans should know how to build and maintain shelter for themselves. I know far too many people who struggle when the air conditioner breaks down (though in Australia, this can be a valid struggle!) or when the power goes out. I would be mortified to see these same people trying to cope if it was something they had to deal with on a long term basis. Knowing how to do without or make do with what you have, having back up plans or alternative options is knowledge that I believe everyone should have.
What message would you like to get out to people?
Don't rely on others to provide for you. Whether it's the government, your family or a friend, there is no guarantee that they will always be there to help you out. Learn how to do things for yourself so you put yourself in control. It is a very empowering and rewarding state to be in.
Is there anything else you'd like to share or say?
Never stop learning! There are a million blogs, books, podcasts and videos out there for you to watch to access an enormous amount of information. Pick a skill you're interested in, research the crap out of it, practice it, and then do it again! "I wish I could do xyz but I don't know how," is the WORST excuse. Don't let yourself fall into the trap of thinking you can't do something just because you don't know how to. Yet.