This is week 29 in volume 3 of the Saturday Survival Serial. To learn more about what the Saturday Survival Serial is, click here. To start at week 1, click here.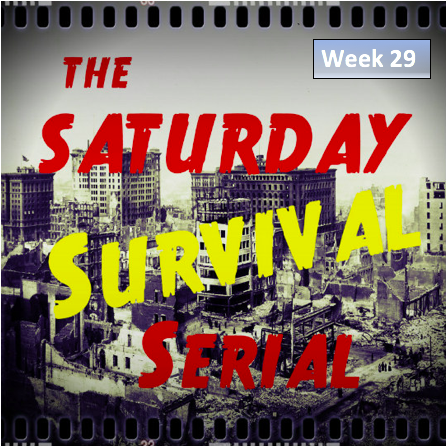 Jimmy read the message a third time, just to be sure. He looked up at Terry, Jessica's husband, with wide eyes and half a grin. Glancing at Al and Jessica, he let out a laugh of disbelief. Amie came in just then and stopped, looking around at everyone's expression.
"What is it? I heard there was a runner that came in. Good news?"
Jimmy laughed again and said, "The track just got laid to our station." He passed over the hand written note and waited for her to read it, exchanging smiles with the others who already knew.
"They made it! They already found Liberty's Teeth people inside the camps and there are communications already in place?! That's amazing!" Amie suddenly frowned and narrowed her eyes. "Has this been verified?"
Jimmy chuckled. "Turn the page over."
She did so and saw several symbols and crudely drawn animals that she recognized as codes, much like the emojis that were so popular before IT happened. They essentially served the same purpose as the millions of tiny icons to convey various messages, emotions, and other information.
Amie took in a deep breath and then smiled as she passed the letter back to Jimmy.
"Well, what's the plan now?"
*************
Pako's backside was sore from being tossed around in the truck so much in the last week. Once he had heard about the mention of liberty in a quote by a founding father, he had insisted that they all head over to meet the newcomers and wish them well. Of course, Pako had an entirely different agenda.
It hadn't taken long before Pako was able to confirm beyond any doubt that these people were part of Liberty's Teeth and, astonishingly, from a camp a mere twenty or so miles away. On top of that, they all personally knew Jimmy Walker and spoke of him with respect and fondness. They'd talked for about an hour before Shannon pointed out that they might draw unwanted attention. They parted ways, with Shannon and Sandi promising to get together the next day.
Pako decided that he would put in for going on the run to Plymouth to drop off three of these people and pick up supplies. He would use his position of overseeing the mail system in the area as his excuse for needing to go with and had promised Shannon he would hand deliver her letters to Edgar and Joli. He'd expected to be gone 48 hours or so.
As luck would have it, by divine intervention or just dumb luck – he wasn't one to question good fortune – Pako ended up traveling to yet another U. N. camp. He was ordered to set up and train people there on the regulations for the mail system. The trip to Norfolk, Nebraska had taken two days of bone jarring driving. They'd been shot at and had to ram an attempted roadblock on the way there. Once he'd gotten there however, he thanked whatever lucky stars were shining for him.
Not only was the location a storage facility and hub for moving goods, it was roughly 60% filled with people loyal to Liberty's Teeth. He learned that over the last eight months, people had been steadily moving in. This was the first warehouse and goods location they'd discovered and a great deal of intel had come from this location. It was a treasure trove!
With key people in trusted positions higher up, it hadn't taken long to learn of other supply warehouse locations nearby and so the spiderweb began to reveal itself. It was estimated that there were 5 super warehouse locations that fed 20 larger locations, that then fed hubs like this camp, and so on. It both shocked and angered Pako that there was that much food out there, in the hands of the United Nations no less, and people starved unless they submitted to being slaves, breeding stock, military drones…
Ultimately, he'd taken comfort knowing that it seemed Liberty's Teeth had done well in infiltrating the United Nation's system and were putting things in place to take it down. He reached down into the wrist of his jacket and itched absent mindedly and looked down, feeling something against the back of his fingers.
He smiled, recalling one of the ladies at Norfolk stitching an "LT" into the inside without any hint of it showing on the outside. Apparently, many of the people had taken to doing so as a way to help more easily identify each other. Sometimes talking wasn't always possible. Too many mentions of 'liberty' all the time could also cause suspicion. Pako liked it and promised he would pass it and everything else along, too.
The truck lurched to the side as it slammed over another large pothole and Pako sighed. Just a couple more days… He would end up staying overnight in Plymouth again and he would be lucky if he could catch a truck heading to Reed City outside of schedule. He thought he would be on the supply run going back up but the diversion to Nebraska had changed all that.
At least I will be able to pass the information along to the rest up there. He knew that the Canadians had all but wiped out the United Nation's presence in their country, minus a few larger installations on the eastern and westernmost borders. Rumors were confirmed of them moving south and getting into position, many already in place on the north east coast.
He jerked awake, not realizing he'd dozed off, when the truck slowed down. Sitting up and looking around, he was surprised to see it almost full dark and they were at Plymouth again. He thanked the driver for getting them there safely and got out. He stretched the kinks out of his body and turned when he heard his name being called.
"Hey, Pako! How was the trip?" Edgar was walking toward him with a woman he didn't recognize.
"Someone needs to do something about those roads. I swear some of the potholes are so deep, you lose the light of day for a moment before you're over it!"
They shared a laugh, agreeing that the worst roads before IT happened were almost brand new compared to how it was less than two years later without maintenance. Pako glanced at the lady before looking back at Edgar questioningly.
"Oh! My apologies. Pako, this is Tori." He lowered his voice. "She came from up north, where the apples are bitter?" Edgar gave him a knowing look. Word about the apple password had spread throughout this general area and was now used as a way to identify the people in the area north of Idlewild.
"Nice to meet you. In truth though, we voted not to use the apple thing anymore. In fact, it was wholly agreed on to never, ever use food for a code word again!" Tori smiled at Pako and winked playfully at Edgar. The men laughed amiably.
Tori handed a small stack of folded papers to Pako. "Can you please get these to Sandi or whoever that can pass them on?"
Pako took the notes and nodded. "Of course! I will, of course, have to read them." He grinned.
Tori laughed. "Of course. The difference between you and someone else reading them though is you will likely understand what they're really saying."
That made him chuckle and nod. "Very true, very true. How're you settling in here?"
Tori exhaled a breath rapidly and put her hands in her pockets. "Well, at first, it was god awful. Now that I know the right people, it's not too bad. Knowing there are people who have my back is good. Plus, with the other three, it's almost bearable."
Pako smiled sympathetically. "I'll be here a few days and have some of my own information to pass along here. Cheer up! This will all be decided one way or the other in a few short months.
Tori scoffed. "How, exactly, is that supposed to make me feel better?"
Edgar spoke up. "Well, either way, you'll be out of your misery!"
---
*Sorry it's short this week. I figured better something than nothing, right? 🙂