This is week 28 in volume 3 of the Saturday Survival Serial. To learn more about what the Saturday Survival Serial is, click here. To start at week 1, click here.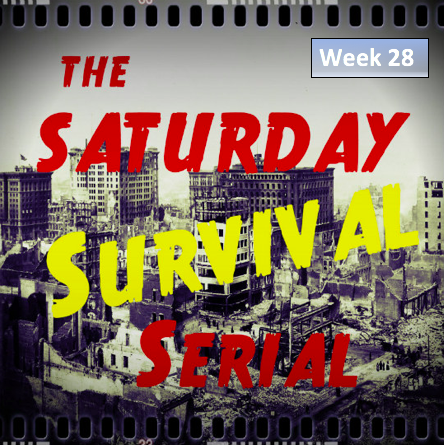 The group of volunteers heading to Reed City had been traveling for two hours, mostly in silence. They were heading into the unknown though thankfully, since Kace's arrival from Liberty's Teeth, they had a solid plan going in.
Kace had spent the last five days filling Jimmy and the other leaders in on details for the upcoming battle. Jimmy, in his usual manner, let everyone else know about it, too. The battle to get rid of the United Nations presence everywhere this side of the Mississippi River was scheduled to take place in less than three months. That had caused quite the range of reactions.
In the letter that Kace had delivered from the group that left to Plymouth, he'd learned of Sticks' death. When he shared the news, it was felt by everyone. Roger and Sticks had become part of the family. Jimmy had used it to remind people how serious what they were doing was, and the potential consequences. "No one has the right to make the choice for anyone else but themselves on whether or not they wish to volunteer. No one has the right to judge their choice. We are free men and women, so long as we remember that!"
Once word had gotten to the other camps about what happened and what Jimmy had said, volunteers had doubled for patrols or whatever else was needed.
Kace had gathered all those going out on patrols and volunteering to go to Reed City and taught them several quotes about Liberty that were used as code to identify 'friendlies while out there.' He also gave valuable information about creating markers for information drop off spots and how to spot ones left by other people. The use of rocks and sticks placed in one of three ways was also shown.
"When you don't have paper and pencil to write, or a way to keep it safe from the elements, these markers are basic ways to convey safety, danger, and in which direction. They can also show the way to resources." Kace explained how people all over the world had been using systems like this for millennia. "And it still serves us well today."
It was clear that several different styles of warfare tactics were being used by Liberty's Teeth. Kace said different areas used different methods but there were certain things, like communication, that needed to be more universal.
"Sometimes, the way you get a job done doesn't matter as much as the results. It's a judgement call but when it comes to communication, that needs to be something solid and reliable. With all the codes we use, one wrong word said in the wrong sentence can ruin everything."
The last thing Kace had said to them was that it was imperative that at least one person remains at Reed City at all times. It was agreed that it was of some importance, especially with no one really coming in or out. The helicopter hadn't been seen again, either.
Henry from South Camp, Ryan and Sandi from Center Camp, and Tanner from Main Camp were the ones chosen out of the dozen or so volunteers. Though Ryan and Tanner were young, it was hoped that their age would be an advantage. Young, healthy people were valued among what was left of the human population.
Denise hadn't been very happy about her son going into danger and the argument had left them both red faced and fuming. After a talk with Captain about it, Denise had to concede that her son was grown up, by all definitions, and had the right to make his own choices. They had a meaningful conversation before he'd left but her crying had put a damper on the whole group.
After another hour of travel, they decided to take a rest. They would make their destination tonight, before it got dark. If anything delayed them, they would wait until it was light again before approaching the camp. No one wanted to get shot in the dark.
"I don't know about anyone else, but my guts are twisted with nervousness. If those are butterflies, I think they're duking it out," said Sandi. The silence broken, everyone seemed to relax a little.
"The closer we get, the more I feel like puking," commented Tanner. "I'm not afraid to admit that I'm afraid. What will they do to us? I mean, it's not like we look like we're starving here. The clothes are a nice touch and lack of anything useful but honestly, would you believe us if we came up to the camps at home?"
Henry grunted. "Good point. One thing we all have is a lot of nervous energy and a healthy dose of fear at what's coming. That will help give some credibility."
Ryan looked around. "For one, we're too clean. Even though these clothes are torn and badly patched, they are clean. That would set off a red flag for me."
The others agreed and immediately started getting dirt and mud, sprinkling it in their hair, on their clothing and rubbing it on ankles and arms. They sat a bit longer, letting things dry out so they could wipe it off to make it seem like older dirt and discussed other things that might give them away.
"We have our back story covered. We are from up north, near the lake, and were raided by cannibals. There was a camp there and out of the seven that made it away, we four survived. We saw the camp there, watched it a couple days, and decided to approach." Sandi nodded her head. "As long as we stick to it, we are good."
"Ya, but what are the names of the others who didn't make it? How many people were there at the other camp? How did we get there?" Tanner grimaced. "My mom has taught me many things and one of the biggest ones was about the devil and details. The wrong answer to any one of those questions could blow it all."
The others looked around, wide eyed. No one said anything for a moment as the realization of how complicated this might really be set in.
"Hey, guys, let's not unravel here. The group that went to Plymouth made it in, remember? Yes, we lost Sticks, but we all made our choice. Let's make the best of it." She smiled at Tanner. "You may have just saved the whole show. Let's work out some more details and keep things straight. We will drill each other on the way, too."
________
Later that afternoon, the group were watching Reed City with Olaf Havhausen, who had been the one to discover it in the first place. He knew, better than anyone, the schedules and details of the place.
Before he took them to the best spot for making contact, he showed them a few places where information could be dropped off. Two of them had paper and pen inside a plastic bag. Though he'd only seen one person leaving the camp on a regular basis, he wasn't sure how often any information could be gotten out.
"We're working on loopholes to get you out of here if needed. There are some weaker spots in their patrols and surveillance but we need to be 100% certain before we try it. You'll need to last at least a week in there."
He took them to a stand of trees about half a mile from the edge of the camp. Taking out a set of travel binoculars, he let everyone look through them to see the area he thought had the best chance of safely making it in.
"A jeep will come down that road within the next hour. There are no functioning cameras that I'm aware of on this side of the camp. There's no infrastructure or anything of importance, so you will likely be seen as less than a threat if you make contact there."
Everyone nodded and fell silent, waiting. They had spent the last several hours ironing out details and drilling each other on them, making up fallbacks in case something slipped, and were about as ready as they could be.
All too soon, the sound of a vehicle could be heard as a low rumble in the distance. Olaf scoped the road and saw the jeep driving slowly along the road. There were the usual two uniformed and armed soldiers who rode with the look of boredom. They didn't even bother checking anything out.
Olaf wished them luck and promised that if it looked like they were in danger, there were eyes on them and sights on the soldiers. Shooting U.N. troops would be an absolute last resort as it would give away any advantage they currently had by being off the radar.
The group moved forward at a trot, intending to catch them when they looped back around. When they were within a quarter mile, they began running with their arms out to the sides to show they were not armed. The jeep came back into sight and down the road. As the two groups got closer, Henry called out and waved his arms.
The jeep swerved a bit as the soldiers perked up and pointed. They regained control and turned sharply in the direction of the 'survivors' running at them. Jumping out of the truck, they pointed weapons at the people but no one stopped.
"Help us! Please!" The only female said in an anguished voice. Her hands were stretched out imploringly. The soldiers looked at each other, uncertain.
"Pretend we think we are being chased! It will fit in and these two don't look like the smartest apples in the bunch." Sandi said it quietly enough not to carry but loud enough for those with her to hear. They fell into their roles and called out or looked back, seemingly in fear. The sun was just beginning to get low in the sky. The timing was perfect.
One of the soldiers called out. "Halt right there!" His voice cracked a little, belying his nervousness. When the people kept running, he licked his lips and called out again.
"I'm warning you! Halt where you are or-" he was cut off by his partner who was saying something too quiet to be heard.
Henry made a noise and started to slow down, looking warily at the soldiers who were now in an animated discussion. The others stopped behind Henry and waited. They didn't need to fake any of the emotions showing on their faces.
Finally, the soldier who spoke first turned to them and said, "Welcome to the United Nations Camp at Reed City. Are you seeking refuge?"
Sandi cried out, "What do you think?! We came running to you, didn't we? Can we please come in? There are bad people out there and I am so tired of running!"
The quiet soldier was pulling things out of his pockets, looking at them and then dropping them to the ground quickly.
"Yes, Ma'am. One moment, stay where you are." He looked at the other man impatiently.
"Aha!" the man said triumphantly, holding up what looked to be an index card. He started to read from it.
"Welcome to Reed City, Michigan, United Nations camp. You are welcome to seek refuge here, survivors, but must understand a few things first. By entering, you agree to follow the rules and regulations of the United Nations. You will be subjected to a medical and psychiatric examination by our staff to make sure you are not diseased. You will be quarantined for three days, where you will also be questioned on your work and education experience so you can be properly placed in a settlement camp or wherever else your skills may be needed.
"This camp is not meant to house many survivors. Instead, it serves other purposes in the efforts of the United Nations to save the human race. It is unlikely you will remain here longer than seven days. There are other camps not too far away that you will likely be relocated to.
"Until then, you are not allowed to leave the designated areas set out for you. You will be under supervision and are not to ask any questions about what you may see or think you see here. Failure to follow any of these rules can and will result in death. If you refuse to seek refuge and return back to this camp, you will be killed. Is that understood?"
The shock that rocked through the group was not faked. This was anything but what they'd been told to expect. If they couldn't stay here, how were they going to get any information back home? If there had ever been question as to this place being something other than what it seemed, it was squashed now.
Realizing they were not saying anything, Sandi spoke up again. "If we try to make it out there, we're dead anyway. Better to try and help than die for nothing" She stepped forward and broke the spell that had kept the group frozen in place. They stepped forward too, nodding agreement.
They were told to get into the back of the jeep and were taken to the main building. As they got off the truck, they were surprised when they were surrounded by more soldiers and taken inside. A puckish man sat behind a desk and heaved a long suffering sigh when he saw them. "Oh lovely, just when I've caught up from the paperwork of the last people to come in. Of course, bring me more!" He sighed again and waved the soldiers off.
"Where are they going to go, hmm? Honestly, just stand outside."
They were asked their names and general information such as age, ethnicity, where they were born and last lived before IT happened. They were given clean clothing and hygiene items to wash up with before going back to the same room to await their physical exams. They dared not say anything for fear of the wrong ears listening and jumped when the silence was broken by a door opening.
To men walked in. The first was dressed in a doctor's coat and the other in more casual attire. The second man looked at each of them and smiled when he saw Sandi.
"You've taken us by surprise! Amazing you look so well after getting cleaned up. No lice or anything! I'm sure you have some fascinating stories to tell us about how you ended up here but I'm getting ahead of myself. My name is Eugene. Eugene Rupert."
***********
Shannon couldn't believe what she was reading. She read it again and looked up at the soldier for confirmation.
"Is this for real? I'm to oversee the entire water system for the whole camp?" She looked up at the sky as if to ask, "Why me?"
"Yes, Ma'am. You're to be provided with an assistant who will help you keep things in order, along with supervising all water and sewage system staff." He smiled. "Congratulations."
Though she was used to being in charge, she wasn't used to being at the top. She'd learned long ago that when you're at the top, you were also the first target when things went wrong. Realizing she hadn't replied, she thanked him. He saluted her and left, leaving her standing there, holding the paper. She was, effective immediately, in charge of all water and sewer systems for the whole camp. She was now required to be at planning and organizational meetings, along with making regular reports to the mayor about the state of things. She almost groaned at the thought of all the political muck she was going to have to wade through. The kicker is she couldn't refuse, and she couldn't move to another city to get a different job. She was stuck.
As the day wore on, she busied herself with checking the main lines leading from the water reservoir. After a while, she had to admit that the promotion would put her in a good position to get additional information that might help them break out and join the free people outside U. N. control. She wasn't about to voluntarily get branded, not after what she had read about it and how people were treated once they were.
Later that day, she was heading home when she heard her name called. Looking around, she saw Pako and Dale waving at her and stopped. She waved back with a smile, waiting for them to catch up.
"I heard an interesting rumor today, Ms. Grand Empress Overseer of All Things Liquid. Care to enlighten us poor peasants?"
She laughed and assumed the posture of royalty. "Yes worship my all knowing waters of clear, gray, and black. Give sacrifice that ye may be blessed."
The men laughed at her theatrics and fell in step beside her. The hadn't seen each other in a couple days, what with the sudden arrivals. It was funny how completely off guard the camp had been taken by survivors showing up at their front, or rather side, door. The mayor had ordered that all critical infrastructure be checked for possible sabotage, video footage checked and rechecked, and everyone's whereabouts accounted for over the last three days. It reeked of paranoia or, at the least, ill prepared for people seeking refuge. The oddities just kept adding up.
"I hear they are getting shipping out to Plymouth the day after tomorrow. Three of them, anyway. One is being kept here but for what, I'm not sure. I know they were in with Eugene for quite a while."
Shannon snorted. "Of course they were. You know how he was with us and we've been in the system for almost a year. Imagine how he would treat people who were on the outside this whole time!"
The others nodded in agreement. "The good news is this will be the second run of mail from here to there and we should be getting something back from Plymouth this time," said Pako.
"Ohhh, I hope I get a letter from Joli and Edgar. I miss them."
"I heard on the waves that a shipment of fuel made it to Plymouth and they are sending barrels up here, too. A nice big shipment is expected, actually. Not only that, but some veggies and eggs, too." Dale licked his lips and grinned.
Shannon laughed. "Dreaming of a nice quiche?" She laughed harder at the grimace on Dale's face.
They continued enjoying each other's company on the walk to their respective homes. Dale went off first, leaving Pako and Shannon to walk alone.
"You know, I will have more knowledge of the inner workings with this promotion. It could help, right?"
Pako smiled at her with affection. "Yes, but please report only, no heroics."
Shannon made a most unladylike noise. "Ya, I'm just naturally prone to all sorts of heroic deeds. Please, what are you worried about?"
"You."
The way he said it made Shannon skip a step. She recovered quickly enough and switched the subject. "I'm supposed to be getting an assistant. Hear anything about that?"
Pako gave her a quick frown before answering. "Nope, nothing has been said about it. Just your promotion. The overall feeling is pretty good, actually. People like you."
"I hope I like my assistant. I wonder if they will be some kind of spy though. How will I know if I can trust them?"
"How did you know you could trust me?" Pako asked.
Shannon considered that for a moment. Finally, she shrugged. "I went with my gut, I guess."
"Then I'd say go with your gut again."
Shannon nodded. They made small talk the rest of the way, Shannon ignoring the white elephant walking alongside them. Since they had come here, Pako had been dropping little hints off and on. She wasn't sure how to take them and hoped that if she didn't acknowledge it, the problem would solve itself.
_______
Today was the day they would be released from quarantine and learn of their fate. They had been through the medical exam that showed they were healthy, if a bit underweight. The 'counseling session' they had endured had taken more than one of them to the edge. Eugene had turned out to be a nightmarish man who alternated between kindness and paranoid insanity. During Tanner's session, the man had taken to ranting as if to someone else in the room. Tanner was unsure whether or not to respond at first but when he heard the name Walker, he abruptly kept his mouth shut.
The group was taken out of their rooms and back to the building they were first brought to. Left alone, they were quiet for a few minutes before Ryan asked if everyone was OK under his breath. The others made various responses to the positive before the door opened and a man walked through. His features were sharp and though he dressed as a civilian, his gait and posture said military.
"Hello. I am Mayor Jeffrey Miller. I am here to let you know where you will be sent and what to expect." He smiled, though it looked like it strained him.
"I apologize for the way you have been treated here. We weren't ready for any survivors just yet. You caught us a little off guard but, because of your arrival, we are now up to par so I guess thanks are in order." He gave another strained smile.
"Now then, I'm sure you're wondering what's next. We have need of every human we can get to help us rebuild the race and world. Therefore, the three of you, "he pointed to Tanner, Ryan, and Henry, "Will be sent to the camp at Plymouth to assist in the efforts there. You leave tomorrow morning."
He turned to Sandi. "As for you, Miss, we have need of your clerical skills here. Don't worry, there is a mail system recently set up between the camps and you will be able to stay in touch.
"Until tomorrow, you will be taken back to the quarantine area. This time, however, you will be free to come and go outside in a two block radius. Meals will again be brought to you. For those leaving, you will be provided a jacket and better shoes. You will also be given a pack with some basic items inside.
"I trust you will all fare much better within the U.N. system than you did outside. Best of luck."
Without waiting for any response, Miller turned and went back through the door he'd come in from.
The vacuum left behind made the group look at each other with wide eyes. Sandi whispered, "What the hell are we supposed to do now?"
"At least you will still be here," replied Henry under his breath. He reached down, seemingly to scratch his leg. "Stick to the plan and it will work out." He fell silent as the door opened again, a soldier motioning them to follow.
They were dropped off in front of the quarantine building and reminded not to leave the two blocks designated as safe for them. They looked around, unsure what to do next and too paranoid to be the first to say anything.
Finally, Ryan simply sat down on the side of the road and laid back in the tall grass growing on the greenbelt.
"What are you doing?" Asked Henry.
"I'm enjoying the sunshine and considering what to do next. No sense in panicking and we'll never achieve our goals without a plan."
The others looked around, seeing no reason not to do the same and soon all four of them were soaking up some sunshine, talking quietly. They agreed that the mail system would be a good way to get information back and forth. They would use the code system that was shown to them by Kace before they left. It was hard to believe it had only been 5 days.
The sound of a vehicle made the group raise their heads to see what was causing it. A golf cart, of all things, was coming down the road, being driven by a woman. When she saw the people on the grass, her head tilted as if to make sense of it. She turned slightly and headed for them. As she neared, the group sat up and she smiled at them.
"Hello! I have to admit, both my curiosity and boredom got the better of me. Since I haven't seen any of you before, you must be the survivors that came in a few days ago." She looked them over and stopped when her eyes met Sandi's.
"And that would make you Sandi, my new assistant."
Sandi's eyes widened and she scrambled to get to her feet. The woman laughed. "No need to get up on my account. It's good to see people enjoying the little things in life, you know? Keeps us sane. I imagine you've earned a bit of rest after being out there in the wild world. How'd you survive?"
No one answered, most having a deer in the headlight look. This was the first person they'd met that wasn't a soldier, not to mention friendly. The woman laughed.
"Perhaps if I introduced myself? My name's Shannon. I run the water and sewer systems for the whole camp here at Reed City."
Tanner suddenly spoke up. "We survived the best we could. Some cannibal religious freaks drove us away from our home up north and we ran."
Shannon's face showed surprise at the casually given story. "Sounds like you've been through the ringer. Religious and cannibal hmm? I'd hoped all the really scary people had died off by now."
Tanner laughed harshly. "Some of the scariest people survived because they are scary. "In every country and every age, the priest had been hostile to Liberty." Religion has done more harm than anything over the ages."
Shannon's eyebrows raised up. "Who said that?"
Tanner looked her right in the eye and replied, "Thomas Jefferson."
Shannon laughed. "Figures. A founding father. Well, I need to get going. Good luck on your trip to Plymouth. It's not too bad there. That's where I was before here."
She looked at Sandi. "Your first shift is the day after tomorrow, ok?"
"My name is Sandi. Nice to meet you. If you need me before then, I'm sure you'll know where to find me." Sandi smiled, realizing that this woman was going to be her boss for the foreseeable future and wanted to make a good impression.
Shannon returned the smile. "Hard to keep secrets around here. Enjoy the sunshine!"
She turned the golf cart around and took off toward the main building.
The others looked around at each other, not sure what to make of the encounter.
_______
At dinner that night, Shannon ate with Pako and Dale. She told them about meeting the newcomers and the interesting conversation she'd had with them.
"They looked healthy enough but were so skittish, I think i could have made them jump if I'd just said "Boo." They didn't talk much."
"Well," replied Dale, "From all accounts, they've had it pretty rough out there. Kind of makes sense they'd be jittery. Plus, remember how we felt with our group being broken up? All the uncertainty that goes with it is enough to make anyone act odd."
"Odd is one thing. Quoting Thomas Jefferson is another."
Pako stopped, a bit halfway to his mouth. "Thomas Jefferson? Do you remember what the quote was?"
Shannon looked at him in surprise. "Why?"
Pako looked at her almost pleadingly. "Do you remember?"
Shannon sighed. "Not word for word, but it was something about religion not liking liberty or something."
"Are you certain? The quote had the word "liberty" in it?"
Shannon nodded and then jumped when Pako smacked the table with a loud whoop. "You have to tell me where they are! I need to speak to them right away!"