I have gotten a lot of questions about being able to homestead with a baby. While I am past the age where having one would be wise, my initial reaction is always "Of course you can! Heelllooo….pioneers had babies, and they made it!" In truth, during those times, you never really knew if your child would make it to adulthood or not. The lifespan was considerably shorter overall but infant mortality was also considerably higher.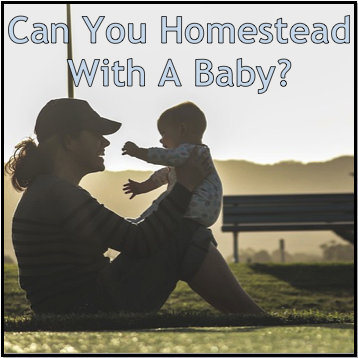 Logically speaking then, with our modern conveniences and better healthcare, it should almost seem easy to start homesteading with a baby. Right?
Since I don't have any authority on the matter, I turned to fellow blogger and Homestead Dreamer guest poster, Dana from MamaZedHomestead.com. She lives on the opposite side of the planet in Australia. I love her down-to-Earth, quirky style. Here's her take on Homesteading with a Baby.
---
Can You Homestead With A Baby?
There will always be a long list of excuses for not getting something done. We as a species are fantastic at procrastinating and making up reasons about why we can't achieve a task. It could be due to a lack of funds, a lack of knowledge or just a shear lack of motivation. Your dream of homesteading just gets further and further away. One question that I asked myself was, "Can You Homestead With A Baby?"
Short answer? Of course you can! More honest answer? You can, but you have to be willing to work hard.
Life in general gets harder when you have a baby. You might have these wonderful images in your head about your baby sitting in their highchair while you bake. How about feeding the animals while your beautiful toddler holds your hand as you're walking? I know I had that one quite a bit. There will be days where your life is idyllic and you think to yourself, "Why was I ever worried?"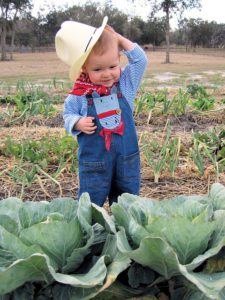 Then you wake up with a foot shoved in your face, the smell of dirty nappy wafts through the air and a high pitch scream for breakfast snaps you out of it.
I always wanted to be a mother. It wasn't just one of those goals that I had to tick off my life's to-do list. There was a deep seated need that wouldn't be fulfilled until I had my baby. There is not a single day that goes by that I regret our decision to start our family. However, I also have to remind myself daily about why we swapped to life on hard mode in the first place.
Little dude is now 17 months old and we are due with his little sister in 3 weeks. That's right, we went back for round 2. What is wrong with us? We still can't answer that.
I've learned that you can still get your chores done when you have a baby. You just have to be a bit more creative about it.
These are the tried and tested ways that we survive homesteading with a baby.
"Cages" are your friends
Alright, maybe not real 'cages' (though some days…). By this, I mean any cage-like device that exists these days to keep that mini human in one spot. Get yourself a baby gate, a play pen, a blow up pool without the water…find a way to trap that little monster into one place so that you have some sense of control over the situation.
While inside, we have a baby gate that successfully keeps the child out of the kitchen. I can still see him and the trouble he is usually in, but I don't have to worry about opening the oven and having him throw himself towards it.
While outside, we are lucky that our current property is fully fenced. That's not to say that he can't get himself into something he shouldn't. It just means that it narrows down the amount of distance that he can put between us. Before he could walk, play pens and blow up pools were a great way of keeping him in one spot. Right now? I'm just thankful for the enclosed fence.
Get them involved whenever possible
I've been told time and time again that they are never too young to learn. While this is true to a certain degree, I think the phrase, "They're never too young to try to help" is a more accurate statement. Even though he is only 17 months old, little dude has ways that he helps out. These can include:
Carrying the peg basket when we are putting clothes on the line (inevitably dropping them and deciding to play with them at some point but USUALLY we make it to the line first)
Putting dry washing into the basket while I fold (before taking it back out. Then putting it back in…You get the idea)
Sweeping. I have no idea where this fascination comes from, but my kid is OBSESSED with brooms. He has two of his own mini brooms which he uses to move dust around. I'm hoping this will lead to an older child who is just as enthusiastic about cleaning as he is now. One can dream, right?
Wiping the table. At this age, he loves to mimic us. As soon as I see him trying to do a job I would normally do, I will either get him to help or do it himself. As he gets older, he will be able to take on harder tasks.
It will all depend on the age of your child and really, their attention span. Even if you can get them to do a job for a few minutes, you are still supporting their development. One day it will pay off!
Use A Carrier
When I first got my Manduca carrier, I asked myself how I had ever coped without it. All of a sudden, I could be hands free! This was great when he was younger and clingy, just wanting to be carried all day and see what was going on. I could get outside or I could get a sink of dishes done! Sometimes he would fall asleep. Other times he would be happy just peeking out from the carrier and watching the world go by.
Have older children? Here are some tips and tricks for gardening with kids!
The only reason I stopped carrying little dude was because my current bump got too big. As soon as little miss is born, she'll be in the carrier and I'll be back to figuring out how to do my chores with two. Silver lining? At least it'll almost be hands free.
They sleep. Eventually.
This one isn't as reliable, but it can work out. When I wake up first thing in the morning, I mentally try to prioritize what I want to get done that day. These jobs are usually split into what I can do with bub, what I can do while he is entertaining himself, and what needs to be done while he is asleep.
It will take practice to figure out what chores fit into which categories for you. Sometimes you'll get lucky and have a reliable nap time and length. Other days, baby might decide that your plans really don't matter and you'll be lucky if you even get a shower that day.
The main thing to remember is that you have a baby. It's obviously something you won't really forget, but looking after that little life is a chore in itself. You might get to the end of the day and think you haven't been able to get anything done. Actually, you have. You made it through another day. Cut yourself some slack and try again tomorrow. Try to plan ahead, just don't be too heartbroken if that plan gets thrown out the window.
---
You can find more from MamaZed on Facebook, Pinterest, and www.mamazedshomestead.com.