This is week 27 in volume 3 of the Saturday Survival Serial. To learn more about what the Saturday Survival Serial is, click here. To start at week 1, click here.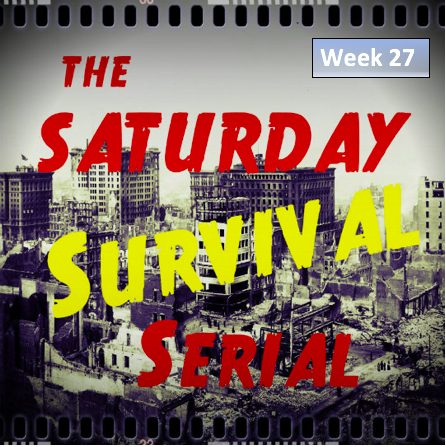 Roger heaved a 50 pound bag of flour off the pallet and threw it over his shoulder. He passed his 'co-worker,' Russell coming back out of the storage room to get another bag. It was freight day, Roger's first, and he was stunned with all he was seeing.
The amount of food packed onto the two cargo trucks was staggering to see, especially for someone who hadn't seen such a thing in well over a year. He didn't think there was even the possibility of this amount of packaged and processed food still in the world.
Passing through the double doors, he entered the large storage area and turned toward the second aisle on the left. The first time he'd come in here, his knees had almost given out from under him. Russell had laughed good naturedly and explained that a lot of people had the same reaction. He'd seen people break down and cry, to screaming and running to hug the food, and one person had even passed out. When they'd come to, it was clear that their mind had snapped.
"He kept asking to be returned to his dimension, where there was no more capitalism and factories, running vehicles, or stores. It was kinda creepy."
Russell was a 23 year old kid who had the auspicious title of "Storage Supervisor." What he supervised was beyond him, he'd said with a shrug and a smile. The guy was just happy, and thankful, to be alive. He said so often.
As they passed each other again, Russell told him it was break time after the next pallet was done. Roger was grateful. Though he wasn't in bad shape, per se, he certainly wasn't used to such long hours of non stop hauling, cooking, and scrubbing. There were a lot of people here; he'd heard well over a thousand now, but had yet to really see that many. He'd been here sixteen days now but was still playing it safe, along with Tori, Kory, Bret, and Richard.
The pallet unloaded, he joined Russell outside and sat down on the sidewalk next to him.
"Whew! That's quite the haul today. I just don't understand where it all comes from!" He didn't have to fake the wide-eyed look he gave the younger man.
Russell smiled and puffed up a little. "Well," he replied self-importantly, "I can tell you that there's a huge warehouse in Wyoming. It's underground and well protected. See, the governement has huge caches all over the place for some huge disasters. 'Course, the population drop across the planet was far fetched but that's just better for those who survived, right?" He punched Roger playfully on the shoulder.
"I'm lucky to be one of them, and here. I can move up in the ranks and be running the whole kitchen someday!"
Roger masked his reaction at that statement. The kid is so blindly caught up in it all. He's bought the whole illusion hook, line, and sinker. Not even fighting as they lure him in. Instead he smiled and lightly punched the kid back.
"That's true! If they had so much stashed away, it'll go longer for us on this side of the fence."
Russell nodded excitedly and replied, "Yes! That's what I'm saying! And it's not just Wyoming, either. There's at least one within three states, no more than 750 miles from each other. There was plans made with the United Nations decades ago to lend aid with those supplies if needed, "but not at the expense of our own well being." I heard a colonel guy say that at dinner one night when the camp first opened."
Roger again covered his reaction, this time of shock. He realized he was staring at Russell was looking at him in the eye, studying him. There was a calculating glint in his eye that caught Roger off guard and he realized he'd better reply quickly.
"Um, Russell…" He lowered his voice and glanced around. "Maybe you shouldn't repeat what officers say? What if there are people who aren't as thankful as we are to be here!"
The calculating edge was replaced with amusement. "Ya, right. They have ways of rooting people like that out. There are ears and stuff everywhere." He tapped his nose and winked. "Besides, I wouldn't be alive if not for the United Nations. They stepped in where our country couldn't."
Roger nodded and looked thoughtful, as if he was contemplating something troubling. "How do I know if I run into one of them? What if I didn't know and they thought I did…."
Russell put his hand on Roger's shoulder to reassure him. "Don't worry. Why do you think you were questioned and live in shared housing for so long? Why do you think you don't get full status to shop at the store or earn any camp leave? They have to make sure you're legit before you get full resident rights." He sat back, letting his hand fall with a grin. "Anyway, I've already filed my report on you. I think you're just another person trying to survive and will do good here. I hear you know a lot about old war tactics. That would be cool stuff to learn…" he left the question unasked.
Roger's smile was both for Russell's benefit and his own. The kid had just opened the door for Roger to get some incredible intel. The trouble was, how in the hell was he supposed to get it back out into the right hands?
*************
It was another day at Center Camp, the last couple weeks or so had been pretty quiet. Jimmy, for one, was both glad for it and wary. He sometimes felt like there was a sword hanging over his head and one wrong step would have it taking him out. He didn't know whether the quiet was good or the calm before the storm. He'd decided to work out his frustration on the wood pile that had been steadily growing as groups went out further and further to find the dead, down, and dying trees.
Patrols had been going out further. Just like when we first started. Reports from Reed City reported nothing other than work being done on utilities. No one came in or out and there was nothing heard on the waves, though the huge antenna that had been erected showed that they had an impressive range for listening in.
Jimmy just stripped off his threadbare t shirt and was putting another impressive dent in the pile of rounds when his concentration was broken by a wolf whistle behind him. He split the round in front of him and turned to see his wife walking up. Smiling, he grinned and flexed his muscles. Wiggling his eyebrows, he asked, "Like what you see?"
Amie laughed and nodded. "Yep. Sure do!"
Jimmy grinned and replied. "I knew you needed glasses." He looked pleased all the same and asked what brought her over.
Amie eyed him up and down a moment before replying. "Oh, there's a messenger here to see you. Came in with Tanner from Main Camp." Her eyes sparkled they met his. "He's from the safe house at Grand Rapids!"
Jimmy's jaw dropped a moment before saying, "Why didn't you tell me from the start? You know how much it's been driving me crazy! I was thinking about making the trip myself!"
Amie's eyes narrowed a moment. "I didn't tell you from the start because I was enjoying my eye candy, thank you very much. That is, until you decided to tell me about your completely impossible idea."
Jimmy warred between being referred to as 'eye candy' and wanting to argue that at some point, he would likely have to leave when the confrontation came and decided against all of it. He wanted information more than anything else.
"Fine. Whatever, you win. Now can we please go talk to this messenger? Are they in The Hall?"
Amie eyed him again before relaxing and saying that they were at the Comm Shack at the moment, sending a message out to let those who needed to know that they had made their destination.
Jimmy said he wanted to get a fresh shirt and would meet her over at the Comm Shack, thinking that was a better place. Before he could ask, she told him that Al was already over there and they would wait for him.
After hastily cleaning up, Jimmy half jogged his way across camp. That feeling of both dread and hope for good news came back with a vengeance. He steeled himself, ready to face whatever happened, and walked through the door.
He recognized Tanner right away. The young man had aged handsomely though the strain around the eyes was a common feature on both the old and young these days. The other person could only be the messenger from Grand Rapids. He nodded his hellos to everyone else there and offered his hand to the newcomer.
"Jimmy Walker, pleasure to meet you."
The man shook his hand and replied, "And you. I'm Kace. First, I have a letter for you from your people who went to Plymouth." He reached into a well worn, often patched satchel slung over his shoulder and pulled out a plastic bag with folded papers inside. After passing over the one for Jimmy, he went on.
"I have a lot of information to pass on to you and your people. We have intel that directly affects this area. Are you aware of the camp at Reed City?"
Jimmy glanced at Tanner who met his eye and nodded firmly. The man had been verified at Main Camp, and likely South Camp before that; he could be trusted.
"Yes. We've been watching it for a couple weeks now. There was a helicopter and a drone sighting, too. Tracks were found by some outlying homesteaders who told us about what they found after following them. We've made plans to protect home as much as possible but, as you can imagine, we are rather cut off from any real information. I hope you have some answers for all the questions we have. After taking in Roger and Sticks and setting things up, and then they leave, it's been frustrating as hell."
Kace listened closely, without scorn or judgement showing on his face. When Jimmy was done, he nodded. "That is one of the reasons I've come. We were going to send some other people but when we learned about Reed City, we had to get someone here now to learn more. There are too many unanswered questions, as you say." Kace smiled reassuringly.
Jimmy eyed the man again and found no trace of mocking or cockiness. It was hard to get a good read on him.
"So, what's the plan, then. I suppose you'll want to give you report, get information and head back? How long do we have?"
"With your permission, I would like to stay at least two weeks, perhaps a month. As I said, I have a lot of information to share with you and your people. I was told you were the leader of these camps and your name has been known to us for some time, largely due to the rantings of one Eugene Rupert."
Jimmy's teeth ground together. "What is it with that guy! The CIA, FBI, Homeland Security…all of it is gone and he is still hell bent on 'getting his man.' The kicker is, I wasn't even doing any of the things they suspected! "Homeland terrorist." I served this country!"
Kace suddenly laughed, throwing his head back. "Don't you see, Mr. Walker? All he had was his job before and, as long as you live, he still has a purpose – a job. Though he doesn't realize it himself, you are likely the reason he's still alive now."
That through Jimmy for a loop but he knew the ring of truth when he heard it. He ran his fingers through his hair. What a twisted web, he thought.
"I'm afraid I don't have time to worry about that nut job."
"Actually, you might need to make time. He's reportedly moved to Reed City."