This is week 25 in volume 3 of the Saturday Survival Serial. To learn more about what the Saturday Survival Serial is, click here. To start at week 1, click here.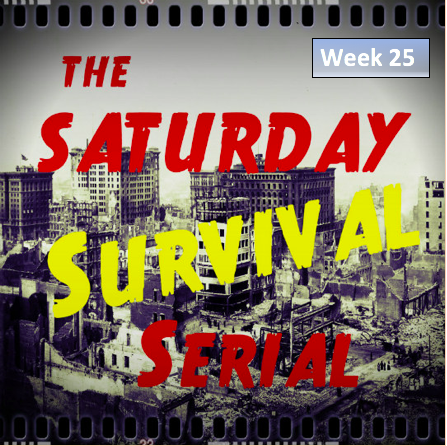 The crowd cheered wildly as the jugglers finished their routine with a flourish. It was the last full day of the Gathering. Tomorrow morning would see the majority of the people leaving before dawn, back to their respective camps.
Jimmy plastered a smile on his face and clapped along with the rest but he couldn't help feeling guilty. Soon, the news and topics they had to discuss with the group at large would wipe away the merriment that was thick in the air.
As if reading his thoughts, Amie squeezed his hand and looked up at him with concern. He widened his smile and winked at her before turning to listen to Arturo announcing the last act before they broke for lunch, after which would be the big meeting.
"For your listening pleasure, I shall recite for you, "The Highwayman," by Alfred Noyes." He smiled at a few gasps among the crowd.
Behind him on the makeshift stage was a raised mish mash of blankets and tattered sheets where the sound of wind came suddenly. Arturo spread his arms wide as if gathering everyone in closer. With the slightest turn of his posture, he seemingly moved forward as if speaking to everyone there only a few feet away instead of hundreds. His voice was clear and carried out, as if on the sound of wind from behind the curtain. He began.
"The wind was a torrent of darkness among the gusty trees.   
The moon was a ghostly galleon tossed upon cloudy seas.   
The road was a ribbon of moonlight over the purple moor,   
And the highwayman came riding—
        Riding—riding—
The highwayman came riding, up to the old inn-door."
The sound of a horse running at high speed twined with the sound of the wind. Amie gasped, looping her arm through Jimmy's excitedly. Her eyes sparkled when he looked down at her and he couldn't help but smile. As Arturo went on, it was easy to get lost in the story and spell he was weaving.
He recited the entire poem from memory, skillfully taking on the part of each character. The sound effects came perfectly on cue, giving as much life and breath to the performance as Arturo himself. Though he barely moved three feet in any direction, it seemed as if he were the one on the horse, flying across the land.
Tears were on more than one face when the heroine of the poem died to warn her love. Though the tale was sad overall, the talented way it was performed brought deafening cheers from everyone gathered and calls for an encore.
The other members of Merry Muse came out from behind the tent and took several bows before clearing the stage, promising more entertainment that night.
Everyone broke for lunch and there was laughter heard everywhere. Children chased each other while the adults talked over food or the bartering tables. There was already a line at the blacksmith cart.
Jimmy and Amie were joined by Marian and Al on their way to where Denise and Captain would be having lunch. It had been agreed that they would go over everything one last time before making the camp announcements.
They said their hellos and sat down, accepting plates of food. After a few minutes of eating, Captain broke the silence.
"We know I can't give the speech, voice won't carry far enough. Jimmy, you've got to be the one. We'll be behind you, helping to keep things calm. Any questions about the announcements?"
Jimmy sighed heavily, feeling the weight of leadership settle on his shoulders more so than any other time in his life. His camp was one thing; addressing almost the entire population of all three camps was another. When he glanced up at Captain, the appraising look the man gave him made him sit up straighter. There was the slightest of nods from the man before he took another bite.
"Right. I don't have any questions but, to be clear, we are going to tell them everything. There was talk about leaving certain things out, due to the possibility of other U.N. spies in our camps. We can't let suspicions guide us or our actions. If I'm the one called on to speak, then I will do it the way I run my camp." Jimmy nodded once for emphasis, the matter resolved.
He was met with silence, though as he met everyone's eye around the room, he found nothing but acceptance. Jimmy took in a deep breath, nodded again and finished his meal.
He had just taken leadership of the entire group of survivors gathered here and had the backing of the other leaders.
It seemed he barely had time to process any of what just happened before it was time to have the meeting. He knew what he had to say, just now how. When he asked Amie her thoughts just before he took place on the stage, she smiled and kissed him on the cheek and said, "The way you would tell anyone else."
He frowned at the reply until he was standing before 300 plus pairs of eyes, all looking up at him. Taking a deep breath to harden his nerve, he began.
"Thank you to everyone for your work to make this Gathering the best one yet!" Cheers went up from the crowd and smiles were seen everywhere. Jimmy put his hands up to quiet them down.
"This last winter brought us a lot of tragedy and hardships. Still, we pulled through! I'm sure you know that there is a lot of U.N. activity going on out there in the world. There are a lot of rumors going around. Today, right now, I am going to tell you everything we have learned. What I tell you will be only facts that we have verified.
"I am certain that there will be numerous questions. I'm sure you will understand that with a group this size, there is no way we could answer them all. To be honest, we simply don't have answers to give for some of the more pressing questions! Let me reiterate: You will be told everything we know. Though there is much we can only guess at, be assured that we have a plan, too."
Jimmy paused, letting the introduction sink in. He was about to unload a lot of information on these people, some of which could be their worst nightmares. Rumors were easy to ignore and pretend weren't real. He was going to be shattering a lot of illusions of safety tonight.
People started to murmur amongst themselves. Before Jimmy could speak again, Captain stood up from the side of the stage and walked slowly over to the stairs. People moved to help him, which he angrily swatted away. The crowd was as quiet as they had been during the performance earlier – seemingly more, as if the very air stilled.
"We all know that life is a fleeting thing. Time moved forward, no matter how much we wish it otherwise. I'm unable to do the duty you all trusted me to over a year ago. I can think of no other person better than Jimmy Walker to take the helm. I, and the other leaders of your camps agreed and support his decisions. I expect you to give him the same trust and loyalty you gave me. He has ever served us as best as he possible can. It's a little known fact that if not for this man, absolutely none of this – or us – would be here."
Captain's breath was coming hard now, and he turned to walk back off the stage. This time, he didn't shoo people away as they helped him down the few steps. A seat had been brought close and he sat gratefully.
When Jimmy turned back to the crowd, he could physically feel the shift in attention. They were paying attention before, but now they seemed to be listening.
"The rumors regarding the U. N. settlement camps at Plymouth, Indiana and Reed City are true. There was a drone spotted, as well as a helicopter. We believe both items to be part of the Reed City location. As with the Plymouth location, we will be asking for people to volunteer to go to Reed City, infiltrate, and get information back."
He expected there to be outbursts, gasps, some kind of reaction. What he got was an eerily quiet group, listening. He went on.
"We are part of the group Liberty's Teeth. All camps. All of us. We have been working with them for awhile now, as most of you know. It was never formally announced before, so I am right now. If you wanted to live with the United Nations people, you wouldn't be here now. There may be spies among us, though doubtful! We've all known each other for more than a year now, with few exceptions. While I will be as cautious as possible to limit the risk of all, I will not let suspicion drive my choices!"
There were a few cheers scattered across the group at his last statement. He put up his hand and went on.
"Liberty's Teeth will let us know what the overall plan is. Until then, our plan is to get as much information as possible and set up the relays to get information in and out of the camps. Already there are plans set in motion that will come together for a final showdown to drive the threat of a would-be "New World Order" from taking over the human population! Until then, we will all need to work on keeping our homes and property safe.
"Patrols will be going out and volunteers will be needed for them, too. Make no mistake and tell yourself no lies – this is a battle in the war of freedom that has lasted among humanity for as long as humanity has existed! The battle for freedom from slavery, the battle for rights, the battle to earn the right to be left alone and live how you choose! This is how our battle has come about, and We.Will.Meet.IT!"
The roar that erupted from those gathered seemed to make the trees shake as the sound bounced off them. After a few more details, he turned to the last topic that seemed an oddly fitting way to end the meeting.
"One last thing. It has been said many times that we need a new password, preferably something not food related. What say you?"
He was met with a stunned silence at the abrupt switch of topic that quickly turned into laughter. It was plainly obvious that the majority agreed and he promised a new one would be chosen and everyone informed. When he ended the meeting with some final information, he was worried that he had just ruined the last night of merriment.
To Jimmy's relief, though people were a bit more thoughtful looking, most didn't let all that had happened during the meeting to stop them from having fun. In fact, he thought, I think they're trying to make sure they have as much fun as possible. Tomorrow isn't guaranteed.
Merry Muse was making the rounds again that night and the line following two of them as they played their folksy music was the longest he'd seen yet. People laughed and smiled, waving as they whirled past him.
He decided to follow their example and went to find Amie. When he found her, he took her by the hand and, ignoring her questions and light attempts at getting free, led her to where people were dancing to a flute being played by Henry from South Camp.
"I want to dance with my wife and live in the moment for all it's worth. That OK with you ma'am?" He grinned at her roguishly.
Though she tried to maintain an irritated look, it didn't take more than a few seconds before she returned the smile. "You're lucky you're cute."
He chuckled, pulling her close. "I'll take it!"
***************
Bret slung the coil of wire over his shoulder, grunting at the weight. It'd been 10 days since he and the others presented themselves at the checkpoint, 'seeking refuge.' The transition had been hard on him; he was so used to being able to come and go where and when he had pleased for so long, having a strict schedule again grated at him. That, and the fact that they were no closer to having any idea how they were supposed to get information out.
They'd learned that radio access among the residents was prohibited. When he'd joked about tuning into a country station, he was told that all communication was under the jurisdiction and control of the United Nations. It was only to be used for information, not entertainment.
The group from the camps in Michigan were rarely alone together and talking without being overheard proved to be difficult with their current living situation. Most of the people in Temp Housing kept their doors open, likely in an attempt to show they have nothing to hide. Of course, he and his group did have something to hide but they also left their doors open to give the impression of fitting in.
Nodding to the armed soldier standing guard, Bret walked into the main communications room. It was covered wall to wall with all manner of radios, wires, and speakers. Almost every flat surface had a map spread out on it showing various areas with pins marking locations all over them. He barely had a moment to register what he was seeing before someone called to him.
"Hey there!" An older man spun around in his chair, smiling. He stood up and offered his hand. "I'm Edgar, nice to meet you! That my coaxial cable?"
Bret nodded, shaking his hand but not wanting to trust the friendliness in the man's face. "Yep. Wish it was Cat 5 line instead. At least it'd be lighter, but I expect that we're a long way off from using that again."
Edgar chuckled and took the coil from him. "Well, these U.N. boys are resourceful. I'm sure there's still some being used somewhere on the planet."
Bret barely contained a derisive snort, trying to turn it into a cough at the last moment. Edgar eyed him a moment before commenting, "Ya, it gets dry and dusty in here," as if explaining away the cough.
Bret eyed him back and when the man didn't flinch away from his stare, he gave his first genuine smile since arriving at Plymouth.
"You're one of the newest arrivals, right? What was it like out there? Were you out there long?"
Bret nodded at the barrage of questions. "Ya. Got here a little over a week ago. Been out there running around on my own at first, then met up with some others. We managed, barely, to make it through the winter and then heard the call on a hand held radio and started making our way here." He shrugged like it was no big deal.
Edgar 'hmph'd' and said, "Sounds like a helluva story to me. A story is worth a lot these days. I've got a bunch of friends I came here with, too. Maybe you'd like to come have a dinner with us and we can swap tales."
Again, Bret was wary of trusting a person who seemed overly friendly. His gut told him the guy was OK but he'd been misguided before. The look the man had given him could be interpreted several ways. Not being able to know which, without outright asking the guy which side he was on, put him in a precarious situation.
Edgar smiled again. "Hey, no pressure. I'm sure you're still adjusting to all this. The offer's open, if you change your mind, any time." He sat back down and patted the main radio. "You know where to find me!"
Bret thanked him before leaving. His thoughts whirled as he went to his next delivery.
___
Across the camp, Tori was walking from house to house, knocking on doors. She hadn't known what to expect when she was told she would be teaching people about maintaining health, but it sure hadn't been what she was doing now.
She felt like some vacuum cleaner salesman, except if someone was home, they always answered. That's something, I guess, she thought to herself. She carried a clipboard and a pen in her hands. In the pack on her back was a digital scale, an oximeter to test heart rate and oxygen levels, and digital thermometer with disposable sheaths. She wasn't thrilled with the questions, either. Having people get on the scale was bad enough. Asking about what they ate and how much they drank weren't so bad. It was the questions about menstrual cycles and sexual activity made her feel like a creeper.
Moving down to the next street, she was surprised to hear…music? Like a moth to a flame, Tori walked to the townhouse whose door was wide open with music pouring out. She stopped on the sidewalk, her mind recognizing the fast pace of the classic rock song, "Crazy Train" by Ozzy Osborne.
The scene took on a surreal feel to it as a woman's voice joined in on the chorus.
Tori looked around the street, trying to see if anyone else was around and what their reaction was. She knew that radios weren't allowed and it was unlikely someone had revived a radio station. Her curiousity got the best of her and besides, she had to ask the person all about their personal life anyway. The music might serve as a good icebreaker.
She walked up to the doorway and knocked loudly on the frame, calling out. "Anyone home?"
Laughter came from the back room and the reply, "As if anyone would dare let music just play and waste precious energy here!" A trim woman came into the main room, carrying a bucket with soapy water.
Tori laughed. "That's true. I have to ask, though….how did you, where could you have possibly gotten that music?"
The woman chuckled again before picking up a slim silver mp3 player the likes of which Tori hadn't seen in over a year. Attached with thin cords were two speakers that seemed far too small to put off as much sound as they had.
"You can get them on loan from the main building. 'Course, the waiting list is a killer as there's only three of them available. All you get is 48 hours and the way I figure it, the louder the better."
Tori laughed again at the woman's attitude and nodded her approval. She offered her hand to shake and introduced herself.
"Aha! I've heard about you. I'll save you the question: I haven't had sex in a looooong time and don't have that time of the month. Thank goodness…Oh! Sorry, I'm Joli." She shook Tori's hand.
"You don't?" Tori asked bluntly.
"Nope! Before, I felt such a loss that I could never have kids. Hysterectomy. Now, though, it's a serious blessing."
They both fell silent. Tori was unsure what to say next and was about to just launch into the rest of her questions when Joli asked, "So, you want to hear some more music? You can ask your questions at the same time."
Tori's face brightened up immediately and she nodded.
Two hours later, Tori left with promises to come back. She couldn't remember the last time she had clicked so well with another female. Joli was tough, snarky, and smart. She didn't take shit from anyone but also knew when to play the passive. Tori appreciated the duality of it. Much like herself, she was tough when needed but could be diplomatic when it served her purposes.
---