Being in the thick of winter, it can be a winter wonderland or a frozen version of hell on earth. What if you, and everyone around you, had to evacuate your warm home? Where would you bug out to? I asked Dan Sullivan for his thoughts on this and below is what he shared with me!
---
With freezing temperatures across the US and Europe, I wonder how many preppers have thought about the possibility that a SHTF event could occur during the winter. It's a serious question, one that could, in fact, get you to tear your bug out bag apart, so you can add some of the items I'm about to recommend in this article.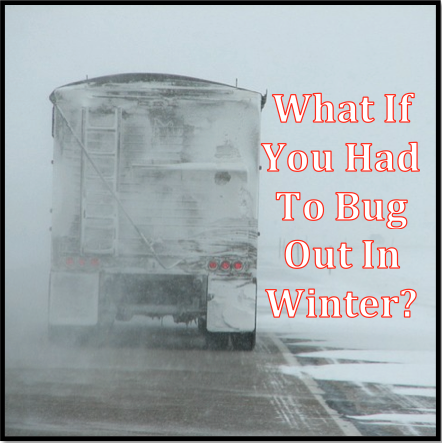 Now, I know on some survival shows you see people bugging out during hot, summer days, but what are the odds of that happening? 1 in 4? Maybe less… but if you have to evacuate when there's snow everywhere, it is going to be tough.
To make sure you're as prepared as possible, let's talk about some of the things you should bring with you when you flee that are winter specific.
#1. Cough, Cold and Flu Medication
This weekend I was supposed to go on a hike. Not a long one, we were going to come back in less than two hours. I was all packed but, when I woke up the next morning, I already had fever and could barely move.
Needless to say, the recovery was not easy. I took a lot of medicine and I obviously had to stay inside, all this while my friend was sending me photos of him up on that mountain. But this poses a very good question: what are the odds of you catching a cold while bugging out during winter? Will the shelter you make be warm enough? What if you have to be on the move no matter what?
One way to ensure a speedy recovery is to have the right meds. Cough medicine, antibiotics, a thermometer, hot water (to make tea), tissues and so on… will you have all of these as you're bugging out?
If you don't and you're away from home with no possibility of returning, a flu can not only mean the end of your bug out, but it can also complicate itself to the point you can get really sick.
#2. Warm Clothes
I briefly mentioned you're going to need a place to stay that's warm and can keep a constant temperature. The trouble is, most survival shelters will NOT be warm enough if there will be freezing temperatures outside.
So what can you do? You need to pack warm clothes: thick socks (preferably wool), a jacket, a wool or polyester top and a wool scarf, if you have one. To make sure they all fit, you may want to consider slimmer mountain equipment and get the layers right.
Just keep in mind that the things that are in the bag are one thing. The other crucial thing is that you need to dress really warm the moment you evacuate.
Think several layers of clothes, your hiking boots, gloves, a thick warm hat and a pair of thick pants. Keep in mind that if you have to walk through thick snow, some may end up inside your boots and some of it will stick to your pants.
#3. Your bug out vehicle
It's not just you who has to get ready for winter, your car also has to be ready for snow and freezing temperatures. If you don't have 4-wheel drive, maybe it's time to consider getting such a car. Plus, you're going to need winter and snow tires and even chains, in case you need to get over an icy surface.
Snow, ice, and cold temperatures give headaches to drivers every single year, I cannot imagine what these people would do if they had to evacuate during the winter. This actually raises an interesting question: what would traffic be like in a winter evacuation? Put panicked people behind the wheel of a vehicle that's not prepared and they could easily lose control and run into you.
#4. Camping inside your vehicle is probably the best idea
Sure, there are plenty of ideas for bug out vehicles out there: bikes, skate-boards, ATVs and what not… but most of them are simply unfit for winter. If you have a car, on the other hand, and you get stuck in a traffic jam or in snow, you and your family can stay relatively warm and relatively safe for days on end.
Of course, you can't just consume your fuel to keep warm, you should pack up on things such as blankets and hand warmers and foot warmers.
Tip: if you're stuck in a snowstorm, one other reason not to turn on the engine is that, if the exhaust pipe gets clogged with snow, you risk asphyxiating everyone with the CO that could build up inside the car.
#5. Boost your immunity
Some people get cold and flu really easy, others can swim naked in ice-cold water and be fine. Why? We all have different immunities. The good news is, we can all improve our body's defense mechanisms by altering our habits
The starting point of doing that is to see your doctor, of course. Take basic medical tests and you'll uncover vitamin deficiencies as well as other problems that, once fixed, would mean you're less likely to come down with the common cold.
Once you've taken care of your urgent health issues, it's time to really give your immunity a boost. There are plenty of ways to do that, including:
Eating more fruits and veggies every day
Eating and drinking less processed sugar (such as Coke and sweets) because they're responsible for a huge number of people getting sick every year
Exercise regularly and go on hikes, even during the winter, to get your body used to low temperatures
If you were thinking of buying yet another knife or gun, or even stockpiling more food, I think you'll agree with me: The advice given in this article has made you look at things from a different perspective. Sure, getting more of the same is great, but uncovering holes in your survival plans is even better! No one really knows when SHTF will hit for them, what if it does so during winter?
Good luck!
Dan F. Sullivan
http://www.SurvivalSullivan.com