This is week 24 in volume 3 of the Saturday Survival Serial. To learn more about what the Saturday Survival Serial is, click here. To start at week 1, click here.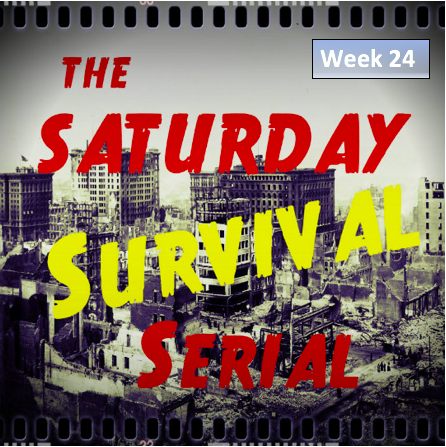 "It's a mess, no question about that. The only thing we have any control over is how we're going to handle it. We need to get some things in place immediately after the gathering here. Twenty miles can be covered in a day, even at a speed walk and breaks included." Captain wheezed the last few words out and coughed.
Jimmy, Al, Sarah, and Amie, and Marian were all gathered in Captain's livingroom. Denise was out, enjoying some time among the barter tables and visiting friends.
Amie's expression was one of concern for her father. He had lost so much weight that his cheeks were sunken in. She'd hoped that he would recover from his heart attack more quickly and be back to his usual robust form by now. As it was, she was worried about him making it through the next winter.
Jimmy waited for the coughing to subside before speaking. "Agreed. Should we send another group to infiltrate over there, too? We'll need to keep close eye on the movement of those coming in and out. That means supplies will be needed for those patrolling, schedules for rotation, et cetera."
Everyone was quiet for a moment, considering the resources that would be needed, let alone the risk involved.
"I think," said Al, "that it would take at least three groups, minimum, to accomplish that. Four would be better. You've got one group on the way to observe, one coming back, one to patrol the areas, and the last in reserve. Three people to a group, just in case. Better chance of at least one making it back if something goes wrong. More like when something goes wrong."
Marian nodded. "And they'll need a story if they get caught, too. We'll need to consider that all the supplies, and especially weapons, they could be lost, too. The catch is, they'll need good weapons to survive with."
The silence was broken only by the sounds of laughter and cheers outside, in stark contrast to the somber mood in the room. They all knew a war was coming, but there were so many unanswered questions that they were almost stuck in indecision. When the thought struck Jimmy, he knew what needed to be done.
"The bottom line is we need information. We have no idea if Liberty's Teeth will make it here or if the Canadians really are coming south across the lake. All we do know is that there are now two settlement camps, one of which is a day's travel away and they have a helicopter. It's only a matter of time before they discover us." He sighed.
"Of course, according to Walter, I have a ghost from my past who is hell bent on killing me for a suspicion of being a terrorist threat to a country that no longer exists. Personally, and I really mean that, I am not going to tolerate any threats to what we've built here and how we live. Sure, it's hard, but I'm free to succeed or fail. The report from Olaf made me think this Reed City location is a lot more than just a settlement camp. With a helicopter and high ranks in play, I'm thinking it's some sort of special forces camp."
"But why Reed City? It's pretty much nowhere," asked Amie.
"Precisely because it's 'pretty much nowhere.' There's no major city too close, it's at a higher elevation, likely for signal strength and viewing distance, too," answered Captain. "I've been wondering why that location since I first heard about it."
"Me, too, and I think you're spot on," said Marian. "I know that there will be a full group's worth of volunteers from South Camp. Maybe more."
"I don't think it'll be hard to get a dozen people together for this and you're right, Jimmy, we need information. We need to hope that there will be help but plan as if we're on our own." Captain looked at each person in turn. "Make no mistake, this will likely be a battle for our way of life and there will be people killed. We need to make sure to prepare people for it as much as we can."
"Not until after though. Let people have their fun and make memories," said Amie.
Captain sighed heavily, his skin looking ashen. "We can't wait until after, Amie-girl. We need to tell people so they can start to prepare." He softened his tone at the look on her face.
"We can't afford to be lazy about this but how about we tell everyone on the last night instead."
Amie and the others nodded their agreement.
*************
The sound of the engine turning off made the quiet seem almost deafening. Kory got out of the driver's seat and stretched. They'd managed to find a van and enough fuel to fill the engine to just under half a tank. From there, they had driven steadily without stopping until they were roughly ten miles out from Plymouth, Indiana.
The trip had been uneventful with regard to human interaction but during one stretch, they'd been chased by a pack of feral dogs. Seeing collars on a couple of them, rib and hip bones sticking out had put everyone in a melancholy mood. There hadn't been much talking; between seeing the once loved family pets turned wild to getting within striking distance of their target, everyone was lost in their thoughts.
It was agreed that they would stop ten miles out and start walking. Knowing their gear would be stripped from them when they got to camp, a plan was made to stow the extra gear five miles out from Plymouth.
They walked the five miles easily and though it was still light out, decided to make a camp and enjoy their last night of freedom for a while. A spot was found that would give good cover and they set up camp. Everyone took all of their supplies out of all pockets and bags, laying them out.
"We should try and make sure each pack has similar stuff. If one of us needs to grab and go with the closest one they can get to, it would give a better chance of survival," commented Roger.
The others agreed and began divvying up the gear. Kory almost cried as he took his K-Bar buck knife off his hip and stowed it away. All of the food was put into the middle. Tori reached deep into her pack and looked forlorn as she pulled out a small packet covered in shiny foil.
"Is that…chocolate?!" exclaimed Bret.
Tori sighed. "Yes, it is. I've been holding onto it for some time now. I don't even know if it's any good anymore."
Bret laughed. "I don't care of it's five years old! Can I have a piece? Pllllleeeaaasssseee?" His plea made everyone laugh.
"Might as well. It'd likely just rot out here anyway," replied Tori. She opened the specialty candy bar wrapper and was surprised to see the contents weren't all dried out. Breaking the pieces up, she split it all evenly between everyone and sighs of bliss were soon heard.
"Oh ye tiny gods, but that's good," said Richard. "I was never one for sweets before but this is the best chocolate or candy I've ever had in my life!"
The others laughed in agreement. Eventually, the packs were ready to be cached. Though it was tempting to make a feast of a meal, they figured they would get a good meal when they made it to the camp. The dry goods they had left had been carefully stored in wrapped plastic as a water barrier.
They enjoyed each other's company, though it wasn't long before the subject turned to the next day. They hammered out their cover stories again and discussed different strategies for getting information safely to one another and eventually out of the camp.
"We need to carefully find the people from LT in the camp and work with them. That is the easiest and most direct route. Of course, it's also the most dangerous. We need to have some kind of Plan B to fall back on," said Kory.
"Plan B is to get out of camp, run for it basically. Get information out, whatever it takes." Richard said it so matter of factly, he could have been talking about the weather.
"Have any of you considered what we may go through when we get in?" asked Tori. All eyes turned to her.
"I'm talking interrogations and maybe even some kind of torture. Are we really certain that we aren't walking into some kind of death trap here? Like a Nazi camp from World War II? It's completely possible and something we should try and mentally prepare for. Get caught off guard at the wrong time and you may slip up and blow the whole thing."
The stunned silence that met her statement told her all she needed to know. "Sorry to be the one who puts that in your head but it needs to be there for two reasons: First, if you can steel yourself to the idea a bit, your chances go up and second, a bit of genuine fear and wariness will go a long way to making us believable."
"Well, there goes any sleep for me tonight," said Bret.
___
The next day, everyone was up before the sun came over the horizon. A morning fire and meal were quickly made and cleared before they concentrated on making the caches of gear and supplies. Instead of putting them all in one spot, they spread the locations out and left little markers only they would recognize.
They started out for the final stretch of the long journey. Without their gear, they felt vulnerable and almost helpless. Kory suggested they make some crude walking sticks with semi sharpened points.
"It'll help with the facade, too," he pointed out.
An hour later, everyone had some kind of stick. Tori had tied a ratty t shirt on hers like a hobo pack that had a couple snares, some tinder, flint and steel. Kory had made a spear of sorts. The others made walking sticks and had little else with them, except for the broken radio they'd brought with them. Bret held onto that since he was the most techie of the bunch and had the best chance of fooling whoever they ran into at Plymouth about hearing the message.
Whether it was the anticipation or wanting to just get it over with, they made excellent time and it wasn't long before they saw the sign that read "Welcome to Plymouth, Indiana." Down the road a couple miles, a road block could be seen.
Tori took a deep breath. "Well here we go. Everyone good with all the hand signals?" Everyone nodded. They had made up an expanded version of signals that would seem casual to most people. A glance in a certain direction, the step of a foot…it was a simple and effective.
Everyone turned together and began walking down the road. All too soon, they could clearly make out the barricade across the road and checkpoint shack. Four armed soldiers stood there, watching them approach. At first, they'd been quick to move but by the time the group got there, they had the look of boredom. One of the soldiers stepped forward when the group was about 500 feet away.
"Welcome to Plymouth, Indiana, United Nations settlement camp." He sounded like he was reciting a script.
"You are welcome to join this camp, survivors, but must understand a few things first. By entering, you agree to follow the rules and regulations of the United Nations. You will be subjected to a medical exam by our staff to make sure you are not diseased. You will be quarantined for three days, where you will also be questioned on your work and education experience so you can be properly placed into a work rotation.
"Once you've been here a month, you will be a gain full Resident status and begin to earn time away from camp. Rules and procedure for leave is detailed in the manual that will be provided to you. You will also be able to choose your living accommodations among what is available. Anyone may leave at any time through the proper channels. Should you try to leave any other way, you will be shot if seen or caught."
The infiltrators looked at each other with wide eyes. Tori didn't have to fake the waver in her voice as she asked, "Will we be able to see each other and talk or will we be separated?"
"After the three day quarantine, you will be allowed most of the freedoms all residents enjoy, including time to socialize and recreate." He looked at them all closely.
"Do you accept the terms of the settlement camp?"
Before anyone could answer, Richard spoke up. "Do you shoot us if we say no?"
All eyes shifted to him, then back to the soldier who replied, "No, but your presence and descriptions are being noted now in the logs that will be distributed to all check points."
Richard looked surprised and releived. He scratched his jaw, the signal to the others that he was putting on an act.
"Well, that makes sense. Have to admit, I'm relieved to hear that we wouldn't be targets. Truth is, we heard the transmission on the radio and have been traveling a long way to get here." He looked around at his companions and nodded, smiling wide. "We made it!"
The others smiled with him and then back to the soldiers. The tension lessened considerably and a soldier back by the shack got on the radio.
The soldier who had spoken to them waved a hand toward the jeep parked behind the barrier. "If you'll get in the jeep, we will bring you to the intake area."
"Ohhhh! I haven't been in a running vehicle in over a year!" exclaimed Tori as she walked toward it.
They piled in and were taken to a medium sized brick building that was next to what looked to be an elementary school. Other people could be seen walking around, talking, sitting and playing cards, and even working here and there. They were ushered inside where they were asked to fill out a generic employment form and medical questionnaire by a man behind a desk. He was dressed in a long sleeved t shirt and jeans instead of the uniform they'd expected.
Tori cracked a joke about forgetting how to do paperwork and was shocked when the person behind the desk laughed and nodded.
"Ya, but it's like riding a bike. You'll remember, just take it slow." She nodded again mutely and turned to sit back down.
Once completed, they were taken one by one and put into separate rooms where they were given shower supplies and hospital scrubs. They were to shower and then get a physical exam.
A doctor and nurse, or at least people dressed as such, did a full physical after asking questions about what was on the medical history sheets. Hair and blood samples were taken, along with two vials of blood to be tested for diseases.
Tori always hated her annual exams as it was but this felt sinister and really wrong. What would they need hair for? She felt dirty and a little violated. All the questions about her reproductive health and history, plus the examination, left her feeling like she was being sized up as breeding stock.
After the exam, they were given simple clothing and taken to yet another room where they were fingerprinted. Finally, they were taken to a simply furnished room where they would spend the remainder of their quarantine. Each of them were told that there would be food brought to them three times a day. They were also given the manual that the soldier had talked about.
The next day brought both boredom and a visit by a 'therapist.' They were asked about their family histories, relationships, sexual preferences, religious beliefs, political views…much like the physical examination, they were getting a mental evaluation.
Kory had the hardest time with it. His previous military experiences had included similar experiences and he had a hard time with the walls that seemed to close in. After so long living free and out in the woods, he had to fight hard to stomp down the panic and keep his composure.
Finally, their quarantine was over and they were brought together again in an old conference room. They were happy to see each other but after spending so much time together, it was plainly obvious that being there had changed them some.
After about ten minutes, the door opened again and a man who looked like a greasy car salesman came in smiling. He spread his arms wide, a folder in one hand.
"Welcome to Plymouth! I'm the mayor and wanted to personally meet each of you, as I do with all new potential residents. I am happy to let you each know that you're all disease free and in fair health. Some minor vitamin deficiencies but that's to be expected! In truth, you look better than most people who've come home."
The way he said "home" made Tori squirm a little.
He clapped his hands together as if he had something wonderful to tell them. "Well! Let's get on with getting you all settled." He pulled some folded papers out of the folder and looked at them.
"Impressive. Seems you have skills with survival skill training and a degree in physical education Ms….Tori Schleber?"
Tori nodded. "Yes, Sir. I taught middle school gym for ten years," she lied.
The Mayor chuckled. "Well, not many middle schoolers here. None, actually, but you could certainly help with teaching people how to maintain their health. Everyone has a responsibility to take care of their bodies and minds to help rebuild humanity!" He passed her a piece of paper that had a wristband stapled onto it.
"Let's see here…" he went on. Bret was assigned to utilities because of his understanding of electronics and networks, Richard was tapped to work with maintenance, and Kory was set working on machinery.
"And lastly, we have Roger. Very nice indeed; We always need more who understand the military side of things. Now that we're thrust almost back to the stone ages, civil war tactics could really help us defend from the barbarians who refuse to rejoin society. Of course, until we have real need for that, you're assigned to kitchen duty." He gave a rueful smile as he handed over the paper and wristband.
"Well, it was great to meet you all! You'll now be shown to where the other pre-Residents stay. They should help you adjust and get acquainted with the way things are around here. All things considered, I'm sure you'll not only find this a good place to be, but a satisfying life, too!"
He walked out as quickly as he'd come in and it took all Tori had not to laugh. The whole thing seemed so comical to her.
"That's the mayor?" she asked under her breath.
Richard snorted, just as the door opened and he tried to turn it into a cough. The guy who had given them the paperwork on the first day poked his head around the door and said, "Follow me, please."
They were taken outside to a jeep where a driver sat waiting inside. He turned to them as they approached and gave a friendly smile. "Hello! Come on in and let's get you to your temporary home! How about a little tour first?"
The group returned the smile and enthusiastically agreed. Before long, they were cruising down the roads at a slow pace, the driver talking up a storm.
"Over there is where utilities meet in the mornings. 7:30am sharp! They run a tight ship, especially water and sewer. Down that road is the store where you use your ration points however you want. Of course, you'll have to wait until you earn full Resident status…"
After thirty minutes, they pulled up to an 8-plex apartment building. On this side, there were balconies with large windows and a sliding door. As they pulled up, the few people standing outside waved. One of them spoke up as they got out of the jeep.
"I heard we got more people in, good sized group too! You must be them! Welcome to Temp Housing."
The group waved uncertainly and looked back to the driver. He waved them to the door on the ground floor.
"Go on in. Your names will be on the list. No keys to worry about – who's going to steal anything and get away with it here? Don't worry about anything, just get settled in and try to adjust. You'll be told when you need to report for your first shifts and stuff."
He smiled and said he'd see them around before backing up and leaving.
The group looked at each other questioningly at first and then the smiles started to spread.
"We made it!"
---
**Please note that these are 100% first rough drafts. As in, I'm up the night before these go live, writing them. They are not edited nor proofread. This is the rawest possible form of what will end up being book 3 in the trilogy and things may change between this version and the final print.**