This is week 23 in volume 3 of the Saturday Survival Serial. To learn more about what the Saturday Survival Serial is, click here. To start at week 1, click here.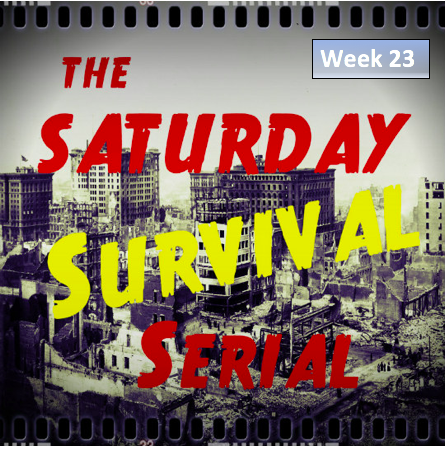 Reed City was about as good as it could get before the infrastructure people came in. They were expected to arrive within the week and it couldn't come soon enough as far as Eugene was concerned. He was bored to tears.
The people that had come by helicopter had only stayed overnight before taking off again. Miller had spent almost the whole time with them in the building kept intact about a mile away from the landing pad. Eugene decided against talking to him about going after Jimmy Walker again.
He'd also decided that it was high time he started getting more than one plan in place. Relying solely on Miller meant that he was at the mercy of Miller's timeline; he had put the success of his mission in the hands of another. The realization of it hit him hard, causing him to evaluate everything that had led him to his current situation.
The internal journey brought with it many emotions ranging from anger to shame that he had let himself get so drawn into using Miller as his means to get to Jimmy Walker. Now that he was certain the man still lived, it was past time that Eugene remember his training and complete his duty.
Thus, he found himself learning everything he could about the layout of the town. It was both beneficial and easy to do without drawing too much attention. He knew everyone and had a good idea of where they were at any given time due to his 'job' of watching for people who would turn traitor. Since there was no one new to assess, he took to 'taking walks to cure the boredom,' and made sure that he was always seen within the boundaries by key people.
It also didn't take long to complete the project. He knew every road, house, nook, and cranny of Reed City. Even the parts he wasn't supposed to know much about. He even knew about where cameras and motion sensors were placed. Until new people came, many places were left abandoned, including the special building by the helicopter pad.
Two nights ago, Eugene was all set to break in and see what was going on. If nothing else to break up the monotony but the potential information could prove useful in the future. When he got there, he waited for the patrol to come through so he would have a good two hours of uninterrupted time.
He knew that the cameras here were in place but they were short on cable until the supplies came with the new settlers. When he got to the front doors, he was surprised to find them unlocked. He almost pushed the door open all the way when a flash of silver caught his eye. Upon closer inspection, a homemade booby trap had been set in place. If he had opened the door, a tube linked to the line would likely explode. How that explosion would have gone was anyone's guess and he wasn't interested in finding out.
Backing up, he walked around the building and almost laughed out loud when he saw a second story window left open. He assessed the side of the wall and was able to climb up fairly easy. Guess that's one good thing about all of this; I've lost so much weight, I can actually climb something again.
He slipped through the window into the building with little noise. Once he gained his footing and his eyes adjusted to the almost pitch black of the room, he stood longer and just waited. Adrenaline was coursing through his veins, making the blood sing in his ears. He had to steady his breathing while straining to hear any noise out of the ordinary.
After he was certain that the coast was clear, he took a small flashlight out of his pocket and clicked it on. Cupping it in his palm, he cast just enough light to see where he was stepping and slowly swept it side to side. He was inside a bedroom meant for one. It was roughly ten foot square, with a twin size bed, nightstand, and dresser. There were no linens on the mattress. He slowly opened a couple drawers and found them empty.
Eugene checked the doorway thoroughly for any traps though he didn't expect any. Everyone here was supposedly loyal and there would be camera surveillance in a week. No need to bother with additional measures since they were on the way.
Eugene moved around the whole top floor, light diffused in his hand so as not to cast too many shadows. Moving so slowly, it took him a good hour. The only thing of interest he'd found was a piece of paper that looked to be a supply list. It was folded up and safely inside an inner hidden pocket in his jacket.
The first floor proved to be uneventful as well, though he took made sure to diffuse the explosive on the front door. It turned out to be an ink bomb, which made Eugene laugh out loud. It was designed to spray the offender with ink but with the way the door opened, it would have only sprayed the door.
Shaking his head, he walked out the front door with a grin on his face, knowing that tomorrow, it would be interesting to see who talked about the disarmed 'bomb.' If nothing else, it could provide some amusement until the new people arrived.
*************
Screams of pain, anger, and frustration echoed through the trees in the night. Firelight flickered and cast shadows over the struggle for life itself played out. After Sticks shot the leader of the cannibal group, an enraged cry preceded the gunfire that would take Sticks life but not before he got a killing shot off before falling over.
Roger saw his long time friend fall and screamed with primal, animalistic instinct. His focus sharpened and he could see people fleeing behind others who were armed and moving in. Roger had his large blade out, tensed and ready to pounce on anyone that got in range.
To his delight, when someone would get close enough, a knife would be thrown from Kory above, injuring and startling them. It gave Roger just enough time to move in and give a killing blow.
Though it seemed like hours, the whole battle lasted less than five minutes. Roger had to be held back by Tori from chasing those who ran down and killing them, too. Later, he would be impressed by her strength but once he stopped struggling, he turned and went over to his friend's body on the ground.
Sitting down beside him, Roger quietly cried. He didn't hear anything anyone was saying and didn't care. He was too busy beating himself up for not staying at the safe house a day longer, or deciding against a fire tonight, or a hundred other things he could have done to prevent Sticks' death.
He didn't remember going to sleep. When he woke up, he groaned in pain at the headache and stuffy nose from the crying. Everything washed over him again and though he wanted nothing more than to get rip roaring drunk, he knew that wasn't an option. He laid there awhile, going over his options at this point. In the end, you either choose to keep going or just stop where you are. He knew that by sitting and waiting to die, he would be dishonoring his friend's memory.
When he finally sat up, the only person around the fire was Tori. He rubbed his eyes and looked at his surroundings, confused at the different scenery than he had remembered.
"Uh, where are we?"
Tori smiled and began pouring some kind of broth from a pot over the fire into a bowl. "Well, good morning to you, too. Good to know your perception has come back. We are about five miles from where you passed out." She handed over the bowl. "Two days ago."
Roger was glad he had both hands on the bowl, otherwise he would have dropped it. "Two days?"
Tori nodded. "I think you just needed to shut down. Don't worry, we took care of everything before we left. Sticks was buried properly, albeit quickly, before we left. We have it marked and are sorry that we had to go so quickly. I hope you can understand why. The others are out on a perimeter patrol and to see what's out there."
Roger had to clamp his jaw tightly to keep his emotions in check. Of course he understood but it still stung, all the same. He nodded and excused himself to tend to nature's call, not to mention get himself under control.
He ate two bowls of rabbit meat broth that was both delicious and satisfying, causing him to snooze. He was woken by the call of a crow and knew they were back. When Bret, Richard, and Kory came into view and saw Roger sitting up, they all looked away and down at the ground. Roger plastered a smile on his face and greeted them.
"Hey guys! Sorry about the extended nap, there."
The others made some embarrassed noises and Roger laughed. "Really, guys. I'm sorry I conked out there. I'll miss Sticks, he was a lifelong friend. You guys know he was a good egg but the bottom line is, no one gets out alive and he isn't the first person I've lost. I sure wasn't expecting to pass out like that but I guess that just means I'm human." He shrugged and reached for his water jug.
The tension lessened and then broke when Richard reached into a cloth sack and pulled out two large rabbits. "I've got dinner! It's rabbit but if you pretend hard enough, it tastes like chicken, right?"
Tori was hoping for some fresh meat and had gathered some wild edibles, just in case. She took the rabbits from Kory after he gutted and skinned them and stuffed them with different wild herbs and greens. Setting them into a pit lined with pine boughs over buried coals, she covered it all with more pine boughs to trap the heat in and bake the food. After about half an hour, sounds of inhaled breathing could be heard.
"Dear god that smells good!" Kory eyed the pit oven closely. "You guys sure you're hungry?" The others laughed and threatened him with harm if they took their share.
After eating the rabbit and wild greens, they sat back and discussed the next step. They were only forty miles out from the safe house and should be much further along. Roger knew he was responsible for it and wanted to make up for it.
"How about we take a chance on hotwiring a car? We could look around and maybe get lucky. A day's worth of looking could get us close enough to make it outside Plymouth the next day."
Everyone was quiet as they considered it. Of course people had thought about it before and even tried it but with little success. Plus, there was the noise to consider.
Before anyone could argue, Roger said, "Look, there aren't many people anymore and especially not out here. There are cars all over the place and some look like they haven't been touched since IT happened. I think it's worth a try. It costs time but the payoff will more than make up for it and save not only our shoes, but could make the difference in the whole ball game."
One by one, everyone nodded their agreement. Tomorrow, they would look for a car and enough fuel to get them closer to their goal.
*************
Shannon, Pako, and Dale were waiting in line to get on the bus that would take them to their new home. The scene was one of last minute supply checks and general controlled chaos.
They had said goodbye to their friends the night before, staying up late and drinking some terrible home brew. Somewhere in the mix, they had made up a code of words and hidden meanings that they could use in their letters. Surprisingly, looking it over the next day, it was agreed by the three heading out that even though made when drunk, it was a simple and yet effective code.
Shannon sighed, thinking about Joli. Joli was the only female friend she'd had in some time that didn't drive her batshit crazy. Though on the girly side, Joli was smart and tougher than she gave herself credit for. She was really going to miss her.
"Load up!" Called a soldier standing at the bus door. Shannon couldn't help but smirk a little, reminded of her first meeting with Tam on a bus much like this one.
Once seated, it didn't take long before the whole convoy of trucks with supplies and guards, along with this bus loaded with a total of 48 people, including the 2 armed soldiers and driver. Pako, Dale, and Shannon chose to sit a few rows from the back. As the bus moved and they picked up speed, Shannon laughed.
"After going no more than fifteen miles an hour for months, I feel like I'm flying!" She looked out the window at the scenery that was starting to whiz by. The others agreed and soon settled back into their seats. At best, they would be there tonight. Realistically, they would be there tomorrow and there were large army style tents with mats and blankets in the supplies.
After a couple hours, Pako asked her if she wanted to play cards and she agreed. He shuffled and dealt a round of Gin Rummy. While they played, they talked about what the new camp would be like, what they hoped would be better, and what they were glad to be leaving behind.
On the third hand, one win apiece, Pako started telling her a story he'd 'heard from a soldier.'
"There was a U.N. deployment camp up in Michigan that was attacked by survivors. They blew the place up into smithereens, though how they got munitions to do something like that makes it a little unbelievable."
When he looked up, he saw Shannon staring at him. "Why's that? You get enough people and crazy things can happen."
Pako shook his head, "Because the walls of those things were actual metal, for one."
Shannon shrugged. "So? A grenade could have been the 'big munitions.' Did they win or what?"
Pako laughed. "Oh yes, they won. Though there were rumors that it was one group that originally attacked, and then another group came in and attacked the first. Said there were hundreds of people all over the place. They stole a fuel truck, took all the supplies they could salvage, and burned the rest to the ground."
Shannon listened wide eyed. "And we are heading right into the same area as these people who hate the U.N.?"
Pako nodded, giving her a pointed look, then glanced over her shoulder. She turned and saw several other people listening in to the story, too. Grinning to cover her real emotions, she turned back to Pako and returned the look, indicating that she understood to be cautious on what she said.
"Well, it's unlikely they made it through the winter anyway so I'm not too worried about it. Besides, we have our own munitions with the soldiers. Is there any idea of who these people were?"
Pako picked up a card, moved a few around in his hand and then discarded. "The soldier said there were some organized camps up there and they were led by some guy named Jim something-or-other. I didn't really pay attention, I doubt even half of it's true."
Everyone turned around with shock when one of the soldiers spoke up. "Oh, it's true alright. The guy's name is Jimmy Walker and he really did blow up a camp. Laid waste to the whole place. I saw it myself before we ended up at Plymouth. There were a few survivors picked up out of there. Claimed to be U.N. but I didn't trust any of them."
No one said anything for a moment before the soldier went on. "You're probably right though. Last winter was brutal." Everyone nodded agreement.
Shannon turned around to Pako with wide eyes. Her thoughts whirled about finding these people and living free. As if he could read her thoughts, Pako smiled and winked at her before laying down his cards.
"Gin!"
---
**Please note that these are 100% first rough drafts. As in, I'm up the night before these go live, writing them. They are not edited nor proofread. This is the rawest possible form of what will end up being book 3 in the trilogy and things may change between this version and the final print.**