This is week 22 in volume 3 of the Saturday Survival Serial. To learn more about what the Saturday Survival Serial is, click here. To start at week 1, click here.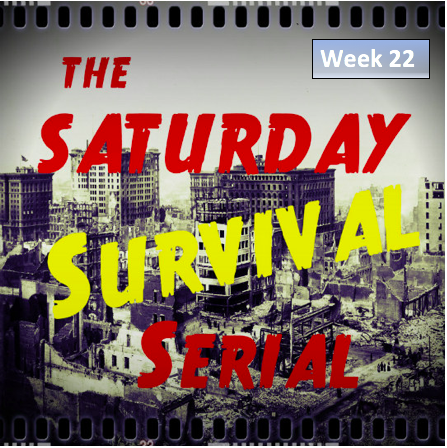 The day could not be any more perfect as Jimmy and Amie walked down the trail to the Spring Gathering. They had the twins on their backs, which freed them up to pull the cart behind them. Jimmy was amazed at how much more they needed to bring with the kids, plus the stuff Amie hoped to barter with.
It had taken some effort but Jimmy had been able to get the camp calmed down after assuring them there would still be a gathering. To his way of thinking, more now than ever, it was important. Strategically speaking, it would be the easiest way to form a plan and get everyone on board at once. Personally speaking, he felt clueless. Sure, he was a military man and could formulate a plan but it wasn't just his group that needed to be considered.
Though people were worried, their excitement for a few days off kept any panic from forming. Preparations were made and almost everyone had set out together. With the addition of people from North Camp, it was much larger than it had been and took some extra planning. That many carts and feet were certain to turn sections of the trail into mud pits. People had gotten together to fill in and shore up the trail, making it better than it had ever been. Though they had more mouths to feed, the extra hands made for projects getting done days and even weeks ahead of schedule.
Jimmy grinned at his wife and took in a deep breath of forest air. The land was lush and vibrant with color. Grace cooed in the pack behind him as if agreeing with his observations. He reached back and grabbed playfully at her dangling foot. She squealed and kicked excitedly, making him laugh happily.
They had been on the trail since first light and were nearing the area where several trails met. He could see it had been widened, with a firepit and benches added. Looking at Amie with eyebrows raised, she answered with a shrug. Both of their heads snapped around and they stopped in their tracks as music suddenly came from around the bend of another trail.
"Ohh!" Amie exclaimed quietly. No one else made a sound as the plucking of a stringed instrument carried on the light breeze, transfixed.
"Welcome, Center Camp!" Called a booming voice, causing everyone to jump. Heads pivoted around, trying to discern where the voice came from.
"We would love to offer you some apples, but I'm afraid it's the wrong time of year."
The mention of apples put several people at ease. Jimmy was still tense, eyes darting to identify the source of the voice. The sound of a hand drum was added to the cheerful tune and a man came around the bend in another trail. Behind him was a lady dressed in an older style renaissance costume that had seen better days. She was a lute that had also seen better days. A man followed behind her with a drum strapped across his hips and he smiled widely, seeing the bewildered and cautiously smiling looks on their faces.
Jimmy finally found his voice. "They really should have apples that bloom all year, don't you think?"
The man laughed loudly and nodded, replying, "I couldn't agree more! You must be Mr. Jimmy with your lovely wife, Amie. The twins gave it away." He winked conspiratorially. "Allow me to introduce myself." He bowed low and with a flourish as if he wore a cape.
"I am Arturo. We are a few members of Merry Muse, a troupe traveling with the merchant's group I believe you are familiar with?" He looked at Jimmy questioningly and clapped his hands at the nod. "Excellent! If you'll kindly allow us to escort your group, an honor to be sure, we shall attempt to bring smiles to your faces and a jaunty step to your feet!"
Jimmy couldn't help the smile that spread across his face. Though it seemed surreal, he had to admit he was thoroughly amused. He gestured for Arturo and his accompanists to lead the way. As they started out again, the tune changed and it didn't take long before people were clapping along. Arturo pulled three colorful balls out of a cloth bag hanging at his hip and began juggling them. People cheered as he tossed one higher than the others and spun around, catching it without missing a step.
The group of people spilled out into the large clearing, adding their own noise to the people already spread out around the grounds. As they were noticed, people began breaking off from the group, waving to friends and cheers of welcome were shouted.
"It's like a Ren Fest!" Amie said and clapped her hands excitedly in time with the music.
"A what?" Jimmy asked, confused.
"A Renaissance Festival! Never heard of them?" He shook his head and she explained. "There used to be these large groups all over the United States, and internationally, too, where people dressed and acted like the people in the renaissance time period. In the warmer months, they had festivals. Entire towns were built to them. Complete with functioning blacksmiths," she pointed to an area off the back of the Trading Post where a man was working hot metal; "to traders, bakers, and mead makers." She pointed to a newly made area where tables made from roughly split planks were being used to trade. Behind one table was a brick pizza-style oven on a cart where a man was taking out a loaf of round bread.
Jimmy stopped and gawked openly. He wasn't the only one. There were easily over three hundred people there and so much had changed. In the first year, the camps had areas in the trees on the edges of the clearing to set up tents. Those areas had been cleared out with little trails made between them. Sign posts had been placed along trails that he could see were not only well tended, they were well-defined.
Amie grabbed his hand and when he looked at her, the smile lighting up her face took his breath away. His cheeks reddened when she laughed, correctly assuming that he looked like the dolt he was when it came to wife.
"Come on! Let's get settled and then you can run off and get all the answers I'm sure you're dying to ask."
A couple hours later, they were all set up. Jimmy and Al decided to put their family tents close together for ease of people finding them. Though Al wasn't the leader of a camp anymore, he was still regarded as a leader of the overall group.
As they were heading out to find Captain and Marian, the leaders of the other camps, Amie called out to Jimmy.
"Don't forget you agreed to give me some time too, Jimmy Walker!"
Al laughed at Jimmy's expression as they waved and began to cross the clearing. They were quiet as they took it all in. Between them, they recognized almost everyone. Those who were at tables near and under the Trading Post were from the merchant group that had come through before. Jimmy spotted the person who was identified as the leader and nudged Al to follow him.
The man waved and smiled, meeting Jimmy's eye. The first time he met Ben, he him pegged as a good person and hadn't been let down so far. "Hello! Fantastic day, isn't it? Couldn't ask for better!"
Jimmy nodded and returned the smile. "How was the travel up? Any troubles?"
Ben shook his head and gave a little shrug. "Not really. Had a run in with some people south of Grand Rapids but otherwise uneventful. There's U. N. activity going on but I'm sure you already know about that."
Jimmy nodded. "I do. What I'm curious about is the people who claim to have traveled with you. They seem nice enough but, well, times being what they are…" he trailed off, leaving the question unanswered.
Ben nodded, meeting Jimmy's eye. "Understood. We've been traveling together about six months now. There's a total of five of them and all are good people. They used to be part of a group who re-enacted the renaissance time period. They have an interesting story, to be sure. Though I always marked them as a bunch of jobless hippies, their involvement brought some amazing skills along with it. One of them is over there now, banging out a knife, if I'm not mistaken."
Ben pointed to the man they saw earlier. Jimmy watched as the man worked a shining blade along a mobile sharpening stone. He was impressed not only with the skill he saw, but with how quickly the bar of metal had been turned into a knife.
Al whistled appreciatively. "That'd be a skill I'd like to learn. Hell, have several people learn."
Ben laughed. "Well, it takes years to get good enough to make nails, let alone a reliable blade. He's had offers from every place we've stopped at and always says he prefers to travel and doesn't like to be cooped up. Course, they spent four months holed up in the Smoky Mountains in Tennessee. Woulda died if not for the hill people living there. Hardy bunch, those."
Jimmy nodded. "All that's left are hardy folk." He smiled and shook the man's hand before leaving with Al to find Captain.
*************
Roger and Sticks sat in silence, processing everything Stephen had told them. Liberty's Teeth had spread across what was formerly the United States and even into Canada. Their region was everything east of the Mississippi River and north of Tennessee and North Carolina. Plans were being coordinated for a mass attack on all known U.N. camps, settlements, and supply warehouses. Of course, they would try to simply take over the warehouses but as for the camps and settlements, anyone wearing an armband or uniform was to be disarmed or taken out. It was an all out declaration of war.
The work they had set out to accomplish had not only been accomplished, it had been an incredible success. Information flowed like a river during spring rains. Roger and Sticks had gone north with a group of roughly twenty five people and, at key points, broken off in groups of twos and threes to spread the word about their mission and establish safe houses and communication relays. Old cell towers had been fitted to boost HAM signals. The network that spread out wasn't without flaws – anyone could be listening and usually were – but the progress could not be denied.
Roger finally found his voice. "Uh…any idea of a timeline?"
Stephen nodded. "End of the summer, going south to north, regardless of region. The idea is that, like us, they will be busy with harvesting and finishing building projects. They have a lot more logistics to deal with than we do and that's by design. It was agreed that by marking regions out, it would increase their chances of success by enabling people to focus their efforts instead of being spread out.
Safe houses, like this one, were well protected with multiple layers of security. All safe houses were out of large town areas and had been built after IT happened. There were some exceptions to both rules but the line extended from border to border, continent-wise.
"The Canadians have already come south into the northeast. The U. N. hasn't moved in there quite as hard as the states but there are a few places that will be attacked at the same time we do.
"As for you two, they want you to head east and help with the efforts in New York. Not the city, of course."
Sticks scoffed just as Roger began to protest. "You can't be serious! It would take months to even get there. The whole thing would be over by then."
Stephen put his hands up defensively. "Just passing the message along. Came from Kentucky."
"Well, what I have to report will likely change their minds, not to mention you already know we're heading to infiltrate the camp at Plymouth."
Roger filled Stephen in on the new camp at Reed City, the helicopter, and the observations made. They went over the plans that Center and Main Camps had come up with and relayed the information about what happened to North Camp. Stephen nodded at the last.
"We heard about it over the waves." Everyone was quiet a moment before Stephen spoke up again.
"We hadn't heard about the Reed City settlement, and especially nothing about a helicopter. The use of drones is also news to me. I need to get word about this out but we can't give away our position. I know you had planned on being part of the Plymouth group but the fact is, we need you two elsewhere if we're going to win it."
Both Roger and Sticks were shaking their heads before he had finished. They started speaking at once but it was plainly clear that they were having none of it. Stephen put his hands up defensively again and spoke over them.
"I'm just the messenger! Mercy! You'll be able to talk to people the day after tomorrow about it. No need to rush out just yet. You said you were ahead of schedule and could use the rest and full bellies."
Roger was shaking his head again. "I won't be here the day after tomorrow. Those people are relying on me and as far as I remember, I am a free man. This is how I choose to do my part. There is more going on than we know and if you or anyone else thinks otherwise, you're a dumbass."
Roger stood and walked out of the room. Sticks watched with his mouth open. He was usually the one to fly off the handle. Though he agreed with Roger, he felt that getting the new information about the camp at Reed City would change things. The higher ups just needed to see that it was best for them to be here, fighting on this front instead of New York.
"I think he took it well!" said Stephen cheerfully, a snarky smile peeking through the words.
"I suppose I should go after him…" Sticks stood up and offered his hand.
Stephen shook it automatically and said, "I have more information that is of importance to you, specifically."
Sticks' smile faded a little as he sat back down.
"Oh, nothing bad. Just information on plans for communication. For starters, we will be putting out a sort of radio show. It could be music, people giving information, old commercials, whatever. The way the transmission is made doesn't matter; what matters are the words. The message within the music or conversation. You get the idea. An hour in the morning and an hour in the evening."
"Uhh, won't that make us easily tracked?" Sticks gave him a skeptical look.
"Not when the transmissions are from different places every day. That's why you never know what style the transmission will be in and why the words are more important. Of course, there is the added benefit of people's morale going up with music being played. Think of your favorite band and then imagine hearing them again. All your favorites. There is some psychology working there. It associates us with things from the past and good memories for most. Anyway, code books are being sent out. There's a basic code that is pretty easily broken. Anyone listening will be able to get the message but there's another code hidden in that one that only key people – like yourself – will be able to decode."
Sticks considered that before nodding. "It makes sense but isn't that the same kind of propaganda that was used before?"
Stephen shrugged. "Perhaps. The difference is we don't force anyone to do anything they don't sign up for." He gave Sticks a pointed look.
"I know, I know. I signed up to be part of the overall plan but the fact is, we are an integral part of getting information back out of the settlement camp and working to get the others out safely, too. What do you know about the inner workings? We have a good amount of intel on the basics but anything new could make the difference going in."
Stephen filled Sticks in on some of the rumors going around. "We believe there's a 'birthing and education facility' located in Pennsylvania and there's a confirmed one in Georgia. Extra steps are being taken with those. We don't want any kids or mothers hurt in the process of freeing them if we can help it. It'll be tricky, though. They are very heavily guarded and well armed."
"I'll be sure not to get pregnant," Sticks said sarcastically. "Well, I'd better go find Roger and see where his head is. I would like to speak with the higher ups, of course, but if Roger goes, I and the others will have to go with him."
Stephen nodded his understanding. "Like I keep saying, I'm just a messenger, not a dictator. I will make sure to get you some provisions for the road and draw up a couple maps on known safe routes down that way."
Sticks nodded his thanks and left, his thoughts whirling about all he had learned.
*************
It had been two days since the announcement about the new settlement camp had been made. Two days since Shannon was told she would either have to go or be forced to get branded, never see her friends again, and thrust out into the wilds with nothing more than her clothing. She had to make her decision today as people we scheduled to leave for Reed City the day after tomorrow.
She had called her friends over to have dinner that night. Joli and Edgar had volunteered to go, as had Pako but the lists wouldn't be out until 5pm today. She had told Dale about her conversation with Pako and Liberty's Teeth. Shannon had sat stunned when Pako began telling her about the efforts being made against what the U. N. was doing.
When he started telling her about being part of a group of three people who had infiltrated this camp, her hopes began to rise to new heights. She didn't hesitate for a moment and told him she wanted in and would help in any way possible. They'd had to stop their conversation when Shannon was called away to deal with a fluctuating gauge on the sewer line. She hadn't been able to talk to him much since then but had invited him to dinner that night.
Her shift ended at four and she headed home to get dinner started. That night, she was making a sort of chili bean soup for her friends. She had found a bag of mixed beans at the store. Since she didn't have any meat to speak of, she added some canned carrots and a packet of chili seasoning. She had picked dandelion greens this morning and they were keeping cool in the fridge. Using another packet of precious seasonings, she mixed an italian flavored sort of dressing for the greens. When the scent of the spices hit her nose, she laughed out loud. Not two years ago, I would have turned my nose up at something like this and now…"
Her stirring slowed as Shannon's thoughts turned back to the decision she had to make. She could just go and be free. She was sure that Pako would give her information on a safe place to go. Of course, the challenge would be to make it there alive and unharmed. Or alive, at least.
The flip side was the fear of such a trek and the knowledge that there were people out there actively fighting the United Nation's plans for population and world domination. She wasn't exactly the type of person to tuck tail and hide in a hole. A woman didn't make it to the top of an engineering field by being a shrinking violet.
She shook her head to clear her thoughts and refocused on making dinner. She knew which way she was leaning but wouldn't make the choice until the lists were posted and she knew about her friends.
Before long, there was a knock at the door and Joli breezed through.
"Those bastards denied me! They said they needed me here for some bullshit reason. I'm a chemistry professor! What the hell do they need me here for? Fertilizer brewing?" She huffed her way into the kitchen and slumped down into a chair. "It just doesn't make any sense!"
Shannon made sympathy noises and was tempted to start telling Joli all about the booklet, Pako, and his part Liberty's Teeth when she had a startling thought: What if Joli was loyal to the camp? What if any of her friends were? She'd already spoken with Dale about it but that was because he was on the same list as she was for being "volun-told" to go to this new camp.
"Hellloooooo…Earth to Shannon. Input coordinates to re-enter orbit in 3, 2…"
Shannon smiled and tossed an oven mitt at Joli. "Sorry, just a lot going on since the announcement."
Joli nodded. "I haven't slept since. I don't want to get separated from you and Dale!" The last came out on a sharper note and Joli started blinking rapidly. There was a knock at the door and Shannon put her hand on Joli's shoulder as she walked by to answer it.
Dale, Edgar, and Pako were all on her doorstep, smiling at her.
She laughed, "Well if this isn't a motley crew on my stoop. I don't know whether to let you in or worry about the mischief you three will cause."
Pako laughed and brought a covered dish from behind his back saying, "I brought cookie bars."
Shannon laughed, moving aside and opening the door wider. "I would say something about strangers bearing gifts but for cookies, you're in."
The others laughed and everyone went inside. The newcomers commented on the smells coming from the kitchen as they took their shoes off.
Joli came out into the living room and asked bluntly, "So? You guys make the list?"
Conversation stopped as Edgar and Pako looked at each other.
"I didn't but Pako did," replied Edgar. Everyone looked at Pako with surprise. They all knew he had no specialized talents other than being a reliable, all around fix-it guy. Pako could be seen doing everything from digging ditches to serving food to taking inventory for some inner department report.
Pako shrugged under the attention. "I guess they are making an inter-camp mail system and I will be running the one at Reed City. There's going to be a re-installation of the Pony Express, if you will. Of course, no ponies, but even still, it does restore a sense of normalcy.
Edgar snorted. "Ya, and they'll be reading everything that comes in and out, too."
Pako shrugged again. "I haven't gotten the particulars yet but we will be able to keep in touch, anyway." Pako gave Shannon a pointed glance. She shook her head slightly, indicating that now was not the time to tell the others about his involvement in Liberty's Teeth. She had to tell them about what she'd read in the booklet, first.
After everyone had been served, she began telling them about things slowly. Mentioning things like the lack of children, schools or plans for children at the camp. The looks on people's faces, other than Pako's, showed genuine confusion as the realization hit them. It was out of place in a world where every detail was charted out to the finest detail.
Pako gave her a slight nod and she decided he was right. She opened the floodgates and told them everything about the manual; how she found it, the things she'd read, and her desire to be free. She told them that she couldn't go through the rest of this life a meaningless automaton. Taking a deep breath, she went on.
"We've heard the transmissions from other people out there on the radio Dale has. We've heard the Liberty's Teeth people and I want to be part of them."
Joli gasped. "But you'll be branded for all to see! What makes you think they would take you in when you've already left one camp? Won't both sides see that as a mark of questionable loyalties?"
"Better that than a robot that's tossed out when no longer useful, don't you think?"
Pako cleared his throat. "If I may…"
Everyone looked at him. Dale had forgotten the guy was even there. He was in too much shock. Though he knew there was a lot going on that he didn't know the details on, being in communications afforded him enough knowledge to understand that there was a very large game being played out by the U. N.
"I am going to tell you all what I've already told Shannon. I am part of Liberty's Teeth. I was sent here to infiltrate the camp, get information back to the good guys, and hope that it's enough to help stop them from accomplishing total global control."
There was another long stunned silence that Shannon not dare to break. This was the real test to know if any of her friends were on the other side of the fence or not. She watched each person's reaction for any hints of resistance and was relieved to see none. Still, her paranoia was hard to deny; they could simply be acting.
"Well that's two for tonight. Might as well make it three," said Dale. "I've gotten some preliminary orders for comms at Reed City and it's unlike anything at this camp. The schedules, the code words – it's all very hush hush. I can say that any survivors that show up are sent out within 48 hours. It won't be a place advertised as taking people in like they do here. Coordinates are not to be transmitted, ever. Doing so can be considered a treasonous act against humanity."
"What the hell is this place? What's it for if not taking in survivors?" Shannon's voice seemed loud in the otherwise quiet room.
Dale shrugged. "That's all I know for now. I admit that I've considered taking the brand, too. It all seems so sinister."
Pako spoke up. "I think there may be another way."
All eyes turned back to him. He took in a deep breath and looked at each of them before continuing. "Don't take the brand. Follow along with their plans for-" he was cut off by Joli.
"Just be a little zombie for their plans to ruin humanity?"
"No, that's not what I'm saying at all. Instead, stay here and work from within to help Liberty's Teeth. With me running the mail system there, I can get word to you guys and also out to my people more easily. With Dale at the comms there, he will have his thumb on the proverbial pulse of the place and it's activities. Shannon will have a line on key infrastructure that can help bring it down from the inside as well.
"If you think about it, the new camp actually helps the cause. We would have people in key positions that can not only cause some major damage in two locations, the comms could be used to further ruin plans with bogus orders. Our people could intercept supplies at the least."
"Wouldn't that just draw more attention to your people?" Edgar asked.
"It's not for me to decide how they do things. My job is to get in and get information and, when possible and prudent, put things into place that may help in the future. An example would be the trip switch added to the main power lines. The actual switch looks like a stick in a pile of dirt. It would take them weeks to trace it to the section I laid it in."
He watched the others to see how they would take the news. Pako was fairly certain of Shannon's mindset but the others were potential wild cards. Without risk, there is no reward or progress, he thought to himself.
"That could work, I think," said Edgar. "Of course, I have no idea what we would be expected to do. Anything has to be better than being stuck here or stranded out there with a glaring brand on my hand. On top of that, nothing so much as a knife to survive with."
The others nodded their agreement. Shannon had made her decision. "I would rather fight the wrongs from within than blindly following and supporting a system I don't believe in. I am going to go to the new camp and do whatever I can to help stop these people. I may not get to choose how I die, but I will choose how I live."
Edgar raised his cup. "Here, here!" The others followed suit and banged them together before taking a drink. Their smiles at each other quickly changed to alarm when there was a knock at the door.
Shannon put her cup down and told everyone to 'act normal' before standing up and going to the door. Peeking through the hole, she was surprised to see Tam standing there with….flowers?
She turned and gave the others a look before opening the door, a smile plastered on her face.
"Hello, Tam. Can I, uh, help you with something?"
Tam stood there, flowers clutched in hand and started to stammer. "Help me? Uh, no, I…" he glanced inside and saw four sets of eyes looking at him from the kitchen.
"Oh! You have, uh, company. I can come back some, um-" He was cut off by Shannon.
"No, that's OK." She turned to the others, "I'll be right back," and stepped outside, closing the door behind them. Her heart was pounding a million miles a minute. Given the conversation that had just happened in her apartment, to have a former-soldier-turned-citizen suddenly knocking on her door was unnerving to say the least.
"Are…are those for me?" Shannon asked, indicating the flowers.
"Wha? Oh, yes, these are for you. I took the morning to use some leave out of camp and picked them. I, uh…" Tam stumbled over his words again and looked so befuddled, it was almost endearing.
"Well, thank you. They're very pretty. I doubt I'll be able to take them along with me but I will have the memory." She smiled kindly and tried to meet his eyes.
He didn't say anything for a while and then blurted out, "I tried to get assigned to Reed City but was denied. I'd hoped that once there, I could tell you how I felt about you but since plans have changed…I didn't want you to go without telling you." He finally looked her in the eye, an earnest and hopeful expression in his.
Shannon was so taken aback at his tirade that she was stunned into silence. Tam looked down and shifted his feet. "Well, I think I can guess your answer here so I'll just-"
Shannon laughed and immediately realized it was a mistake. The crestfallen look almost broke her heart and she reached out to stop him.
"Thank you for the flowers, Tam. I'm sorry I laughed but you kind of came out of left field there."
"Didn't Dale tell you I'd been asking about you?"
Shannon remembered the conversation and though she didn't want to hurt the man, she knew she had to nip this in the bud right away.
"Yes, he had mentioned it but I haven't exactly had time to think about much of anything lately. I think it's best, especially under the circumstances, that we didn't start something that could be so easily torn apart."
Tam looked down and nodded. "I suppose. You, uh, seem to have time for that Pako guy, though. If you're not attracted, just tell me. You don't have to cover it up."
Shannon groaned inwardly. This was the last thing she needed right now. "He has become a friend, nothing more. I just don't have time for anything more right now, Tam. And I'm not looking for anything more, either. Not with him, not anyone. OK? We can keep in touch between camps, I'm sure of it. Look, I'm being rude to my company so if you'll excuse me…"
Tam nodded, apologized again and walked away. Shannon watched after him a moment, feeling bad for having to say what she did even though she knew it had been the right thing to do.
Stepping back inside, she went into the kitchen where she was met with openly curious expressions. She laughed at the comical scene before her before telling them what happened.
Later that night, Shannon replayed the whole night over in her head. Joli had told her that when she was relaying the visit from Tam, Pako had sat up a little straighter and paid more attention. Shannon had waved it off as being concerned more for the potential threat the man posed rather than jealousy between the men. She pushed the thoughts aside as unimportant and focused on the things they agreed to get into place before Pako, Dale, and Shannon left to the new camp.
*************
Roger was good to his word and left before the comm call with higher ups in Liberty's Teeth came through. Sticks' prediction that everyone would follow was proven right. They'd left a message for the call and also penned three identical letters that would be sent out to larger regiment bases to be passed along. It helped ensure that the message would be delivered and that their people knew what their plans were.
Using the map given to them, the decided to take the risk and travel the shortest route. Though the last word from people using it had said they were chased, it had been a good five months. Chances were, whoever it was doing the chasing were now long gone.
They had a good hundred and thirty or so miles to go. It was hoped that they would be able to find a U. N. convoy or patrol that they could 'surrender' to and get to the camp faster. Stephen had provided them a broken hand held radio that would make their story of hearing the U. N. transmission more believable. Of course, with Sticks' radio he traveled with, it seemed a moot point to carry the broken one, too.
They'd traveled a good ten miles the first day on a road that showed signs of little recent use. They camped inside of an abandoned garage and skipped the fire to avoid detection. The next day, they continued without any problems.Grass and weeds were growing up from the cracks in the road and were so tall on the sides, you couldn't see the bottom of the ditch. It was a clear and warm day, the sun shined as they traveled along.
They made it through the whole day, and another 15 miles, without seeing any sign of human activity. There were trails here and there but weren't traveled enough to warrant a further investigation. They had a goal to reach and were intent on it. Sticks had already filled Roger in. Last night, filled the rest of the group in on what they'd learned.
"It may end up being easier to get information out than we thought. According to Stephen, there's already at least two people from Liberty's Teeth living there. It's where we got a lot of our initial intel on how the living conditions and daily schedules were on the inside."
"The reason we left so quickly was not just because we need to keep going," said Roger. "We left quickly because the people in Liberty's Teeth wanted Sticks and I to go to New York and do things there. With the schedule being what it is, the mere suggestion is ludicrous! So, we left word behind of what was going on here and explain why it's better for us to be where we are. There may be some backlash from it, but nothing that should affect any of you."
Kory grunted. "Far as I'm concerned, we're all in this together." The others nodded their agreement.
Roger smiled. "I appreciate that. Even if information is easier to get out, it'll take all of us to pull this off, whichever way it goes."
The group settled in around their fire and watches were set. Kory decided to climb up into the trees to snooze and keep an eye for any fires in the distance. The night grew quiet and everyone slept.
Roger woke out of a deep sleep, tense and ears straining. He kept his breathing even and cracked his eyes open, scanning the camp. Not seeing anything threatening, he continued to listen for whatever it was that had woken him up.
Just as he was about to drift back off, he heard the sound again. This time, he was able to clearly identify the sound of leaves brushing off clothing. There was someone out there. He pretended he was shifting in his sleep, making the noise stop suddenly. In his movement, he slid his hand down to the knife he kept sheathed inside the sleeve of his jacket. Pulling it out, he was about to sit up and call out when all hell broke loose.
Loud banging, surreal laughter, and wild whooping calls came from seemingly all directions. Everyone bolted upright, weapons drawn, trying to focus on a target. Out of the dark came a rope net with large rocks woven into the edges. It landed on Tori, Bret, and most of Sticks who was still trying to get free of his bivvy bag.
"Fish in the net!" The loud call brought laughter from around the outside line of the firelight. Roger held his knife at the ready, inching over to help Sticks by stepping on the end of the bag. That gave enough tension to allow Sticks to wiggle out and underneath the rope net that Tori and Bret were also trying to fight out of. Tori was using her knife to slice at the thick rope, while Bret had dropped to the ground, trying to scoot underneath it to the edge.
"WOOO!!! Look at them fish wiggle! Healthy, fat fish for dinner tonight, boys!"
Roger was pissed and had enough. "Show yourselves, you cowards!"
His outburst brought more laughter as the rope leading from the edge of the net into the forest went taut and started pulling Tori and Bret along with it. Roger stepped forward, knife in hand and went to cut the net free from the line. A gunshot went off, stunning everyone for a moment. A voice called out.
"Now, we caught these fish fair and square. We could take all of yas, but we believe when fish get free honestly, they deserve it. Course, if we get a second cast…." Laughter echoed through the trees again but this time, they seemed to be concentrated where the line disappeared into the darkness.
Roger's head snapped up at the sound of a grunt and scurried back just in time to be missed by a second net launched toward their camp.
"For God's sake, do something!" Screamed Tori.
The line and net were being pulled again. This time, both Roger and Sticks lurched forward to free their friends. A flash of silver came out of the darkness and Sticks cried out in pain. A crudely made throwing knife was sticking out from the side of his right calf, two to three inches deep.
A man stepped out into the firelight. He was enormous with a shaved head and what looked to be sores all over his face and exposed arms. His coloring was a sickly gray, even in this light. He was carrying a shotgun and it was aimed directly at Roger and Sticks.
"I told you, we caught these fish fair and square. We're hungry and you should just be thankful that you managed to get free. I'm warning you, though; if you try to free them again, you'll be added to the menu along with them. Hear me?"
They were in such shock that no reply or reaction was forthcoming. The big man took it for an agreement being made and waved his hand over his head. "Right! Let's head out!" The rope began pulling again, this time with more force. Each pull covered more ground than before.
They were shaken from their stupor by Tori and Bret's screaming and the sound of a crow came through clearly in the night air, just before the sound of a grunt to the right of where Sticks and Roger were. There was another flash of steel caught by the firelight as it sailed through the air and found its mark in the right arm of the large man.
He screamed and immediately dropped the gun, opening a window for Roger and Sticks to move on the offensive. Roger kicked away the shotgun which Sticks picked up and aimed, point blank, against the would-be cannibal's back. "Please, give me one reason."
"Awww man, this is what I get for trying to be diplomatic!"
The sound of the shotgun made the silence that followed all the more deafening.
---
THANK YOU SO MUCH for following the story of Jimmy Walker and his survival after IT Happens. If you've purchased books 1 or 2, your review on Amazon is greatly appreciated! Merry Christmas to all! <3
LeAnn