This is week 21 in volume 3 of the Saturday Survival Serial. To learn more about what the Saturday Survival Serial is, click here. To start at week 1, click here.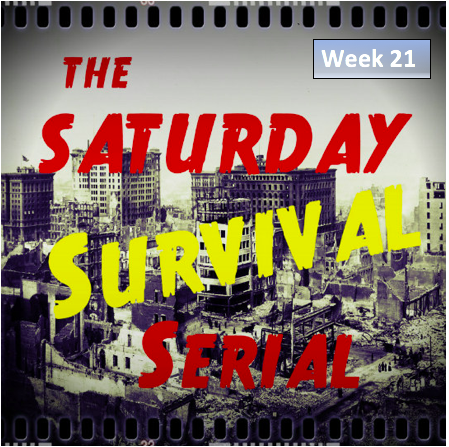 The barest hints of dawn were weaving through the sky when Roger quietly woke everyone up.
"We have company coming. Pretty sure it's the people from the safe house. No one make sudden moves but be ready to react, just in case."
People got into position and though they seemed at ease, a closer look would show that they were tense. More than one shook their head to clear the sleep.
All at once, the sounds of footsteps through the trees came through the predawn air clearly from all around them. Kory and Richard both shifted, looking around.
"Steady. This is exactly how it went last time. Have some faith," Roger advised. He raised his voice so it would carry some, quoting "'There is a certain enthusiasm in liberty, that makes human nature rise above itself, in acts of bravery and heroism.'"
All but Sticks looked at him curiously. Roger grinned and said, "Alexander Hamilton," as if it should be plainly obvious.
His statement was met with more confused silence. After a moment, another voice called out from the darkness.
"'I must study politics and war that my sons may have liberty to study mathematics and philosophy.' John Adams."
Sticks and Roger smiled widely and nodded to the others that all was OK. The sound of people coming closer got louder still and the firelight revealed five armed people coming from all directions. Kory tensed up again and shifted to a defensive stance, eyes darting between them and Roger.
"Stephen! Good to see you again," Roger said and stepped forward to a man of medium height and build. He offered his hand which was accepted amiably by Stephen.
"Good to be seen! Heard your transmission back to the northern camps. We would have been here sooner but there was a problem with a couple escaped nanny and her kids."
"You have goats?" asked Tori in a shocked tone.
Stephen turned to her, nodding. "Sure do. Found them running wild but they came easy enough. Nanny had twins. We had two bucks but we ate one last winter. I can't wait to get goat milk and cheese," he said with almost childlike enthusiasm that made Tori laugh.
"Well I can't blame you there," she replied.
After that, the tension melted away. Kory relaxed and sat down on a stump while introductions were made and a quick summary of their plan given.
"We'd gotten word about the plan already and it's being done all over the place, this side of the Mississippi. A network within the enemy's network, so to speak."
Sticks said, "Sounds like we've got a lot of catching up to do."
Stephen chuckled. "You don't know the half of it. Things are moving along. Quickly. Let's get moving, I'd like to be out of the open before full light."
As they set out, they went over hand signals to ensure they could communicate silently and spread out a bit. The pace Stephen set was a quick walk that covered ground quickly. Less than an hour later, they moved to a dirt road and then down a long driveway that was overgrown. A single, narrow trail was the only area that had been stamped down, causing people to walk in single file. As they progressed, Stephen trilled out a birdsong and was answered immediately. He called out.
"Send word out." Two short whistles from another direction indicated he'd been heard and rustling bushes were easy to spot. When asked, he explained that Roger and Sticks' arrival needed to be passed up the line.
"An interesting setup you have here," commented Bret. "Not wholly unlike what we have up north but me thinks there's a lot more than meets the eye."
Stephen glanced over his shoulder with a smirk without replying.
They came around a bend in the path and were greeted by a run down, half caved-in barn. Grass and weeds around it were thick but what caught their eye as they walked by was a thin wisp of smoke coming from what looked to be the caved in area in the back. Bret was looking around so much, Tori teased him about his head spinning off. He didn't say anything, his face turning red.
"By all means, look around. I'd be interested to hear what you see. Or think you see," said Stephen. He turned around and met Bret's eyes. "I've heard you're some kind of whiz kid or something. Tactics? Such a broad term, don't you think?" He grinned and turned, leading the way to yet another trail into a thickly wooded area that went up a hillside. Bret decided to take the bait and resumed his observations.
After what seemed like a five hundred foot gain in elevation, the exhausted group from the north walked through a gate on the far edge of an open field. The sight that greeted them was nothing short of something right out of a farmstead from the 1800s.
A large, 2 story farm-style house sat in the middle of another field. To one side were gardens and off behind it were what looked to be livestock pens.
"There's no power lines anywhere. Did you guys build this post-disaster?" Bret asked incredulously.
As they got closer, they could see people tending to the garden who stood up and waved. Stephen took in a deep breath and said, "Yep. We got together and gathered what we could, milled what we had to until the fuel ran out. We've adapted pretty well overall." He turned and smiled to the newcomers. "Welcome to my home."
Everyone smiled and thanked him. They were ushered inside where they were greeted by a woman with a friendly smile. She went to hug Sticks and Roger but pulled up short.
"Oh my…shower and clean clothes first. Then hugs." She looked around at the others. "Welcome to Resort Cove. Yes, I know the name is weird but who would look for a place called "Resort Cove" in Michigan? North of here, at the least. I'm Clare and I run the day to day around here. First showers and clothes, then food. If you'll follow me, please." She turned and began walking down the hall toward the back of the house.
"I'd follow her if I were you. We love her to bits but she can get…impatient. You don't want to be on her bad side," said Stephen in low tones.
Roger and Sticks moved first and walked quickly to catch up, followed by Kory, Richard, and Tori. They were led through several doors before getting to the back porch of the house. There was a closed in screened area and just outside were two old clawfoot bathtubs set on cinder blocks and wooden beams.
Tori gasped when she spotted the enormous pots of steaming water set on a cast iron grate over the fire. "You've got to be kidding me. I will be you indentured slave for life if you let me live here and have hot baths."
Clare laughed and said, "You're not the first who has said that. Truth is, we are capped on population right now. We have to have enough for us and people like yourselves who come through. Happy to help the cause, but we can't help if we are starving, too."
Tori nodded, understanding completely and thanked her for the luxury. Clare brought them over to a couple large bins of clothing and told them to take whatever they needed but leave what they were trading it for. Anything they wanted to keep that needed washed could be done at the laundry set up they had on the other side of the bathing area.
A couple hours later, the northern group sat back with full bellies and clean clothes. Over their meal, they had gotten to know Clare, Stephen, and a couple other people. They learned that Stephen oversaw the communication and logistics of moving people through. When Bret heard that, the question that had been burning in his mind for hours finally came out.
"How did you know I was into tactics?"
Stephen shrugged. "I'm the head of comms. I hear things." He grinned.
Richard laughed. "I think he's messing with you a bit, Bret."
Stephen nodded. "I am, to a point." He looked at Roger and Sticks. "We've been busy while you've been away."
Sticks nodded and replied, "Sounds like it. I guess we should catch up some before bringing these people up to speed on how it all works."
Clare took her queue and showed people to their rooms, with real mattress beds and linens. No one complained about being left out as Roger, Sticks, and Stephen went off to another part of the house to talk.
*************
Shannon's nerves were frazzled. She had just come off shift and was mentally exhausted from trying to act normal all day, not to mention the 200 yards of pipe she helped lay by hand. The powers that be decided that they should remove sections of pipe from the old area of town and repair other old areas with it. None of it made any sense to her but she knew better than to question her orders.
Stepping out of the shower, she was trying to think of ways to gracefully bow out of her date with Pako tonight. After all she had read the day before, everything had taken on a surreal feel to it. The buildings that housed the mayor and other supervisors took on a sinister look as she'd passed by it and tried not to grimace as she waved to a few who were on the green area, enjoying the sun. She wondered how much they knew, really knew, about this place.
She got dressed and was considering what to write on a note she would leave on the door for Pako that didn't seem weird. It was a cowardly way out, she knew it, but she was just too shocked to try and play it cool for another few hours. All she wanted to do was sleep. I don't even know if any of my friends know about this stuff and just don't talk about it! She felt the edge of panic creeping in and stubbornly shoved it down, determined to keep it together.
She wrote a suitable note, she hoped, and went to put it on her door. As she reached for the locks, she jumped back when there was a sudden knock.
Breathing heavily from being startled, she moved forward and put her eye to the peep hole, seeing Pako waving at her with a smile. Eyes wide, she glanced at the time and realized that time had gotten away from her. Quickly putting the note in her pocket, she smoothed her hair back and unlocked the door. She sighed and resigned herself to put on a show as if everything were just fine.
Plastering a smile on her face, she opened the door. "Pako! You're early. Good to see you." She leaned forward and gave him a quick hug before stepping back. "I just need to grab a few things before we go. Give me a minute?"
Pako stepped inside, returning the smile. "Sure. Take your time. Canned beef will hold for a while longer, I'm sure."
She laughed, hoping it didn't sound too forced and walked back toward her bedroom. Glancing over her shoulder, she made sure Pako hadn't followed her. She grabbed the mayor's manual and stashed it at the bottom of her dirty laundry box. Taking a deep breath, she forced herself to relax.
"OK, let's go! However will you make the delectable Canned Beef?" She smiled at him briefly and pretended to be focused on putting her light jacket on.
"There are so many ways, it was a hard choice. Though it's late spring, I decided that a stew and biscuits is just the kind of comfort food we need."
Shannon chuckled and almost cringed at how fake it sounded to her own ears. "Sounds delicious."
They walked from her house to his. Shannon's eyes kept darting around, looking for possible cameras watching their every move, people watching them from the houses they passed, or any other sort of surveillance. She realized she wasn't paying attention to what Pako was saying and tuned back in.
"….purple unicorn horn is a fantastic spice, too. Expensive, but you're totally worth it. Not many people can beat me at cribbage like you."
Shannon stopped as what he was saying registered. She looked at him, her face going through several emotions before she leaned her head back and laughed loudly. This time, it wasn't forced.
"There you are! I was wondering if your orbit would be coming back around anytime soon." He winked and smiled patiently. "Hard day at the office?"
Shannon smiled and nodded, suddenly blinking rapidly. "Yeah, just needing some time off, I think. One day just isn't enough." She looked away, seemingly at the houses and scenery and continued walking. Pako didn't say anything else until they got to his house. He opened the door and gestured. "After you! Beware of the attack dust bunnies. I tried to get all of them but they're wiley."
Shannon laughed again and stopped suddenly. "How is it you can make me laugh so easily?"
Pako shrugged. "I'm an easy going guy, I guess. Please," he gestured again. She smiled at him and stepped inside.
It was a large efficiency turned into a small one bedroom apartment. Shannon noted the unique ways he had decorated with partition walls to create separate spaces. Like her own place, none of the furniture matched but it was cozy. She picked up a wooden deer and was surprised at the detail put into it.
"This is gorgeous! You can see all the little hairs around the neck and lines in the antlers and everything. Did you get at the trinket place?" Two weeks prior, a little shop had been opened by one of the residents that traded for trinkets and bric-a-brac in exchange for time worked or store credits or any manner of other things.
Pako chuckled. "No, they don't have anything like that. It's a hobby of mine. A way to keep sane."
Shannon put the carving down and looked at Pako in the eye. "It can be hard, sometimes. It feels like you're in a river. Just when you think you're good to tread for a while, the current picks up and it's all you can do to keep above water."
Pako's face looked both sad and understanding at the same time. He put his hand on her shoulder and said, "You'll be OK. Trust in yourself if nothing else and you'll be OK."
Shannon looked down and nodded.
"Besides, we have canned beef to eat!"
Shannon belly laughed.
____
After dinner, they started playing crib but Shannon kept losing her place. After the third time she sighed in frustration and suggested they call it an evening.
Pako didn't say anything for a moment, just looking at her with concern. "You sure you don't want to tell me? Seems an awfully heavy burden you're carrying." His face was so earnest that Shannon's last defenses crumbled away. If she was telling the wrong person, so be it.
The words couldn't seem to come fast enough once the dam broke. She told him about finding the manual and started telling him about some of the things she'd read. Pausing to stomp the threat of panic down, she glanced at Pako who was looking at her with pure surprise written on his face. Either he's a great actor or he had no idea. The thought almost made her laugh and she was worried if she started, she might not stop.
He looked about to say something when the siren system began making noise. They looked at each other with raised eyebrows and listened. There was a meeting being called.
"At 6:30 at night?" Pako asked. "I wonder if there's some threat or something? We should get going."
Shannon nodded and they stood up, stretching. Gathering up their things Shannon suddenly stopped and said, "If you tell anyone what I said, I'm as good as dead. You know that, right?"
Pako nodded without looking at her. He reached for his hoodie and put it on. When his head came up out of top, he jumped a little when he saw Shannon standing in front of him.
"You going to turn me in? Use it to blackmail me or use me? What's it going to be?" She looked him hard in the eye. Her chin came up a little as if daring him to act the way she expected.
"We better get going." Pako opened the door and stepped aside.
She walked outside and saw other people leaving their homes and walking down the road. Her stomach was churning with nerves and she felt nauseous, not knowing what Pako was thinking.
They turned and joined the others walking on the main road to the gathering spot for calls like these. Sure enough, there was the mayor up on his proverbial soapbox, smiling like a greasy car salesman.
After a few minutes, the flow of people slowed down and the mayor began to speak.
"Welcome, residents! I know this meeting was unexpected so I will keep it brief. I'm very excited to tell you that there is another settlement camp being formed not too far from here, up in Michigan. We are looking for volunteers to fill certain positions."
He smiled widely at first, arms wide as he delivered the news as if giving them all some sort of gift. It made Shannon want to either puke on the man's shoes or just punch him in the face. With all the emotional roller coaster riding she'd done the last 36 hours, her patience was about worn thin.
The mayor's expression changed as he went on. "Unfortunately, certain key individuals will be required to either relocate to the new camp due to their vitally important skills or voluntarily choose to terminate their resident status. I would like to reiterate that all of you are free and have a choice in what happens in your lives but you must also consider the consequences of choosing poorly and going out there in the wild, chaotic world outside the United Nation communities."
His attempt at looking sad and perhaps apologetic shifted Shannon's desire to just punching the guy. A couple times. More than three would be a good start.
When names were being called, she wasn't the least bit surprised at her name being called. Dale's name was also called and she stood around, waiting to hear if any of her other friends were on the 'required volunteer' list. They weren't but they could still volunteer. She would have to talk to Joli and Edgar soon.
Pako hadn't been called either and when she looked at him, his face was unreadable.
They began walking down the road. After walking a block in silence, Shannon stopped. Pako turned and looked at her curiously.
"You need to level with me, Pako. I never know which side you're on but I am certain you know there are sides. I'm not going one more step until I know what you're thinking about what I told you."
Pako gave her a hard look. It was so intense and unlike any expression she'd ever seen on his face that she took a step back instinctively. When he broke eye contact he began walking and murmured, "If you come with me, I will tell you the answers to your questions."
"No, damn it! Do I need to worry more for more life than I normally do or what?" A couple people glanced their way at her outburst.
Pako gave her a frustrated look and walked toward her, saying in low tones, "I take just as much risk as you did telling me what you did. But how am I to know you aren't trying to trick me or figure out if I would start a mutiny or something? Take the wrong risk and you're dead!"
Shannon was so shocked at what he said that she followed along behind him, trying to process everything he'd said. She caught up to him and put a smile on her face like it was a perfect day.
"I believe we have a crib game to finish, right? The way I look at it, if I stay here, I'm going to lose my mind anyway. Might as well try and live for something than give in and waste away here, right?"
He looked at her hard again before nodding and giving her a small smile. "I agree. Let's go to my place and finish that game." They begin walking again. After a few minutes, Pako turned to her and asked a question.
"Have you heard of Liberty's Teeth?"