There is so much Mr. Dreamer and I wish we knew how to do. Like being able to completely build a house from scratch – HA! Sure, we could fuddle along with it but in the end, all the hard work would likely be for naught. Being unskilled in certain things isn't bad of course. What's bad is being overly confident. Sometimes, you just need to call professionals in to do the job right.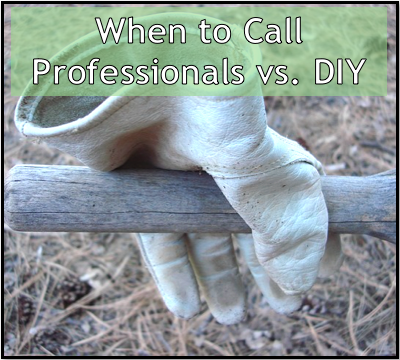 There's comfort to be taken from those staunch and fiercely DIY'ers out there: you are not alone. Many people in the homesteading and preparedness communities take great pride in doing for themselves. Whether you're in Alaska where I am or in Australia where my new friend, Mama Zed, lives, there are just certain times when you really should call professionals to come handle things.
---
3 Times When You Should Call Professionals
There's a big stigma over men asking for directions. There's also a stigma over men starting a project when they should've paid someone to do instead of tackling themselves. Sorry to be the one to break it to you, but this applies to women, too! I've been guilty one too many times of attempting a DIY project when I should've known better.
Yes, I'm usually the first person to promote DIY. There are times you should call in the experts for your own safety and sanity. The question is, of course, when? When is the right time to call in the experts? Here are three situations when it's best to call in help.
When it includes wiring and electricity -Unless you are a licensed electrician, you need to seriously think about your options. First, you should always check the legal requirements for your County/State. There are some states that may allow you to do minor changes yourself. There are others that won't let you touch anything outside of changing a light bulb. This can be frustrating when you are looking at a How – To tutorial and thinking, "It doesn't look that complicated!"
There are a few reasons why it's better to listen to them. You're putting the safety of you and your family at risk, but you're usually putting your insurance policy at risk, too! If you have performed what's classified as "illegal" modifications to your property, your insurance could be null and void. Even if a house fire were to start in your house that had absolutely nothing to do with your wiring! If someone were to find out you had played around with it yourself, say good-bye to that insurance check.
Waterproofing in the home – This is one that I'm still on the fence about. Again, no matter where you are, there will be a law that dictates what you are and aren't allowed to DIY. There are waterproofing kits available at most hardware stores. While I'll admit that I did do our laundry floor before tiling, I would still get a professional in if we were ever to renovate a bathroom. At the end of the day, you have to be the one to make the call. If your bathroom has a leak, you could end up with rotted walls and nasty mould.
If you're a bit nervous about doing it yourself, and making a mistake could cost you big time down the road? Call a professional. There's nothing to be ashamed of. If you really feel guilty about it, make sure you watch them and ask them a million questions so that you're more confident to give it a crack next time!
If you are pregnant or unwell – This is something that I've struggled with and have had to be reminded of several times. There will be times that it's not in your best interest, or the best interest of your unborn child to DIY. Yes, I was tiling our kitchen splash back while sitting on the kitchen counter pregnant. When it came to painting, heavy lifting or dealing with other substances that could cause potential harm to the baby, I bowed out and my husband took over. As I said before, you have to decide what you're comfortable with doing, but you should always make sure you know the possible risks. Don't forget safety gear!
Quick disclaimer: I am in no way qualified to tell you what you should and shouldn't DIY. You are responsible for the decisions you make. All I ask is that while you're in DIY mode, you make sure that you're aware of all of the risks and act accordingly.
DIY can save you a lot of money. A crazy amount of money. DIY disasters, on the other hand, can end up costing you ten times more than it would have if you'd just paid the professional in the beginning. Play it smart people!
---
About Mama Zed
I am a wife, mom to 1 (soon to be two), a hippy, an arts and crafts fanatic, a geek, a book worm, a do-it-yourself advocate, and a homesteader – among a million other labels. Really, I'm a woman who found my strength in being able to do things myself and that's a gift I want to share with as many women as I possibly can. You can find me helping women to become empowered through self sufficiency at my blog, Mama Zed's Homestead or on Mama Zed's Facebook Page. I hope to see you there!