It's no secret that, in a survival situation, you'll face an enemy just as dangerous as a man with a gun: disease. Survival hygiene can be just as deadly as a mob if not prepared.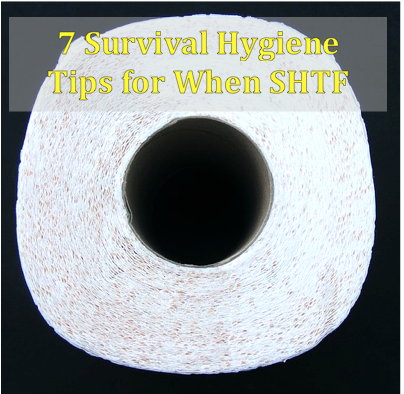 I asked my friend, Dan Sullivan of SullivanSurvival.com to help put things into perspective and give some expert advice on ways to keep your hygiene up as a means of protection (not to mention morale boost) in a survival situation. He kindly agreed and penned this informative and thought-provoking article on the subject.
---
Whether we're talking about mosquitos, rats or other crawlers, you're looking at an entire array of medical issues that can kill you or make you sick, such as tuberculosis, dysentery and hepatitis. And don't think that if you bug in, you'll be safe from all of them. The way you live inside your home right now is different than post-collapse. Just think about the mice and rats that will start showing up when you can't take your trash.
In what follows, I want to give you a few hygiene tips that will do one thing: minimize the chances of you needing a doctor where there won't be any. Even if they will be, that doesn't mean they'll have the medicine and equipment to treat you. Venezuelans doctors (who are facing total collapse these days) can't do surgery because the Government restricted the usage of medical equipment and, to make matters worse, they're importing cheap medicine from China.
#1. Have a Hygiene Kit
It all starts with stockpiling the right items. Hand sanitizer, paper towels, soap, toothpaste and toothbrushes, disposable nitrile gloves and toilet paper – all of these are needed. The good news is, they cost pennies today so stock up before their prices will increase tenfold. The other good news is that, unlike the bow drill or a crossbow, they're easy to learn how to use. As you're about to see, it's all about discipline.
#2. Make Trash Your #1 Priority
We mentioned trash in the intro, now it's time to take a closer look to it and how it can affect you.
When garbage accumulates, you get disease. That's a big problem particularly if you live in the city or the suburbs where there are lots of people who generate lots of trash. We aren'tjust talking about cockroaches and thinks like that, but also about the things you don't see with your naked eyes such as lice, fleas and fungi.
If you have a dog, you can safely assume fleas are going to feast on everyone when you won't have access to a vet. They might not like to actually live on humans but they never say "no" to a feast should they get there.
So what do you do with all your trash? There are actually three main things you can do with every little thing you plan to throw away:
burn it
take it to the dumpster yourself
or reuse it
Of course, there's always the option of burying it in your back yard but, unless you live on a farm, you don't have that much space to dig so many holes, particularly since you'll rely on your land more than ever before to feed your family.
Now, reusing it is probably the best option, because you don't get to throw it away at all. Everything form plastic bottles to old clothes can be reused, and there are plenty of articles titled "X ways to reuse this", "X ways to reuse that" – you just have to look them up online. Plus, kitchen scraps can be used as compost in your garden.
The other two options, burning it or taking it to the dumpster, depend on your unique situation and on what things will look like. A fire creates three things that attract attention: light, smoke and smell. Taking it to the dumpster requires you to take regular trips, which may not be safe. I'll leave it up to you to think about these two scenarios but, to help you make the right decision, let me just say that the less neighbors you have around you, the more likely it is that you'll have to burn your garbage.
#3. Store more water
It's easy to think you'll just shower less post-collapse, but that may not be the best thing for you to do at all. Yes, you save water but the trade-off may not be worth it. So what can you do?
Three things:
stockpile more water
install small water catch system
and learn to stay clean with minimal water
The way you clean yourself with little water is by using a towel or a rag soaked in water, then meticulously rinsing all your body parts. There are other options out there, such as the DryBath gel on Amazon for $10 bucks, that requires no water whatsoever.
#4. Don't mix your first aid kits
What I mean is, the first aid kit for your pet as well as its stockpile should be kept separate from your FAKs and your own stockpile.
#5. Get a good garbage can and plastic bags
The goal is to seal the waste as much as possible. This is why a tight-fitting seal is mandatory, and so is putting all the trash inside plastic bags. You don't want flies or rats getting inside and you certainly don't want your garbage to get inside the can. If that happens, you should definitely clean the can thoroughly.
#6. Keep your pets outside
I know you love your pet but, in a post collapse situation, keeping it at a distance may save you a world of trouble. You probably won't be able to give it proper and regular baths, and you certainly can't control the other animals it plays with.
#7. Keep your hands extra clean
Our hands come into contact with so many things throughout the day, it's staggering. In an SHTF situation, pathogens will spread faster than wildfire. A few tips to keep your hands clean:
wash your hands as often as you can
use hand sanitizer if water or soap are not available
wash your hands every time you come home
Final Word
If you can (and there's no reason why not), please practice better hygiene today. Practice all these things to make sure you remain just as strict when the big one hits. Teach them to your children too, of course.
Stay safe and out of trouble,
Dan F. Sullivan