Canning is something most newbies want to do but are intimidated by. Their imaginations go into overdrive and they worry about things breaking, blowing up, or any number of other calamities happening. There is a learning curve that can turn some people away, thinking it's too complicated for them. The truth is, while there are differences between water bath vs pressure canning, they aren't nearly as complicated as they think.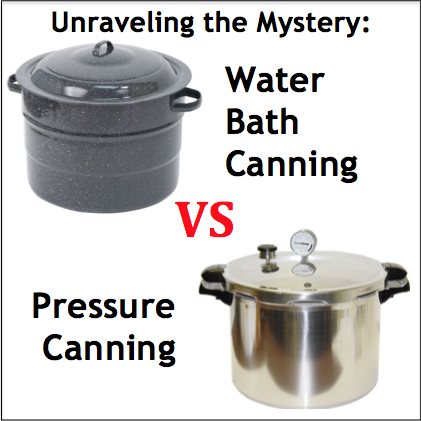 Let's dive right in! First we will cover what water bath and pressure canning is and how it preserves food. Then we will cover the differences between the two and wrap it up with choosing the right method for whatever food you're trying to preserve.
What is Water Bath Canning?
Water bath canning is, essentially, boiling jars with food in them. You bring the jars, lids, and contents up to the same temperature (boiling) and then remove them to cool. As the jars and contents cool, a vacuum is created and the lid seals to the jar. This keeps air, moisture, and bacteria from getting inside and ruining the food.
What is Pressure Canning?
Pressure canning is very similar to water bath canning, though a bit more intense of a process. Instead of boiling the jars and contents, you are putting them under pressure. The increased pressure brings the overall temperature up higher than boiling water and processing times are longer than when water bath canning. The pressure canner is more expensive and has more moving parts. Because there is massive pressure involved, many newbies are completely intimidated by it and, with the recent bombings using pressure canners, the fear is even worse.
What the media doesn't tell you is that the people who did these heinous crimes had to go to great lengths to make it explode. Great. Lengths. Serious modification. There are so many safety features in place to alert you of any trouble far before it gets hot enough to actually explode. First, there's the gauge on top of most canners, showing you the pressure plain as day. Then, there is the knocker. This is a weight that is placed over a steam spigot. When your canner gets to 15 pounds of pressure, this little weight starts making noise and gets louder the higher the pressure gets. If left alone, it would eventually pop itself off and the steam would spew out. While steam is dangerous, the canner will not explode. Note that for most foods and altitude locations, you process at 11-12 pounds of pressure.
Finally there is the plug on top. A small, black rubber plug that will pop itself out if the pressure gets too high as well. The hole is larger than the steam spigot you place the knocker on to. Between both of them, the steam will escape long before the canner will fail. Mind you, the food inside may not be any good.
What's The Difference?
Water bath canning is meant more of a way to heat everything up so it will seal. It isn't really cooking anything per se. The process simply helps in the sealing process and is generally much faster than pressure canning. A typical batch in your large water bath canner will process for 10-15 minutes. From filling the jars to pulling them out to cool takes me about an hour at most. I use the larger sized canner linked above so it takes a bit to get the water to a good, solid boil.
You only water bath can foods high in acid. This is very important: high acid foods are naturally more resistant to bacteria and bacteria has a hard time growing in it. In some cases, you may let the jars stay in the boiling water for longer but if you are dealing with low acid food, it's not near hot enough to kill everything. If you'd like a more in depth look at water bath canning, click here.
Pressure canning is another ball of wax. As explained above, there are numerous safety features on pressure canners and to let your fear keep you from the joys (not to mention possibilities) of canning up soups, sauces, and even meals in a jar is unfortunate. It's perfectly normal to have a little wariness and caution! Don't let it keep you from all you can do with it though!
Pressure canning is for all those other things you want to jar up that are low in acid. Things like meat should always be pressure canned. Even if the meat is fully cooked, it should still be pressure canned. Only through the process of pressure can the temps reach the levels needed to kill off all the bacteria. At 11 pounds of pressure, your canner is sitting around 240 degrees Fahrenheit and gets hotter the more pressure there is. You are effectively sterilizing the contents of the jars and then creating a sealed environment that will not allow bacteria to enter and spoil your food.
How Do You Know Which One To Use?
This is the biggest question of all. How do you know if something is acidic? You would think that tomatoes are acidic enough to water bath can but you'd be wrong. You shouldn't water bath can tomatoes unless you add in lemon juice or ascorbic (citric) acid. Many tomato varieties are actually low acid and need more to safely can. Of course, pressure canning everything will ensure that you're covered but I wouldn't recommend pressure canning jams or jellies. Bleck! What a mess that would be!
Consulting your pressure canner's manual will tell you what needs to be pressure canned and for how long. Here's a small list to give you an idea of the difference:
Water Bath Canning
Jams and Jellies
Pickled Food
Fruits and fruit juices
Salsas
Pressure Canning
Carrots
Green beans (any bean, really)
Potatoes
Peas
Anything with meat
Another fantastic place to research information is the National Center for Home Food Preservation. Water bath vs pressure canning is something everyone should learn. When you think about it, you've taken food that usually requires some kind of energy to keep it fresh. When you can your food, you are creating shelf stable food. Even if the power goes out, you still have perfectly edible food just waiting for you.
I love canning. There's a feeling of intense satisfaction I get when I put those jars away on the shelf or when I open my pantry and see the rows filled with food I processed myself. There's just nothing like it: when you open a jar of blueberry jam in the middle of winter and get a taste of summer. You remember the days in the sunshine when you picked them and processed them into something delicious. I invite you to give it a try and don't forget: if you have any questions, you can send me a message on the Facebook page or email me at akhomestead.dreamer@gmail.com.
WANT MORE?