It doesn't have to be some global disaster. It doesn't even have to be something that is a 'big' disaster covering a country, region, or even a whole state. Disasters  can affect large swaths of the surrounding area, even if there is no clear evidence that something is amiss. If there's no cell service or internet, communicating after a disaster can be hit or miss.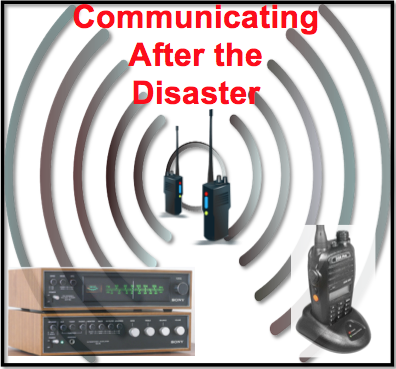 Communication is usually one of the first things that goes down, and is ironically the most important, when a crisis strikes. The majority of the population is uneducated about how it works, let alone what types of options are out there.
Have you ever been without cell service or internet for more than a few hours? Imagine how much different your life would be if you were without any communication to the outside world for a week! During Hurricane Katrina, there was absolutely no communication through anything that connected to a tower. No service. For weeks. The only communication that was available out there was by radios. Good, old fashioned radios. Funny how when the 'new stuff' fails, the 'old stuff' still keeps working. Living in rural Alaska, communication has always been an issue. We have satellite, of course, but when it's blowing 30+ and raining sideways for days on end, that doesn't really help much. Having alternatives should be something you include in your preps! The problem is, very few people know much about communication, other than on their cell phones and online.
This book is designed to help you explore and learn about communication device options!
Enter author Jim Cobb's latest book, "Preppers Communication Handbook." We've reviewed several of Jim's books before (see below for a list), and this one proves to be just as well done as the rest have been. Written in plain language, Jim teaches people various aspects of preparedness and helps take you from a newbie to the next level. His explanations, good humor, and conversational writing style makes for some easy reading that helps with information retention. It also makes you consider what you would do about communicating after a disaster strikes, not to mention make you realize just how important communication is. It's a good reminder that we are lucky to live in a time with such connection and communication capabilities, and that system is fragile, too.
In Preppers Communication Handbook, Jim explains the different kinds of communication devices out there. This book is not meant to teach you how to use each method or device; it's meant to help you explore and learn about them so you can choose the best option for your family and situation! Things covered include:
The different kinds of radios (1 way, 2 way, and HAM radio)
Making an emergency communication plan
Effective communication
Using codes and ciphers
For those just beginning their preparedness or self-sufficient journey, this is a fantastic and inexpensive way to learn the broad picture first. This will help you make sure you have the right solution for you! 
Other Jim Cobb Books