We have had our Excalibur Dehydrator for just over 3 years now. I'd never owned or used a dehydrator of any kind before that and it took awhile for me to realize that I had made the best choice right out the gate! We had to save up for a few months to get the monster 9 tray model and I am here to tell you that it was worth.every.penny. – and it's still paying off! I've had a couple people ask me why I've never done an excalibur dehydrator review before and yet, I babble about how awesome it is on Facebook and in various articles.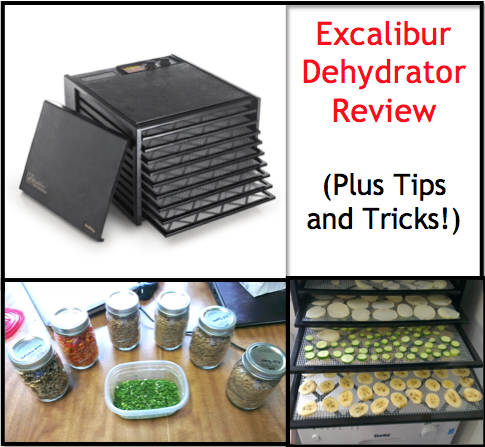 There's good reason why I haven't done it until now: I didn't have experience with anything else! How could I possibly make a good comparison that people could trust? A friend got a different model and after talking with her about it, seeing how it functions, and the end results – I am now confident enough to give my opinion with solid reasons for why I feel the way I do about this most wonderful food preservation tool.
A dehydrator removes the moisture from the food, therefore preserving it. So, you want a dehydrator to evenly move the warm air around and keep a consistent temperature. I didn't really understand what other people went through with the interlocking trays in the round dehydrators. I was blown away by the extra work my friend had to do. Every 2-3 hours, she would have to go in and rotate the trays. The food was cooled down while doing it, of course, and then it would take extra time (and energy) to heat back up. I suppose an upside would be all that moisture getting released out of the machine but a good dehydrator should have the right ventilation in the first place. For the first 5-7 minutes, there would be condensation inside the machine as it came back up to temp.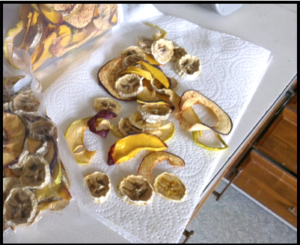 While this is not 'bad' per se, it does seem to be at least inconvenient. After seeing what another model is like, I know what I love about my Excalibur:
100% even air flow.

The air comes from the fan in the back of the machine, pushing it forward and through the space, hitting the other side of the machine and swirling around. The fan is large and really moves the air around well!

No need to rotate trays.

The design of the air movement ensures all trays are reached for an even heating and air flow. There are no 'drier spots' that would cause the need to move trays around. The top layer gets as much as the bottom!
No need to rotate or flip the food. Again, the air flow is so well designed that there is no need to flip the food over to make sure it gets evenly dehydrated. The holes in the sheets make sure the bottom gets as much as the top!
Timer. The model I have has a timer. I have learned that there aren't many out there that have a timer: usually just a temperature dial to adjust for whatever you're dehydrating.
All the options! There is so much more you can do with this dehydrator versus other popular models! From the book that came with it, I can use my dehydrator to raise bread dough, make yogurt, ferment, and make cheese! Switch the mats used and make your own fruit leather! I also loooove to make jerky (see links below for more information on making jerky!)
My friend had to essentially babysit her dehydrator. That isn't so terrible overall but if you have stuff to do outside, it can make getting anything accomplished more challenging when you have to stop every few hours to rotate or reset the dehydrator. They told me that since the fan mechanism was on the bottom of the machine, they couldn't dehydrate things like orange slices  because the excess liquid pools at the bottom. With the Excalibur, the liquid pools in the bottom without hurting anything. Mind you, liquid only pools on high water content food processing (like pineapple). Messy but worth it when you are on the trail and want a sweet treat. 🙂
Tips and Tricks
I have used my Excalibur Dehydrator for all sorts of different things and have learned a lot along the way. An example is to dehydrate the food that needs longer times at night. To me, the dehydrator isn't all that loud – just a fan running in the background. For others, it may be too loud. Either way, it's not as noisy as most circular tray models. My friend's was incredibly loud but we didn't notice just how much until we tried to watch TV.
Another thing I learned was that if it's raining out or there is high humidity, you need to add time to whatever the book says. I live in a temperate rainforest and we rarely see anything below 60% humidity (even in summer) so I always have to add time on to what the book recommends. They say 2-4 hours for dehydrating herbs and spices. I set run them for 6 hours to be safe.
Using your dehydrator alongside your vacuum sealer is a great way to get more variety! We make stew starters (pictured left and linked below) and vacuum seal the jars. We also dehydrate up fruit and vacuum seal bags to make the perfect hiking treat that will stay good for at least a year.
Lastly, using your dehydrator to dry and preserve food before it goes bad is a great way to save money, stretch your budget and cut the waste!
For more tips and tricks, you can go here!
---
Want more about dehydrating food? Check out the links below!