Vinegar is one of those things that is typically found in every household but rarely used for anything outside of cooking. It was historically used in multiple ways across several industries – not just culinary. Vinegar has been used for thousands of years and across almost all cultures. The non food uses for vinegar is due to its mildly acidic properties and was found to be good for medicinal, scientific, and industrial purposes.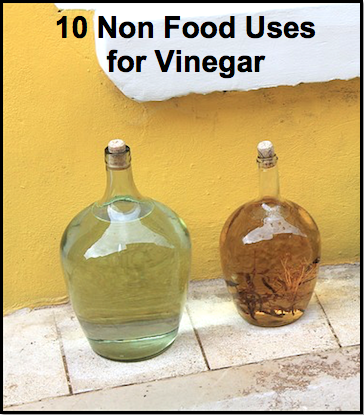 So why aren't people using it the same as they have always been? The answer to that is something of a debate but it is my personal opinion that other chemicals were found to do the jobs faster and more efficiently. Still, even after thousands of years, vinegar is still around. You should always make sure you have some on hand – preferably a white vinegar as an all purpose go-to. There are more varieties and flavor options out there than ever before. Thankfully, we have retained a lot of information on its benefits for things other than food preparation or preservation.
Non Food Uses for Vinegar
Focused largely on health and cleaning, non food vinegar use is something not many people know is even an option! Hopefully, this list will help open some eyes to why you should have at least a gallon on hand at all times. Especially as a preparedness measure though on the homestead, vinegar is also a must-have.
Cleaning windows and glass without leaving streaks
Keeping flies away (and likely wild and domestic animals, too!)
Deodorizing: It may sound funny to put 'smelly' vinegar down the drains and into cleaning products but it really does make a difference!
Homemade fabric softener
Remove mineral deposits from hard water (coffee pot and shower head!)
Prevent mildew from growing
Hair rinse (helps with dandruff)
Stain removal from carpets, clothing, etc.
General cleaning agent added to many homemade cleaners
Weed control in the garden and beyond
This list is tiny compared to all the stuff you can do with vinegar! In our modern times, I am very grateful that at least some of the knowledge has survived and is being passed on. If you took away all the chemical cleaners that are readily available out there, what would you be left with as options for cleaning? Learning, or at least being exposed to, the many options available puts you ahead of the game. Try making some of your own cleaning products using vinegar today! See below for links.
I am definitely going to try making some of my own cleaners but I think I will take it one step further: I want to learn how to make my own vinegar, too!
Want More? Here are links to some fantastic lists and ideas for both food and non food uses for vinegar!
All the Ways I Use Vinegar in My House – Mom With a Prep
DIY Natural Cleaning Products – 104 Homestead
50 Reasons Why Preppers Need Vinegar in Their Stockpiles – Backdoor Survival
Nourishing Lavender Hair Rinse – Seeking Joyful Simplicity
Make a Natural Energy Drink With 3 Household Ingredients – Stone Axe Herbals
http://www.gracegardenandhomestead.com/diy-fabric-softener/
35 Reasons You Should Never Be Without Vinegar – Backdoor Survival
Easy Homemade Glass Cleaner – Better Hens and Gardens
Homemade Chicken Coop Cleaner – The Cape Coop
Organic Drain Cleaning – Stoney Acres
DIY All Purpose Citrus Kitchen Cleaner – The Coastal Homestead
Safe Organic Weed Killer – The Small Town Homestead
This Home Remedy Helped Me Prevent a Cold – The Apartment Prepper