In our household, there are just the two of us to cook for. It seems no matter what I do, there is always enough leftover for at least one more adult to eat. Though we don't mind leftovers, eating the same thing for three days straight doesn't exactly get your appetite roused. I do my best when we buy meat twice a year to vacuum seal it into portions small enough for the two of us and still, there are leftovers. I had to use some imagination to turn a roast or loin into 4 different meals.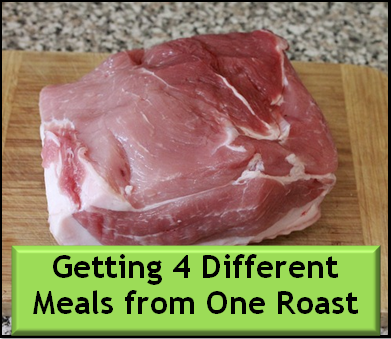 I know, first world problems, right? Food plays a huge role in our morale, though. Anyone who has gone without something they love for a long time tends to get giddy when the idea of having their favorite food again comes up. Take chocolate, for example. Imagine going without it for 6 months and then getting a Hershey's bar. It would be better than Christmas and birthday wrapped up in one!
Recently, I pulled out a pork loin. We take a whole loin, cut it into thirds, and then vacuum seal them. That is still a good amount of meat for only two people. Oh sure, I may cut some off and boil or cook it plain for a nice dog treat but even then, we still have too much for one meal. We've done it and got sick of eating 'pork roast' for three nights. I swore the next time, I would do something different. Following is what I came up with to ensure we wouldn't feel like we were eating the same thing. It worked so well, we didn't even notice we were eating pork 4 nights in a row! The best part is nothing went to waste (from leftovers not being eaten).
---
Night 1 – Pork Steaks
After the loin was thawed, I cut three nice pork steaks off it, leaving a good 2/3rd of the loin left. Since I knew I was going to use the rest of it within a few days, I stored it in a tupperware-type container. I marinated the steaks, grilled them up and had home-canned green beans and applesauce as sides.
Night 2 – Fried Pork and Noodles
There are so many ways you can make this meal. I took the leftover pork steak that wasn't eaten the night before and cut it into small cubes, maybe half an inch or so. The steaks were pretty thick and it ended up being a good amount. Take a small skillet and put a little olive oil in, just enough to give a good coating on the bottom when warm. Bring it to medium heat and add the cubed pork in there with some favorite seasonings. We looove garlic so added some powdered garlic, fresh onion, and black pepper. NO SALT. Get them good and hot in the pan so the garlic and seasonings stick to the meat, set aside.
I admit we cheated on this one (no one is perfect, don't judge! 😉 ) and used ramen noodles. While the pork was frying, I heated water to a boil and made the noodles. Just before they were done (and before I added the seasoning packet), I cracked two eggs into the water and whisked them around with a fork, kind of like an egg drop soup. Once the egg was cooked, the pork was added along with the season packets (hence why you don't add any more salt) and let it come back to heat for a moment before serving. Some people prefer to scramble their eggs before adding it to the broth. Don't know it 'til you try it. It is an incredibly inexpensive and filling meal.
Night 3 – Shredded Quesadillas
On the morning of day three, I took the rest of the loin and put it into the crock pot with some onions, celery, and homemade vegetable stock to slow cook all day long. When I got home (it smelled so good when I walked in), I drained off the broth and shredded the whole thing up. The onions and celery that hadn't liquified already was taken care of in the shredding.
Quesadillas are pretty straightforward. A flour tortilla, some shredded pork, and grated cheese over that. I also added some fresh onion. You can put all sorts of things like bell pepper slices or cabbage – just about anything your heart desires! Make sure there is some shredded cheese on top before you put the other tortilla on top. Heat it up until it browns on the bottom, then flip it over. When both sides are browned, crunchy, and the cheese is melted, it's done!
Serve with sour cream and salsa. We used about half of the shredded pork up that night.
Night 4 – Open Face BBQ Pork Sandwiches
It does not get any easier than this. Take the leftover shredded pork and add your favorite BBQ sauce. Mix well. Toast or pan fry some bread to get it crunchy and add the BBQ pork on top. Add a slice of cheese and broil or put into a toaster oven until the cheese is melted. Serve with a salad!
---
It was a huge success! I started thinking of ways I could do the same kind of thing with a beef roast, a whole chicken, ham, a turkey… The possibilities are truly endless. It's just a matter of preparing the larger portion of meat in a way that is easily changed to taste differently. It all depends on what spices you use and changing the texture of it (shredded versus a cut of steak for example) will make it seem like you are eating something entirely different each night.
Do any of you do things like this? I want to know about it! Give me a comment below; let's get some great ideas going!