Awhile back on Facebook, I asked the question: "What do you think would be good stocking stuffers for homesteaders? What would you want?" The response was overwhelming and greatly varied! I went through and compiled all of them to help you find that perfect gift for the homesteader in your life…or to send to your family members to give them gift ideas for YOU!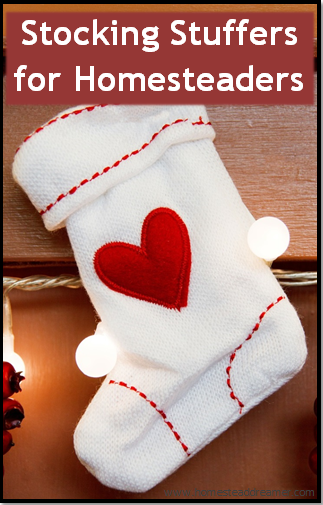 Below are some suggestions made by those who commented on Facebook as well as some of my own ideas for the perfect gift for the homesteader:
Apple corer, slicer, peeler – My mother in law got one from Amazon and it lasted us three years before it started to give us problems. We ended up ordering a new one that was cast iron and more heavy duty. We use the peels and cores to make our own apple cider vinegar!
Honing stones – Having a sharp blade is one of the most important things to maintain when homesteading. You use your knife in so many ways, it would be quite an undertaking to count them all! If you get the right kit to start with, you should be set for life and not need to get anything else (other than more oil).
Multi-Blade sharpening tool – There are several of these out there but the one we use is very inexpensive and does great when out in the field for a quick sharpen. It won't replace the regular care you should do with a honing stone but they are very handy to have when out hiking, camping, or hunting.
Duct Tape
Hand and Foot Warmers
Wool Socks
Canning lids and bands – Anyone who cans at home knows you can simply never have enough lids and the lid and band combo set is always appreciated! They are also very inexpensive, just a few bucks per dozen!
Kitchen towels – Because you can never have enough!
Flashlights – These ones are inexpensive but heavy and take a serious beating. We have about 8-10 of them (for the price, why not?)
Garden Tools
Canning Labels – The dissolvable labels are the most sought after ones for canners!
Here are some larger presents that won't break the bank:
Spoiled Rotten Gift Ideas for the Homesteader
For those who lean more toward preparedness and survival, try this list instead.