The cost of food is not going to go down anytime soon, if ever. People are spending more on food now than they ever have before and if you want to actually eat healthy, it is even more expensive! The majority of our population live in 'food deserts' and the further that produce and meat has to travel to get to the store, the more it costs. We here in Southeast Alaska have our food barged up. How about $4.99 for 80/20 ground beef, and that is on sale!? It really hurts the pocket book! Out of necessity, we have learned numerous ways to make your food stretch and cut waste down. This will be a long one so grab a cuppa something warm and settle in!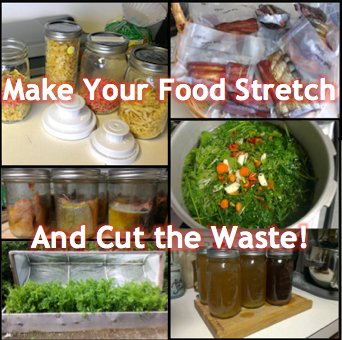 Since we began our homesteading and preparedness journey almost 4 years ago, we have gotten into a groove when it comes to our food. When we buy meat for example (twice a year), how we preserve our little garden harvests, and taking advantage of the abundance of wild berries in our area to make our own jams and jellies. We even save our vegetable scraps and use them up, too! Below, I will detail the things we do that make our food budget streeetch out and throw away less than we ever have before.
Gardening
I've heard more excuses about why people don't garden than I have why they do. "I don't have room for a garden" or "I don't have money to spend on a garden" are usually the most commonly given reasons to which I counter "Malarky! You CAN have a garden even if you are on a budget and in small spaces!" In fact, this year my friends who grow their food entirely in containers got a HUGE harvest compared to mine that was grown in raised beds and a greenhouse.
Even if all you do is grow herbs and spices, it is more than you were doing before and they are very easy to grow in containers whether that is inside, on a railing or in a full greenhouse. They are incredibly easy to preserve, too! By drying or dehydrating them, you will find that you no longer need to
Hunting/Fishing
While not for everyone, hunting and fishing goes a long way when it comes to keeping your freezer filled. We live in a very resource rich area and take full advantage of it! When the salmon start to run, we head down to the rocks (we don't own a boat yet) and start casting away! Mister Dreamer and I always try to get at least 50 fish a year and we vacuum seal them up. Some is fed to our dogs as a nice supplement through the winter.
Hunting is a luxury for most people, including us. If we want to have a really good chance at getting some deer, we need to take a little ferry over to another island and camp out for a week or so in November. That costs money! Of course, the first trip is always the most expensive due to getting the gear needed for colder weather (plus travel) but it was worth it! Even with the added costs, the money per pound of meat was still cheaper than buying at the grocery store and it's much better for you, too.
Wild Resources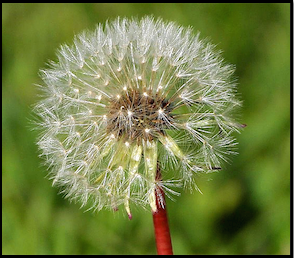 I already mentioned how we take advantage of all the wild berries that grow around here. We have salmonberry, blueberry, and huckleberry. There are also some others such as thimbleberry that grow wild but are not as common. There are plenty of other wild edibles out there that are commonly found all over the United States and in some cases, the world.
Here, we are coastal so there is seaweed, beach asparagus, and kelp that can be dried, canned, or eaten fresh. There is also a plethora of mushrooms (always, always be sure before you eat any wild mushrooms!) that can be harvested, different tubers and greens, and don't forget that some trees produce a sap that can be boiled down into syrup. Almost all places have an agricultural extension office that will have free information on edibles in your area.
Taking Advantage of Sales
Food goes on sale when in season or when it is getting ready to expire (for the most part). Since we are talking about whole, raw foods here, it is important to pay attention to the cycles of sales in your area. For example, I mentioned above that we buy meat only twice a year. There are two times a year that the grocery stores have major meat sales and we jump all over them.
When it comes to produce, things go on sale just after the peak of the season. Stores generally have a surplus and will discount deeply to get rid of the stock before it goes bad. Also, watch for sales on cases of certain items. For example, we will buy cases of apples and then make them up into applesauce, apple butter, dehydrated slices and cubes (we use the cubes for putting into oatmeal and making our own dried fruit snack packs), along with canning up slices to be used as apple pie filling. We get cases of peaches and jar them up to be enjoyed throughout the winter, too!
Friends, Family, and Neighbors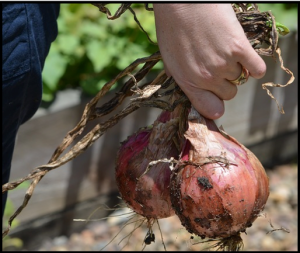 You would be amazed at how many people will plant berry patches and then never harvest or do much with them! It blows me away. Next year, we will get the opportunity to absolutely raid a friend's raspberry patch because they say they don't have the time. In exchange for the bounty they are giving us, we will give them some pints of raspberry jam and maybe some syrup.  Bartering your skills is a great way to fill the cupboard, too! If someone doesn't want to process all of their abundance, offer to do it for them for a portion of the finished product!
Cut the Waste by Using It!
Here is where the magic and savings really start to come into play. Getting creative is part of the fun (and satisfaction) of getting into a cycle or rhythm with your food. Yes, time and work involved but not extra money per se. Sure you may need more jars and lids but the food itself is where the real cost is. Also, you will know how your food was processed. You will know what is in it and more importantly, what isn't. Here are some of the things I personally do every year to use the food up before it goes bad and cut down the waste.
Meats
The meat we buy on sale and vacuum seal is perfectly fine even a year (or more) after, with no freezer burn unless the seal failed for some odd reason. It happens, but is pretty rare. For me, any meat that makes it to the one year mark is pulled out and thawed. I then pressure can it up to be used in soups and stews later on or, our favorite, making meals in a jar! You are not tossing out perfectly edible food and actually extending the life of it for another year (or more)! On the rare occasion that a freezer burnt bag of meat is found, I will boil it up and mix it in with the dog's food as a nice supplement. You can also do things like make different jerkies or simply cook it up and freeze it to be used later.
Produce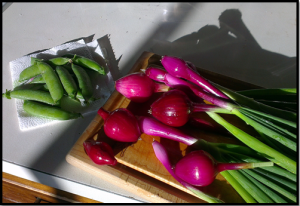 Vegetables never get tossed out at our place. If there is something that is a few days away from going bad and I can't use it in some other way, I will freeze it and make my own vegetable stock with it. I then use that stock in all sorts of different dishes and even something as simple as soaking beans in (it gives it some great flavor!) or using instead of water when making stuffing at Thanksgiving. After the scraps are done being boiled for stock, I either compost them or give them a friend to feed to their chickens.
How about those apples I talked about? The cores and skins can be used to make your own apple cider vinegar that has so many uses, it would be a whole article on its own! It is easy to do and once again, you are cutting the waste and using that food to its fullest extent!
Have pets? Consider learning how to make home made treats or even food for them. It is another great way to use up absolutely everything but be informed and well educated: certain foods should never be fed to animals. Onions and garlic are the first that come to mind.
The Final Bonus
Other than saving significant amounts of money and taking control back over more of what you eat and how it is processed, there are some benefits that may not be quite so obvious. Yes, there is some more work involved than if you just bought stuff at the store. The biggest bonus to me (other than the savings and less waste) are the skills I have learned in various food preservation methods. How many people know how to smoke fish and cheeses – with or without using modern smokers?! It may seem pretty easy and it is – but there is still skill learned and mastered.
There is so much I used to buy that I now make on my own, from scratch. I haven't bought jerky, crackers, veggie stock, or jam in years! The list of things I no longer buy at the store keeps growing as I expand out further into learning homesteading skills and trying to live more harmonious with nature.