It's berry season!! Here in Southeast Alaska, we have three different berries that are prevalent: blueberries, huckleberries, and salmonberries. Three years ago, I taught myself how to make jams and jellies (yay for YouTube videos!) and we have not purchased so much as a single jar of either from the store since. Neither has my mother in law! When I consider how much a typical jar of blueberry jam costs at the store (let alone 'organic and all natural'), I know I have come out on the better end of the deal. To give you an idea: Cost of store bought for a pint is about $6. Homemade pint is about $2.78 and that is because I pay the kids to pick berries. If I pick them all myself, it would be less than a dollar.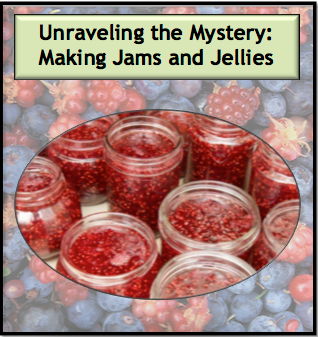 Making jams and jellies yourself is easily done and you don't need any real 'specialized' equipment either. The difference between a jam and a jelly is chunks vs no chunks. Jams have bits of the fruit where jelly is strained (or just made with juice) to remove all seeds and chunks. Preserves are another beast where whole or partial pieces of the fruit are left intact. All three are water-bath canned due to their acid content (you can always add lemon juice to increase the acidity) and will keep for a good couple years. We just opened a jar of huckleberry jam from September 2013. It tasted perfect, as if I had just canned it a month ago!
If you learn nothing else from this article, I want to convey to you how easy it is to make your own. There is nothing 'hard' or complicated to it but it does take extra time for your first few batches. You have to learn how to 'read' the mixture. Please note that in this article, we are covering how to make your typical jam or jelly, with sugar. There are plenty of sites out there that have 'no sugar' recipes you can research on your own. As with all of the "Unraveling the Mystery" articles, our goal is to show you how easy things are, explain why and how it works, and give some tips and tricks that I have learned along the way.
The Science
The process of making jams and jellies preserves the fruit via the sugar and forms a gel that allows you to spread it on whatever your heart desires. The key to a successful batch is getting the gel just right. There are 4 main ingredients to making 'soft spreads:' fruit, sugar, pectin, and acid. It is the combination of these over heat that will produce the results you are looking for. How much of each kind depends largely on what kind of fruit you are using. Some tend to be higher in pectin and acids while others are low and need to be supplemented.
The heat is important as it kills off any bad bacteria but if your heat is too high, it can scorch and ruin the mash. You want to have a 1:1 ratio of sugar to fruit as a general rule. Too much sugar and it may crystallize but too little and it won't gel up and preserve right. Yes, you can add pectin (and sometimes have to) to help speed up the gelling process but don't forget to check and see if you need to add some lemon juice. Apple juice is another, lesser, alternative.
The Equipment and Process
While it is nice to have a water bath canner and a canning utensil set, they are not strictly necessary. You can get by with a couple large pots and an alternative way to grab jars but these inexpensive items (less than $40 for both) do make life easier.
The Equipment
A large pot for the mash
A large pot (or water bath canner) for sealing jars when done
Fruit of choice
Sugar
Powder or liquid pectin
Lemon juice (apple will work in a pinch)
Funnel (to fill jars with)
Quart, half, or full pint jars. (Going larger requires experience and even then may not set right)
The Process*
Assuming you are making jam, you will want your fruit to be all mashed up and measured. However many cups of mash you have, plan on having that much sugar. It is important that the pot you are cooking in is not filled more than half way with the mash and sugar. Yes, it will cook down but before that happens, it will rise up with a gentle boil and you will need the space.
Assemble all equipment utensils.
Visually examine jars, lids, and bands for defects. Wash jars and two-piece caps in hot, soapy water. Sterilize jars by placing in boiling water for 10 minutes. Place lids, bands, and jars in simmering water. Remove pan from heat and allow the lids and jars to remain in the hot water until needed. Do not boil the lids. Dry the bands and set aside.
Use top-quality fruits after washing.
Prepare only one recipe at a time and follow the directions.
Remove from heat and skim foam.
Immediately fill hot spread into hot jars, leaving a ½-inch headspace.
Wipe top of jars and adjust caps.
When all the jars are full, place on a rack. Lower in a canner half full of boiling water. Add boiling water to cover twopiece caps by 1 to 2 inches.
When processing time is complete, remove jars from canner. Most recipes call for at least five minutes. Stand jars upright on a towel a few inches apart.
After 12 to 24 hours, test seals and remove bands.
Wash outside of jar and lid surface. Label and store sealed jars in a cool, dark, dry place.
That pretty much covers the basic steps but I have a few things to add. When making salmonberry jam, for example, the foam gets out of control and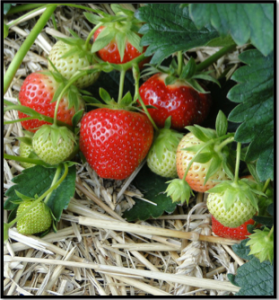 needs to be spooned off sooner than listed above. I learned through trial and error that if you remove too much foam before it has jelled up, it will take more pectin to get the results you want.
One thing they did NOT mention above is the gel test. How do you know if it is setting right or not? There are several ways. First, having a thermometer helps as the 'setting point' is around 220 degrees F. If you don't have one, you can simply take a plate and put it in the fridge for 5 minutes to get it cold. Then spoon out a little onto the plate and let it sit for a few minutes so the mix will cool. With a clean finger, run it through the middle and if it stays in place, it is set. Click here for pictures so you can better understand.
Another way, the way I learned, was to use a spoon. Take your stirring spoon from the pot and allow the mix to dribble off it. When it gets down to the last few drops, do they gel up and stay in place or do they drip right off? The first method will be easier for a true newbie in my opinion. I botched a few batches trying to get it down. Thankfully, mistakes tend to teach the best lessons and sometimes, really great stuff can come from them.
*The steps listed were found on the University of Kentucky Cooperative Extension publication. It covers the basics without going into too much tiny detail which is what I likely would have done. Trust me, it is better this way.
Tips, Tricks, and Cover Ups
Have a batch that didn't quite set up? There is little that is more disappointing than going through all that stirring and waiting, only to find out that in the end, your jam or jelly is more watery than you wanted. It may set but still be runny. There are a couple things you can do about that.
First, you can remake the jam. That's right! You will need to open the jars and add more goodies to it but thankfully, making jams and jellies are rather forgiving to mess ups. Too thick? Easy peasy! Just add some grape juice (or apple, etc) and mix until you have the right consistency you want. Personally, I will save a jar or two of the 'runny' jams and use them as a syrup. The process of making syrup is pretty much the same.
I had one batch that passed my gel tests but when it finally cooled down after being jarred and water bath canned, it was still runny. I really didn't want to open them all up and remake them so instead, I started using it like a syrup or enhancement. I take a couple spoonfuls and mix it into my cooked oatmeal or stir some in a pancake mix. It is also really good drizzled over vanilla ice cream.
Questions? Comments? SUPER AWESOME TRICKS??? Drop us a line below!