Most people know about the use of Mylar bags, oxygen absorbers, and buckets as a way of preserving and storing food for the long term. What they don't know is how and why it works! There are also a lot of misconceptions and untrue beliefs that surround this particular method of food preservation. Examples would include: high expense, not being able to move them around once sealed (because they are fragile), and needing specialized equipment.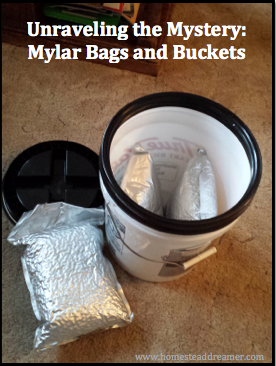 Unlike pressure canning, you don't need much in the way of equipment except a way to seal the bags (and I have a trick for that, too!) We will also touch on Gamma Seal lids, making sure you have food safe buckets, and some other tidbits I have learned along the way.
The Science of Mylar Bags
Mylar bags are made out of a polyester film that are incredibly strong even at paper thin dimensions. Originally developed by DuPont in the 1950's, the applications for this material soon became widespread, according to this Wiki article.  The term "Mylar" bag is a registered trademark of DuPont though like many other products, it is universally used regardless of manufacturer. (Think ZipLock bags, Kleenex tissue, etc.)
There are 5 things that promote food spoilage: Moisture, heat, air, light, and pests/rodents. Mylar bags preserve food by removing 3 layers of what makes food spoil. When used properly, they will keep moisture, air, and light out. By placing the bags into food safe buckets, with a lid, you are adding an even more robust (and 4th) layer of protection against rodents and pests. The lid will keep out more air and moisture, too.
It is important that you make sure your buckets are made out of a food safe plastic and that no chemicals of any kind have been stored in them before using for long term food storage. It isn't worth the risk or potential loss of money and food and would be a very nasty surprise to open your bucket, discovering everything inside is inedible. That would be another disaster in itself!
To make sure you have the right kind of bucket, look on the bottom. Here is a cheat sheet you can print off. As you can see, 1,2,4, and 5 are suitable for food storage. Some say that the ones with #5 on it, made of high density polyethylene, is the best choice for long term food storage. There is some debate about the difference between food safe and food grade plastics as well. My take on this is the food is inside the Mylar bags, therefore not in contact with the plastic itself. You will need to decide for yourself which is the best grade of food safe plastic for your family.
The Equipment and Process
As I said before, you really don't need any special or expensive equipment to successfully store food in Mylar bags and buckets. You need Mylar bags, o2 absorbers, food, a permanent marker or label maker, and a way to seal the bags.
The Equipment
Mylar Bags – When it comes to choosing which ones to get, you need to look at thickness and size. The size is personal choice and what suits your needs and storage space availability. The thickness of the bag plays a big role. Too thin and you end up with pinholes, tears, and general failure of the product. The typical thickness, called a 'mil' (a mil is a thousandth of an inch so .001 = 1 mil) is 3 mils. You can get 5 and 7 or higher as well.
Sizes vary. You can find one quart, one gallon, and five gallon bags. The size will determine how many oxygen (o2) absorbers.
Oxygen Absorbers – One of the reasons that Mylar bag food storage works so well is because of the oxygen absorbers you put in the bag before sealing. They 'eat' up the oxygen and essentially vacuum seal them from the inside. The end result is a brick-hard block of preserved food! O2 absorbers are measured in cc's. The most common amounts are 100cc, 300cc, 500cc and 1,000cc packets. There are some small variances in just how much to use in each bag but they are broken up into two different kinds of food: dense and airy. Flour would be dense, grains would be airy.
Dense – Use 3-400cc's for one gallon bags and 1500-2000cc's for a five gallon bag.
Airy – Use 500cc's for gallon bags and 2-3000cc's for airy.
Sealer – There are sealers out there that are made specifically for ensuring a good seal on your mylar bags. People have tried to use their vacuum sealers to close the bags up but often times, that fails. The heat required for melting the mylar is higher than that of vacuum seal bags. You want to make sure whatever you use gives you a good thick band. If it is too thin, it can split open as the oxygen is absorbed. Thankfully, these sealers have come down in price considerably but there are other options! I will explain in more detail below.
Permanent Marker/Label Maker – You will want to have some way of marking the contents and date stored on the bags. A good permanent marker should suffice but I have also seen people print labels on their printer or personal label maker. Don't skip this step!
The Process
This is pretty straightforward. Make sure you have everything you need at hand.
Get your sealer heating up.
Place half of the required oxygen absorbers into the bottom of the bag.
Poor food into the bags. Make sure you leave a good 3-4 inches of space at the top!
Put the rest of the o2 absorbers into the bag and press them down a little into the food.
Pack the food down a little and fold the top portion over, pressing down to compact the contents.
With the top of the bag straight up, take your sealer and seal the bag three quarters of the way. Before fully sealing it, press as much air out as you can.
Label and set aside. Leave it for 24 hours before putting into buckets. You want to make sure it is sealed tightly with no holes. The bags should be compact and the contents inside unpliable.
Use common sense when placing the bags into the buckets. If you cause any holes, you have wasted all of your effort!
What I Use
I personally use the 5 mil bags in the one gallon size. I never get any larger because of the way 5 gallon bags get folded. Creases are formed that create pinholes and make the bags useless. Gallon bags are laid over in half, not creased.
I put 2, 300cc packs of o2 absorbers in each bag. It may be a little more than needed but it doesn't hurt anything that I can tell.
I don't use a traditional sealer. I use a hair straightener that has adjustable temperature settings on it. At two inches wide, it gives me a nice, wide seal that won't split up. I use a permanent marker to label (simple is best haha!).
We use Gamma Seal lids on all of our buckets. The additional protection is worth it plus, makes the buckets more versatile.
Tips and Tricks
Here are some tips and tricks I have picked up and used along the way.
Don't use o2 absorbers in when sealing sugar or salt. The result will be a solid block that you'll either have to chip away at or toss out. Also, don't store 5 gallons of salt or sugar at a time. Smaller sized bags (gallon for sugar and quart for salt) will serve you much better and lessen the risk of spoilage before you've used it all.
Coffee shouldn't be stored in mylar bags according to a several articles on the topic. Storing green coffee beans and roasting yourself will be a better option.
You can often get food grade buckets from restaurants for free! You may have to scrub it out and there might be a lingering scent of garlic or pickles but free is worth it! A little bleach will take care of it.
I don't really recommend trying to store pasta or other sharp edged items in Mylar bags. With the oxygen being taken out of the bag, something will likely poke through.
In my experience, all food preservation methods are fairly easy and you can save some serious money by doing it yourself. Be sure to check out the other "Unraveling the Mystery" posts by going here!