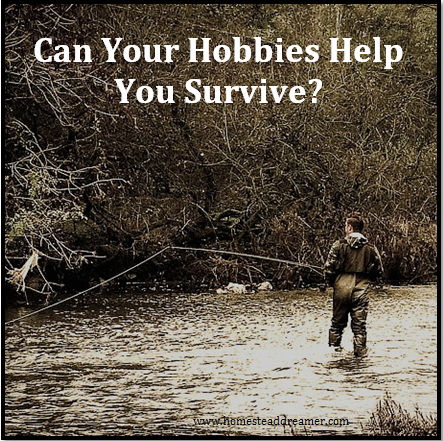 What an odd question, eh? "How can hobbies help me in a disaster?" Dictionary.com defines hobby as, "an activity or interest pursued for pleasure or relaxation and not as a main occupation." Most people think 'entertainment' when they think about hobbies, so when you pose the question about a hobby potentially saving your life in either a SHTF situation or an everyday scenario…you tend to get a few odd looks and some outright laughter. Then again, it all depends on what your hobbies are.
Once people really start thinking about it though, they begin to recognize the real value in the skills they have learned by doing the things that interest them. They see that even though it wasn't traditional work, their 'playing' has given them an edge and more knowledge than most about their chosen hobby/skill. First, we will look at the obvious hobbies that can help a person survive. Then we will give a few examples of  the ways that some other hobbies such as sewing, pottery, and even something playing video games, can make a big difference!
If you hunt, fish, hike/backpack, or go camping, these skills are easily translated into survival use. Those are the obvious ones. Avid campers can handle the lack of running water and electricity easier than the average Joe. Hunters and those who fish will generally know how to preserve the food they have gathered as well as cook it. People who go hiking or backpacking tend to know some of some (if not all) the edible plants around the area and are able to set up some simple shelters due to the inherent risks that go with their hobby.
Reloading ammo is another hobby that can and will serve you well in a SHTF situation. Not only are you more likely to be a good shot, you have the skills to create something that people need and that can help you barter to get what you need, too.
Even non-outdoorsy hobbies help in a disaster situation!
What about those non-outdoorsy hobbies like sewing, knitting, or crocheting? All of these skills are invaluable if there is no more ready-made clothing available. Pottery skills can help you craft containers, eating and cooking utensils, or even help on projects such as mudding a cabin to keep the heat in. I am sure many of you scoffed at the mention of video games as a hobby, let alone something that could help you in a bad situation. If you think about it though, those video games put the player right into the situation and depending on the types of games played, that mental training could come in very handy. Tinkering on cars or other machinery, baking, making various foods from scratch: all of these can help you out when you least expect it! It may take some thinking outside the box but when you apply your hobby skills to survival, you may surprise yourself with all the ways your 'entertainment' can help you in a non-entertaining situation.
Another thing to consider is the value of teaching others about what you are skilled in. Exchanging knowledge and skills empowers and strengthens the community as a whole. For example, if there is only one person who knows how to skin a deer and brain-tan it who is killed or incapacitated, the entire group suffers that loss. Others could figure things out but it may have a higher cost than is worth it if done improperly and the meat is tainted.
Having a hobby usually means you produce something and that in itself is powerful. Think about how many people you may know who don't produce much more than carbon dioxide. They simply consume. People who have hobbies also tend to know others who either have the same interests or they may provide you with the raw materials you need. Think about your hobbies and consider how they could help you survive in a SHTF situation. Better yet, give in and get into the things you have always wanted to and learn some new skills, too!

How can your hobbies help you survive? Give us a comment and share this with your friends below!
Post may contain affiliate links.