There are cycles to everything in life, ebbing and flowing. Deciding that you want to change your lifestyle to a more prepared state can be exciting, fun, scary, thrilling, and drive you crazy from time to time. I'm not a 'new' prepper anymore but I'm also not an old hat.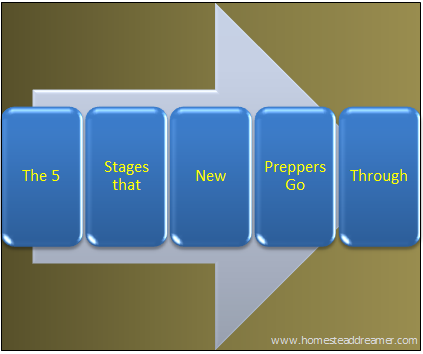 In my short time (4 years now) working toward being more self-reliant and prepared for unforeseen circumstances, talking with other newbies and veterans alike, I have noticed a trend of stages that most people go through when making the lifestyle switch. These are purely my opinions based on observations, my own experiences, and talking with long time homesteaders and preppers. I'll give examples from my own journey thus far along with some information I've garnered from various sources. Grab a cuppa joe or tea and settle in, this will be a long one!
1. Eyes opened – The first stage is having your eyes opened to the chaos that is our world today. Anything can trigger it: a storm, an earthquake, riots in your area, or in my case – the local Walmart running out of toilet paper. Yes you read that correctly, our local Walmart (there is only one on the island) ran out of toilet paper because the container with their stock didn't make the barge. Even with three other grocery stores, this caused a panic and people bought up everything from the most expensive to the cheapest brands, and the body/baby wipe shelves were stripped bare. This wasn't even a disaster of any kind and yet, people freaked out. It was a reality check.
There are certain things in this world that most people never consider. Our "just-in-time' delivery system of food and household goods, for example. On the island I live on, at any given time there's about a week's worth of supplies. The same can be said for other places though in highly populated areas, the number of day's worth of supplies is usually less (3-4 days). How about illnesses? We have Zika virus (and still buts of Ebola) in the news now. Most people have no idea that our sun could wipe out electricity on our planet with a solar flare. How about nuclear threats? War? Looking backward we have Katrina, Sandy, and the Boston Marathon bombers. The change in our personal freedoms!
Once a newbie prepper starts to really pay attention, they tend to go on a reading frenzy about various threats that our country and planet face everyday and it can get very, very overwhelming which bring us to the second stage.
2. Overwhelmed – The second stage is after the veil has been lifted. The smoke clears and the mirrors have been removed. You're researching like a demon, gobbling up anything you can on the internet. Your imagination begins to take over during the day and you notice things in your everyday life you never did before. That person who uses a walker and has an oxygen tank in tow would not be able to last long if a disaster hit and if they had to run? Ouch. You watch a person buy a meal in a restaurant, eat a third of it and then toss the rest without thinking twice. You look at the amount thrown out and are disgusted at the waste. The street you live on is filled will people who shop for their food weekly or daily. They have nothing beyond what they need right now. There's no looking toward the future for much other than a retirement income.
You notice a definite shift in the way you think and view the world around you. It's almost bursting inside of you to help others wake up, too but having read so much at this point; You know they'll think you're weird or an extremist. You may talk to your closest family and friends about some realizations you've had (such as the government will NOT be there in a large scale disaster) and are met with eye rolling, pats on the head or outright laughter. Maybe you're one of the lucky ones whose family is on board and sees the wisdom in at least having something tucked back.
This is where many newbies start to get freaked out and want to just run into a hole and hide from it all. The overwhelming, sinking feeling in your stomach can be too much to handle. It's possible that you can whip yourself into a serious frenzy and have a moment or two of real panic. When/if this happens: BREATHE. Get yourself under control and come back down to Earth. It's OK and personally, I think it's 100% normal to freak out a little and I also think it is healthy. Congratulations! You just panicked and calmed yourself down, which is extremely important should a serious disaster occur anyway. The majority of people will be panicking and running. Some may not know what they are running from or where they are running to, they are just panicked. Learning how to calm yourself down and think about what steps to take next puts you ahead of the game. This brings us to the next stage: back to reality and serious information gathering.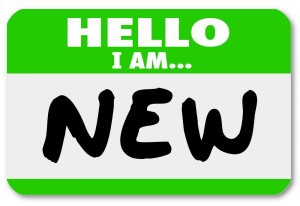 3. Information gathering – Now that you have come back to reality and realize that although it is possible for a nuclear strike to happen and it is possible for a solar flare to occur, the likelihood is pretty small. You have a clearer picture in your mind of what other preppers do and have done to meet their unique situational needs based on climate, possible threats, etc. Now it's your turn and your plan begins to really take form. You've gone from just storing some food and water to researching what kind of threats are in your area and are most likely to occur. Yes, some foreign threat could come and invade or detonate a nuke over the country and kill the electrical grid. The odds of that happening versus Mother Nature tossing a doozie of a storm at you is pretty small. I'm not trying to minimize that possibility; merely helping you see that it's more beneficial to start preparing for things that are likely; like a tornado or hurricane if your area is prone to those. Here in the rural islands of Southeast Alaska, we worry about floods, tsunamis, and earthquakes. Wildfire is a possibility but not very probable with an average rainfall of 13 feet a year. 😉
You may also notice recurring themes and information being given on certain things such as "a gallon of water a day, per person" should be stored, or the importance of practicing survival skills like fire building, shelter building, and cooking with alternative methods. You read over and over how important it is to actually use the gear you may buy (I cannot stress that enough. USE IT so you don't have to try and learn how to after the disaster strikes. Timing is everything!).
You're beginning to see through the fear mongering sites and the sites that only want to sell you something. You've become a research junkie and that is a very, very good thing. They can take away your gear but they can't take your skills (generally speaking). Now that you're armed with a plethora of knowledge and have considered what to prepare for you enter into the stage 4. By now, most people who are not very serious about preparing have dropped off the wagon. It takes a considerable investment in time and energy. It takes work!
New preppers can easily be taken in by fear mongers to buy items they really don't need. Be wary!
4. Planning and Implementation – Preparing will challenge you in more ways than you can imagine. You will need to be able to make lists, organize, find deals on supplies, and learn how to use said supplies. It will take months of time for this part and truthfully, it never really ends. This stage is where the money side of things comes into play. Again, the feelings of being overwhelmed can creep up and the amount of items you may want or need can feel like an impossible thing to achieve. I really do not know anyone who has the means to simply go out and buy absolutely everything they need in one fell swoop (without going into serious debt). Just remember that when you started however many months ago, you knew far less than you do now. It is something that is built a little at a time. You may realize that some of the stuff you bought in the beginning was a bad investment. Guess what? Pretty much everyone does that, at least once. The great thing about that is learning from it and utilizing the 'mistake' in the best way possible to promote your journey.
For those who have gotten to this stage of prepping, the lifestyle change can consume you and caution is given! Don't let yourself burn out or put yourself into a situation that would compromise your ability to meet a disaster head on. If I could give any advice to people in this stage, it would be to enjoy the experience! Some of this stuff is really fun, like testing and practicing with your skills and gear. Learning how to do something new or improving the methods of something you already know about is like a little discovery, a treasure to be added to your horde of knowledge.
5. Comfortable spot of maintenance – The last stage a newbie prepper gets to is a place of confidence, contentment, and control. You have changed so much in your lifestyle that when you look back at how you were before, you shake your head and maybe chuckle at how blind or ignorant or wasteful you were. You understand and are grateful to yourself for the changes you (and hopefully your family) have made. There is a peace that (I hope) you feel, knowing that you can handle pretty much anything that gets tossed at you, at least natural disaster-wise. Gone are the days when you obsessed over the news and gear and details. You still pay attention, no doubt about that! The difference is now there is a balance. Now you have remembered to LIVE your life while still being prepared. Your regularly rotate your stocks and water stores, go to the range and fire off a few rounds to stay sharp. Everything has fallen into a rhythm, a cycle that is more on par with the seasons since your needs change with them in a survival situation.
With the basics in place, you are able to focus on other projects and hobbies. While you still wish for that special rifle, or that particular gadget, you know you can get by without it. Your skill set now has both modern and primitive methods alike. You are as ready as you can realistically be while still moving ever forward – just at a more comfortable pace.
A few final musings… The journey to preparedness is different for everyone. Most people have their own definition of what it is to be prepared and that is more than OK. Diversity is important. The steps I have listed will take different amounts of time for everyone. Some people may skip right over a stage, others may add one of their own. It is important as a community that we work to help each other along the journey!
If you would like to read more articles written specifically for new preppers and homesteaders, click here for a whole list!
Post may contain affiliate links.