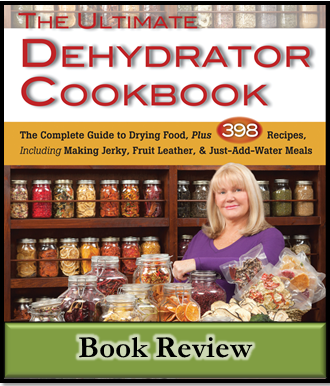 Sometimes I get the opportunity to review books. If it fits what I am into and I think it would have value to myself and my readers, I give it a shot. I always make sure they understand that I will give an honest review. I have weeded out those who request to see the review before it has published, too. Thankfully that has only happened a few times. That being said, please trust me when I say that I am completely in LOVE with The Ultimate Dehydrator Cookbook by Tammy and Steven Gangloff, and September Ferguson. It is the most comprehensive dehydrating/drying book I have ever had the pleasure to read; it gets me itching to start playing in the kitchen! I really like the fact that this book is a family effort, too.
I have read ebooks here and there about dehydrating when I was first starting out in my food preservation journey but they tended to focus on only certain aspects of drying and dehydrating. One would talk about using a machine, others would talk about using an oven, and still others were about naturally (air/sun) drying food and herbs. I honestly assumed it would be a book covering machine and maybe oven drying fruits and veggies, maybe meats, and give some recipes. your standard 'how-to' book. I was pleasantly surprised when I read the table of contents to see that not only did it cover absolutely everything I mentioned above, it also went into:
HOW dehydrating works
Safety about temperatures, lengths of time, and how to spot problems
Dehydrating fruits and nuts
Making powders and leathers (such as garlic powder and fruit leathers)
Dehydrating eggs and dairy
Breads and crackers
…way too much to list!
One of the things I found extremely helpful were the charts showing the weights of food before and after you dehydrate it. Written with a conversational tone, one of the things that made me chuckle was the story of them showing their friends a jar of dehydrated carrots as they were eating a meal. She let them pass the jar around and explained that the carrots they were eating had been dehydrated and what they had held in their hand was the equivalent of 5 pounds of fresh carrots. I have done the same thing with potatoes, onions, and various fruits. We love to go hiking and there is nothing so tasty as some dried fruit slices to sweeten the day and get some healthy energy (not to mention they take up very little room and are extremely lightweight!).
And then it gives you more!
The amount of detail in this gem of a food preservation book shows, at least to me, that the authors really know their craft. Things I never would have considered doing with my dehydrator or the foods I had dehydrated! There are 398 recipes included and I don't mean just soups and stews. How about instant soup mixes, packets for dry rubs for flavoring meat, and….wait for it…desserts. When I saw that in the table of contents well…of course I had to flip to it. I wondered, "What in the world could you possibly do with dehydrated foods for desserts?" The recipes call for dehydrated fruits and spices (such as ginger, powdered) for cookies, pies, leathers, and even help you "slip some veggies into muffins and whatnot that the kids won't notice!" This was a whole new level and I was impressed. I also realized just how much of a newbie I still am! Within the pages of reading this book, my creative side was kindled again and I am really looking forward to the sales on fruit and veggies that come around this time of year! It is going to be a particularly tasty winter!