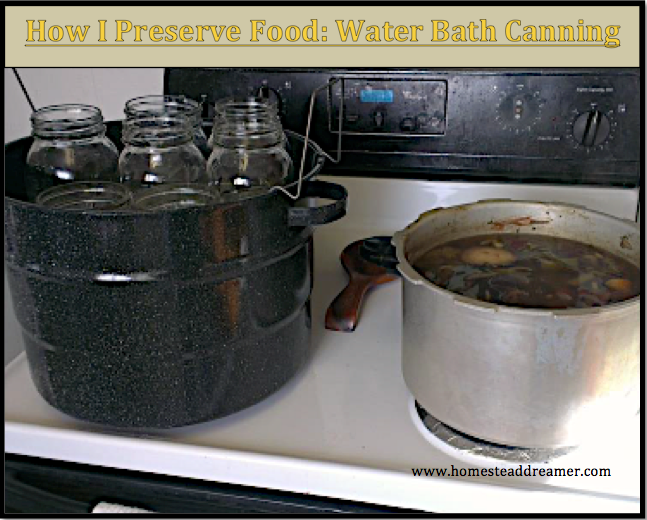 I LOVE to do water-bath canning and there are several different foods I preserve by using this method. Before I get into that though, let me give a quick introduction for those who do not know what water-bath canning is.
Water-bath canning is a method by where you seal the jars and contents within by bringing the jars, contents of the jar, and the boiling water up to the same temperature. When it all cools, the jars will seal. Generally speaking, water bath canning takes about 10 – 15 minutes once the water has reached a full boil. There are certain foods you should never water-bath can: meats and other low acidic foods need a higher temperature to ensure that no bacteria, molds, viruses or other nasties can survive. For other things, it is perfectly acceptable and safe. There is one item I go against the 'norm' on but I will explain that later. It is up to you to decide what is the best method for yourself and your family. This is how we do it for jams and jellies, pickling, and making vegetable stock after extensive research on various sites. No one has gotten ill from any of it over the last 2 years and processing our own goodies has saved us a nice chunk of money on a superior product! We haven't bought any jams or jellies in 2 years and I estimate we have saved about $50 on that alone! Now that the disclaimer is done, on to the canning! 🙂
My first foray into canning was making jams and jellies. The berries were free and abundant. I was nervous about pressure canning and thought that water-bath canning would be a good way to build a little confidence. Looking back, I can say with confidence that water-bath canning is an excellent 'gateway' to this most addicting and productive activity! While not all batches turned out as perfect as I would like, the process of water-bath canning was straight forward and easy to handle.
Water bath canning is a great way to ease into food preservation!
After my success with the jams and jellies, I moved on to pickling which is even easier (and faster) than jams and jellies! So easy, in fact, that I wrote up a little primer about pickling foods that will teach anyone how to pickle food in a single afternoon. Heat the jars, heat the brine, add the food and brine to hot jars, put a lid on and water-bath! The basic brine is the simple part. What spices you may want to add and having enough jars and lids available is where it may get tricky. While cucumbers are a 'low acidic' food, the vinegar is not and that is part of what makes water bath canning pickled foods a safe method for preservation. Honestly, billions of people over hundreds (thousands?) of years cannot be wrong!
The last main thing I water-bath can has been the most controversial. When I first posted about it on Facebook, the comments went flying! I make my own vegetable stock from scraps and I use a water bath to seal the jars up. I can hear some of you gasping in horror now! "But Homestead Dreamer, that is low acidic and the USDA says you need to pressure can it!" Hogwash, hogswallop, and a general "hmph!" to them on this one. While I do pay attention and follow the USDA's safe practices, the way I make my veggie stock has been proven perfectly safe, well received, and even requested! Again, it is up to you to decide what is best for your own family. 
The main difference here is that what I am water bathing has absolutely no food in it. The short and skinny of it is this: I take my vegetable scraps that have been kept in the freezer and add water. I cook it down on a boil, then simmer, until the veggies are thoroughly cooked and tender. I strain out all of the larger chunks and then the smaller fibers so there is nothing left but the water. I add no salt or spices whatsoever. This is simply boiled vegetable water. I fill the jars and then water bath, giving it a full 15 minutes of solid boiling before I remove them to cool and seal. For the full instructions and an infographic, you can find it here. I have used this method numerous times and haven't had to buy any veggie stock (or any stock at all for that matter) in many moons. It comes in handy for all sorts of things such as making soups and stews, using it in place of water when making stuffing, using as a base to make chicken and beef stocks (these must be pressure canned for storage!), and it also soothes a sore throat if you warm it back up. When sick, I always feel better after having some but whether it is from the knowledge that I made it or the fact it is chocked full of vitamins remains to be seen. Either way, it is great stuff and helps to save money! I get 4-5 quarts of stock out of one batch which can add up to $12-$15  savings each time on a superior product. Especially when the majority of the scraps came from food we grew in the garden!

Join us as we share different reasons and methods of how we preserve food to create a long-term storage plan for our families. Click on each link to be taken to a new blog with helpful information and tips.
Mom with a PREP – How to Dehydrate Ginger and Make Ginger Powder
Preparedness Mama – Make Jam Without Pectin
Mama Kautz – Dehydrating
Busy B Homemaker – Freezer Jam
Ed That Matters – Anyone Can Do It: Fool Proof Food Storage
The Apartment Prepper – Easy Marinated Mushrooms
The Homesteading Hippy – How to Use Your Pressure Canner
Montana Homesteader – Making and Preserving Cherry Pit Syrup
Are We Crazy or What – How to Dehydrate Cherries
Your Thrive Life – How I Preserve Food: Meals in a Jar
Melissa K Norris – Re-Usable Canning Tattler Lids-Do They Really Work?
Real Food Living – Preserve and Store Grains wiith Dry Ice
Cooke's Frontier – Smoking
Evergrowing Farm – How to Preserve Red Chile
Survival Sherpa – Modern Mountain Man MRE's
The Backyard Pioneer – Fermentation
Trayer Wilderness – How We Preserve Food
Living Life in Rural Iowa – Vegetable Soup
The Organic Prepper – How to Make Jam without using added Pectin
Homesteading Mom – How I Preserve Broccoli and Goat Cheese Soup
A Matter of Preparedness – How I Preserve Using Mylar Bags
Post may contain affiliate links.