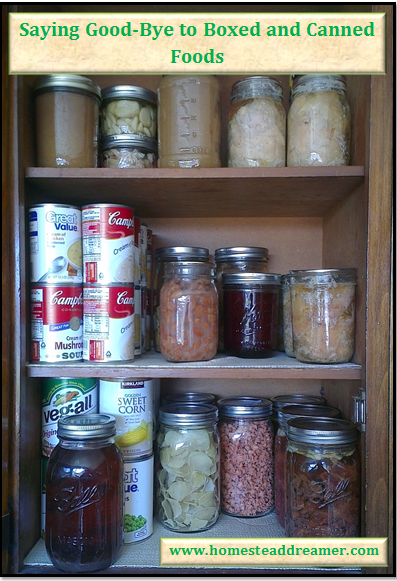 We have been working steadily on getting rid of boxed and instant foods in our cupboards and pantry. It is harder than I thought it would be! Grocery stores as we know them have been around for less than 100 years and yet for me and my generation, it is the norm. Instant this or that boxed meals that only required butter, water, or milk. Hamburger Helper seemed 'fresh' because you added beef to it. How about pastas? Don't forget all the sauces and dressings and…you get the idea. I was not raised with 'healthy' foods, not by a long shot. Because of that, the learning curve is sharper for me. I rise to the challenge.
What I wasn't expecting was the emotions I would go through. When you are used to things being a certain way, especially something like food, it can be scary to give it up or change it. I liken it to when I owned a business in my early 20's. It is scary to take that leap over the edge and see if you can float on your own. Even considering the idea of giving up boxes and canned foods made me feel insecure. I had to tell myself (often) that all of these things I was buying came from whole, raw foods at some point and I was simply taking the processors out and doing it myself. I admit I felt a little lost. I used to joke that if I was stuck in a health food store and could only eat what was in there, I would starve. I had only theories and guesses on how to cook most meals from whole foods, or 'from scratch.' Take spaghetti for example: Open the jar of sauce and the box of pasta, cook up some hamburger and put it all together. That is how you 'cook.'
I know I am not alone in this. The teenagers in high school today are even more tuned in to "open a package and eat" than I was! Sure, everyone hears stories of people (usually elderly because they actually have the skills) who make their own sauce AND pasta from scratch. I decided I wanted to be one of those people. I wanted to have the skills and understanding of how to turn meat and veggies in their raw, whole food state and make it into something fabulous.
Some of the adjustments I have had to make along the way is giving up the convenience factor and timing. It takes longer to prepare and cook whole and raw foods. Your timing schedule is completely different. Home made soup takes a lot longer than opening a can, adding water, and heating. There really isn't any 'cooking' involved in opening a can of something. What a concept, what a realization! What a smack in the face and a wake up call. The other timing issue was in the over prep and cooking. Some things are very fast while others really do take all day if you want them done right. I love my crock pot but I don't want to eat out of it everyday!
Some major points on the positive side are the lower food bill, the higher quality of the food, and the incredible taste. You get spoiled on the tastes. Everything is just richer, more flavorful. I have a perfect, personal example to illustrate this. One evening, the husband and I came home and were beat from a long day (he works at an eye care office and I work at a high school) and I didn't want to have to really cook anything so I reached for one of the last 3 boxes of cheeseburger macaroni Hamburger Helper. I remember thinking to myself, "I should keep a few of these on hand for times like these. Yay for quick meals!" I heated up some jarred carrots I had grown last year and processed with a little garlic and butter.
We sat down to eat and both of us paused after the first bites of the HH: you could literally taste the chemicals. The fake cheese, all the salt in the sauce and pasta, it tasted really weird. Weird enough that I went to check the date on the box! We realized that it had been so long since we had eaten a boxed meal that our taste buds had changed forever. We ate the meal, it tasted good but you could really tell there wasn't anything fresh in it at all.
There is the mental aspect of it too! You know the food is better for you and you know exactly what is in it. I am certain you do not add MSG to your stir fry (at least, not intently). I am also certain you don't add Red No. 5 to your spaghetti sauce when you make it from scratch. Another positive side is you end up getting more in tune with what is in season and learn to adjust accordingly. When apples are being harvested, for example, the sales prices really come out and you can score a huge box inexpensively. Make the whole thing into applesauce and you are set until next year and it doesn't end there! Take all those cores and peels and make your own apple cider vinegar!
Now, you are set for a year and do not have to buy anything that some machine in a warehouse packaged up for you. You did it on your own! You may start to think about food from a different perspective and trust me, it is all very very good. On the money side of things, whole foods are available in bulk and since you don't have those boxes and cans clogging up the cupboards, you have room for containers with various rices, flour, etc. You may start to think about growing your own herbs and spices in containers and drying them yourself which will save even more money and be far superior to buying at the store. Farmer's markets is a great place to start, too. They know how to cook with the foods they sell and I have yet to meet a vegetable grower who didn't have recipes to share.
---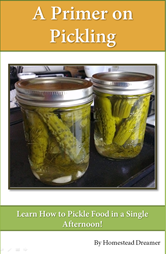 Learn how to pickle in a single afternoon for less than a latte'!! A Primer on Pickling is available on Kindle (the kindle app is free for mobile and PC or tablet!).  Unlock your culinary imagination and be the talk of the next party!
---
So, how did I do all of this? Slowly. A little at a time. The picture above is my actual cupboard and what is in it (ok, so I organized it for the pic, don't judge me haha!) I started out with very simple things like making crackers from scratch and using veggie scraps to make my own vegetable broth. Then I went into making what I call "Stew Starters" which are a big hit with the family. I took the middle man out. I process my own "instant meals" now. I am still far from getting rid of it all and likely never will. There are certain things that you just need to buy because it isn't available in your area otherwise or won't grow, etc. You do what you can and forget the rest. Each tiny step takes you away from the boxes and cans and brings you closer to your food, not to mention makes you feel better, and can bring your family closer by learning about it together.