When it comes to security, the person who has the most to lose is you. Doesn't it make sense to take charge of making sure you have the security you need for yourself and your family? Home security isn't something that just happens without effort!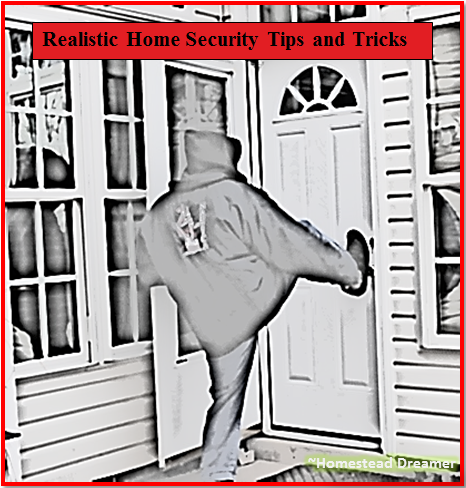 Guest post by Sherman Hand of Staying Prepared
To better secure your home and possessions you need to think like a thief. You may find this difficult (I know I do) because it takes a certain mindset to think this way. While there are exceptions, thieves are typically opportunists. They are interested in fast, easy targets. Make your home too difficult to breach and they will likely move on. I do not want to imply that thieves are unsophisticated… far from it. In fact, thieves probably know your actions better than you do. You see, you're probably a highly predictable creature of habit. Most of us are and we're more similar in our human nature than we are different. Thieves use this to their advantage. The point to remember is that criminals are opportunists, smarter than you might think, and unsympathetic to you. You're just an unsuspecting, easy mark.
Most families are completely defenseless against a kick-in burglar attack.
This subject of security can go very in depth, so let's just try to hit the top items.
Find a safe place to live. Avoid houses with large windows and sliding glass doors. Glass doors may as well be open doors. They're just too easy to get through. Also remember that second and third-floor apartments are much less likely to be broken into as criminals want to be able to make a quick getaway in case there's trouble

Reinforce

your doors. Most criminals don't even know how to pick locks; they just kick in the door. But if you have a sturdy door that can't be kicked in very easily, they're likely to just move on to the next house. And don't forget the back door and the garage door. (See description below for how to do this.)
Get motion detector lights. Especially the kind that run on batteries, as there could be rolling blackouts. Criminals don't like to be seen, and if a bright light hits them they'll probably flee.
Get an alarm. A loud one. And again, make sure it will work if the power is out. If you don't have a lot of money, at least get doorknob alarms. You can get a touch knob alarm on amazon.com for only $10.
Reinforce your windows. Like I said before, windows are just too easy to break through. I recommend putting bars over all your windows. If there are bars on the windows, 9 out of 10 times criminals will move on to a house without them.
Put up a security fence. It needs to go all the way around your property and be at least seven feet high. Criminals might still find a way past it, but the point of most of these measures is deterrence.
Get a decoy safe. Your main safe should be very well hidden, while the decoy safe should be fairly easy to find and filled with some cash, cheap jewelry and documents that look important.
Think like a criminal. As I have already said, you need to try to think like those that may wish to do you harm. If a criminal looked at your house, would they see toys, tools or other things in the yard? Are there lots of trees and bushes to hide behind? Would they see expensive items through the windows? Don't leave things outside, get rid of those bushes and get some heavy-duty curtains. When you're done, look at your house and compare it to your neighbors' houses. Does it look more secure than theirs? If not, your house could be targeted first.
The main key to home security is a reinforced door.
Let's be real. Most of us are limited in what we can do, especially if you rent. So let's look at the one item the makes the biggest difference right away. Reinforce your doors. Most families are completely defenseless against a Kick-In Burglar attack. Until that changes, Door-Kick-in's will remain #1 method of entry for burglars. There are three points that any normal door fails at when it comes to security. One kick can break in most doors and is the primary way invaders get into a home.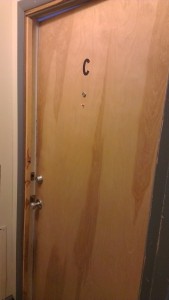 Here are the weak spots and what you can do about it:
Reinforce the jamb. First, pry off the doorstop. This is the trim that the door closes against. Now find where the jamb has been nailed through the shims.  Remove each nail and replace with a very long screw (long enough to reach a couple inches into the stud). Once the screws are flush, put the doorstop back and you're done. Now the jamb will be almost impossible to kick through.
Reinforce the hinges. Most hinges have short screws that don't reach very far. Here, the same principle applies: replace the short screws with long screws that will reach all the way into the studs. Now the door is secured to the jamb and the house frame.
Reinforce the strike plate. This is the small piece of metal in the jamb that holds the latch or bolt in place. This is particularly important. Because the jamb is chiseled out to make room for the keeper, this is a weak spot where the jamb can easily split apart. Once again, you'll need to replace the short screws with ones that reach through into the stud.
For an even better view check out this video: How to Reinforce an Entry Door for Under $10.
If you want to buy a kit that you can just install check out the Door Devil. or Master Lock.
Now the jamb and both sides of the door are attached to the frame of the house making a very formidable barrier. There is no way you can make your home completely burglar-proof. But if your door is strong enough, it is more likely they will give up trying to kick it down and move on to the next house or apartment. Remember, break-ins happen every day and a real determined person will always get it, but with just these little upgrades you buy yourself time, to make an exit or prepare to defend yourself and the ones you love.
That time is what's needed now, but even more so if during a time of turmoil. We never know what the future holds so start now to make sure you are staying prepared.
---
Sherman Hand has extensive military and private corporation experience in home and internet security. He grew up in rural Pennsylvania hunting, fishing, and growing nearly everything they ate which has lead to the small homestead in Kentucky where he lives with his family and 10 dogs. With over 20 years of experience in the security industry, Sherman is an established expert in his field. You can find him on Facebook as well as his blog Staying Prepared.