This is Part 3 of three part series detailing how we started on this crazy journey! We learned so many lessons and the changes made were numerous!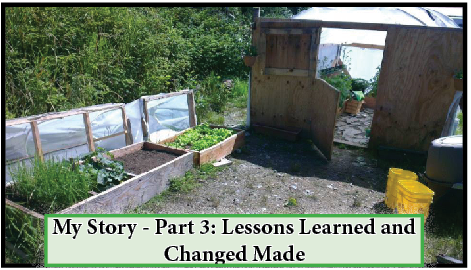 The first full year of changing to a more self-sufficient lifestyle was not without its ups and downs. As I mentioned it Part 2 of My Story, I almost looked forward to when things did not go right the first time. It was the lessons of my mistakes that I craved. Gardening in itself is an art, and it is one I want to be proficient in.
The major lessons I learned when it came to gardening were:
Patience is Required. If you are not patient and let nature do her work, your work will not produce like you wanted, if at all.
Daily Attention is Required. Oh, you can skip a day here or there but generally speaking, there is a need to be in the garden every day. Weeding, watching your plants for pests and other problems such as fungus is vitally important. Pests and fungus can spread easily (especially if you primarily use a greenhouse like I do) and wipe out your entire garden.
Planning is Vital. This seems a no brainer to me but then again, I love to plan things out. It boggled me to discover how many people truly believe that gardening is simply tossing some seeds in the dirt, adding water and sunshine and POOF! You have a garden. This is simply not true. You must have the right seeds and the right soil in the right conditions to produce the full potential.
You will not always succeed. While my first garden was better than I could imagine, I know that last year was an exceptionally sunny and warm one. This season remains to be seen. It may be colder with more rain. It is entirely possible that this year may be a total flop and I will get nothing (perish the thought!) due to conditions outside of my control. The very idea of all that work for 'nothing' haunts my fears but I counter it with this point of view: Even if it is a 'bad' year, I will still learn more and be able to better handle it next time adverse weather conditions keep my garden from doing well.
Of course, these are only the more major things that come to mind. If you garden, you quickly learn that there are little miracles and lessons everyday that can equally inspire and frustrate you. The payoff is worth every single moment! The investment you put in does not just payback in food. I am a perfect example of this statement. I never expected when I made my little Facebook page to keep track of what I had done from year to year in the garden that 8 months later, I would be sitting here writing a blog post. I never expected that I would have over 3,000 "likes" on my Facebook page and I certainly never thought I would be writing a little ebook primer on pickling (to be published on Kindle in April, 2014!) People enjoyed what I wrote and encouraged me to write more. All of this from planting some tiny little seeds.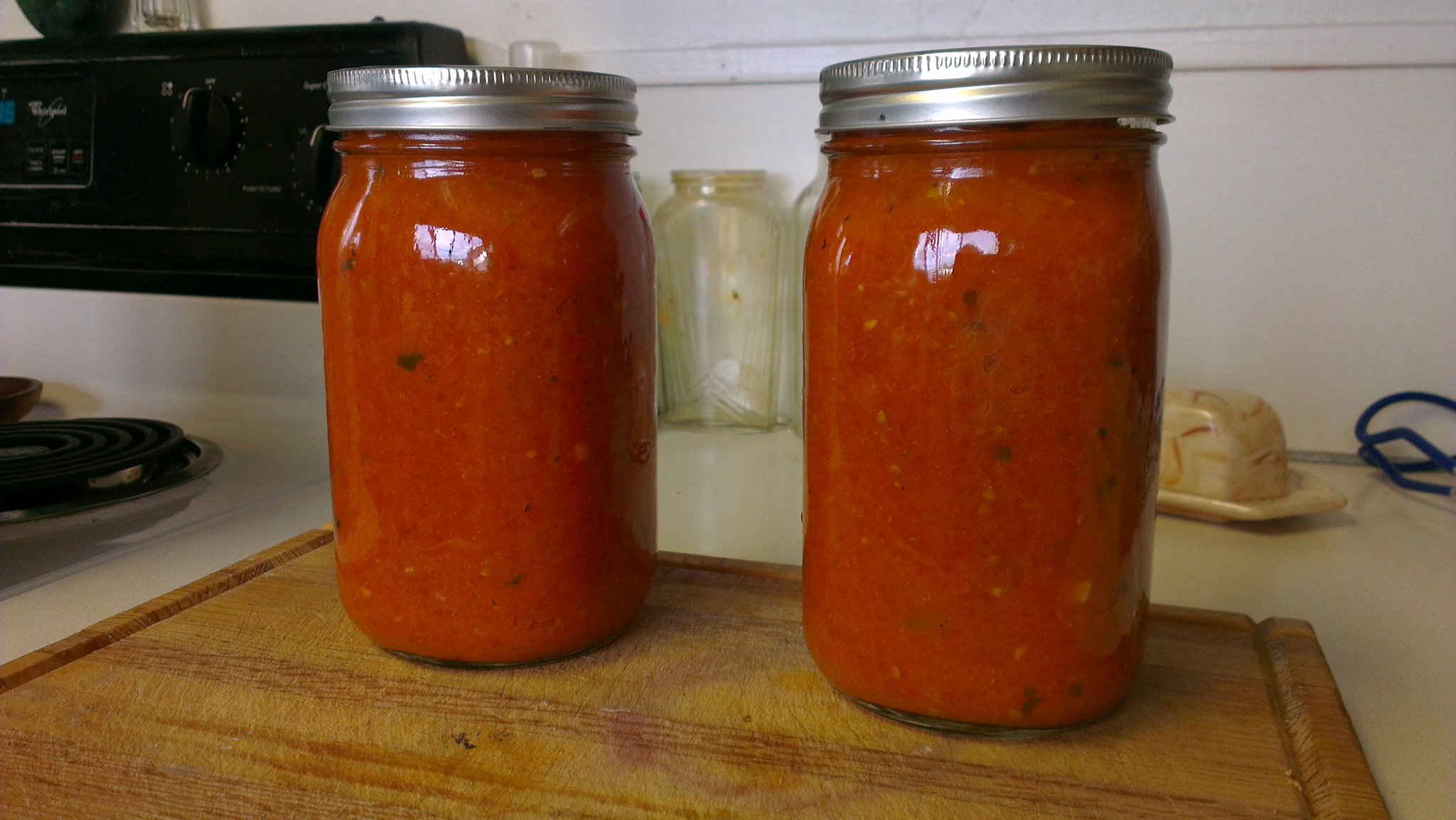 I consider one of my greater accomplishments to be in the preserving of the food that I grow and buying in bulk to save money. Waiting for large meat sales that I then vacuum seal or pressure can allows me to only shop for meat literally twice a year! This last year, when the harvest season was on high and sales on apples and tomatoes were going, I bought pounds of them up (my own tomato plant did not make it) and made sauces. I learned how to make jerky and I must say, it is exceptionally good through many batches of trial and error. In another article, I will detail how my "Triad of Food Preservation" has saved us thousands of dollars over the last two years. It is something that will cost a bit initially, but over the years pays over and over again. If you do not want to wait for the article, you can visit the Equipment I Use page for information and links.
Some things I will not be doing this year include:
Growing celery. They take up a huge amount of space, have very shallow roots and tended to bolt to seed where I live. I can use the 2′ x 2′ box area for growing cucumbers this year instead. I did not get much out of them but they sure were a bright green compared to the grocery store!
Reuse canning lids. Yup, I really went 'there.' I was trying to get more out of my money and thought if I simply placed the lids so they would not be in the grooves of the last canning use, it would still seal. Jarring lids can be reused, just not for sealing jars. I save some of the used ones for things like putting a lid on a homemade candle but most are just tossed out now. That was a painful lesson to learn…I lost about 5# of beef!
Planting everything at once. This was a huge newbie mistake. I read about spacing out the seeds you sow or start you begin but I did not really understand why. Oh boy, did I ever learn! At harvest time, I was completely overwhelmed with all of the processing I had to do. I ended up with 10 lbs of carrots, 3 produce bags filled with green beans, handfuls of green onions…you get the idea. While I was overjoyed that I had done so well for my first go, it took several 12 hour days of processing in the pressure canner and dehydrator to get through it all. This year, I will start earlier and go later as conditions allow and keep a rotating planting schedule.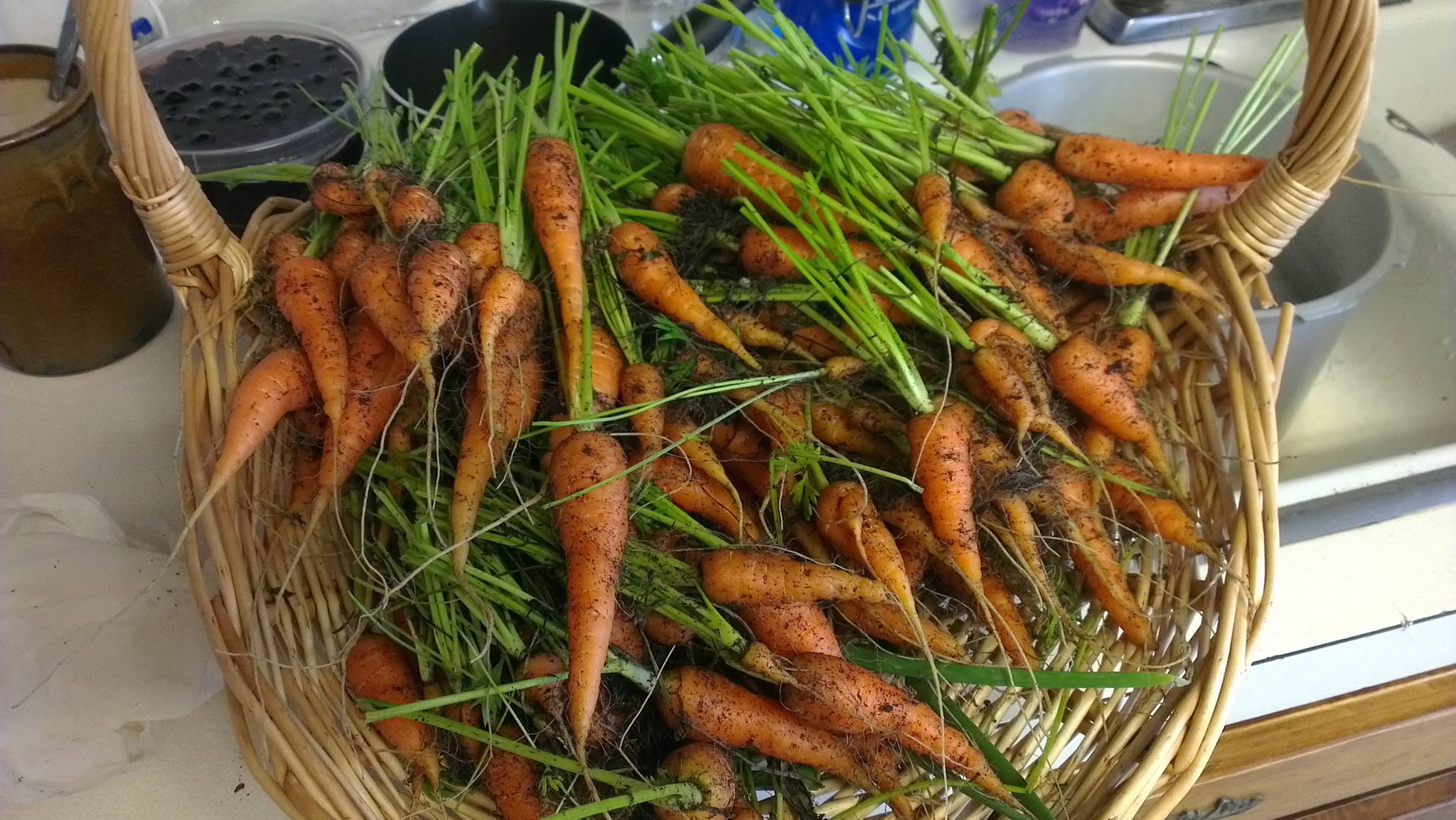 There are other things I will be doing differently this year to help my chances of success. This long winter has been spent doing hours of more research to improve my skills and understanding of getting more in tune with the growing cycles. As I gain skills and confidence, I can understand why ancient humans worshipped the seasons and held the cycles in reverence. There really is a connection and an understanding of your place in the bigger picture. I am looking forward to learning more over the years and being more in tune with the land around me.